Transforming Your Business With Our Digital Workshops
03 Mar, 2022
Lotte, Digital Content Specialist
Get the
latest updates

about our blog posts.
Subscribe so you don't miss out!
At Lizard Global, we don't simply develop and deliver cutting-edge digital solutions for our clients. As your digital partner, we walk the entire digital transformation journey of your business together, hand-in-hand. This means that, aside from our full-stack service package of digital conceptualization, technical research & consultancy, UI/UX design, custom software development, and CRM integrations, we also provide immersive workshops for our clients to familiarize them with the process of finding the right solution for their problems.
Our workshops are deep-dives into the problems our clients and their target audience are facing while conceptualizing a digital solution that's tailored to the unique character of their business and its position in the market. We provide our workshops in both remote digital and in-person sessions, depending on the preference of our clients and applicable COVID-19 regulations. Lizard Global's digital character and our experience with
cloud computing
ensure that both our online sessions and in-person sessions provide a best-in-class experience.
Remote workshop

Not able to physically attend our workshop, because of your current location or other restraints? No problem! We provide the same workshops remotely, specifically designed for digital communication and collaboration.
Workshop: Design Thinking
Our Design Thinking workshop is aimed to create a deep understanding of your target audience and the problems they're facing. This workshop is fully focused on the human-centered process of concretizing the problems your business and end-users are facing. As you can read in our blog on design thinking, the concept of empathy plays a central role in the process of understanding your customers, the problems they're facing, and defining a fitting solution.
During our Design Thinking workshops, we guide you through a collaborative user-centric creative problem-solving process while optimizing existing solutions or creating entirely new digital experiences based on the needs of your end-users. We do this by the means of several practical group exercises, with the help of our in-house UI/UX specialists. We start with identifying the problem, then we collaboratively create an ideal picture of how this problem can be solved. The final step is to start prototyping solutions that users can test to validate their effectiveness. Because this is a complex process that can't be tackled in one go, the workshops span multiple sessions to make sure nothing is overlooked.
After doing the Design Thinking workshop with our experts, you'll have:
A Concrete understanding of your target audience and industry;
An accurate definition of the problems your target audience is facing;
An opportunity to create feasible and user-focused solutions;
Access to a faster design process, reducing costs and increasing profits;
Improved problem-solving skills for you and your team;
Early validation for your solution before the official implementation.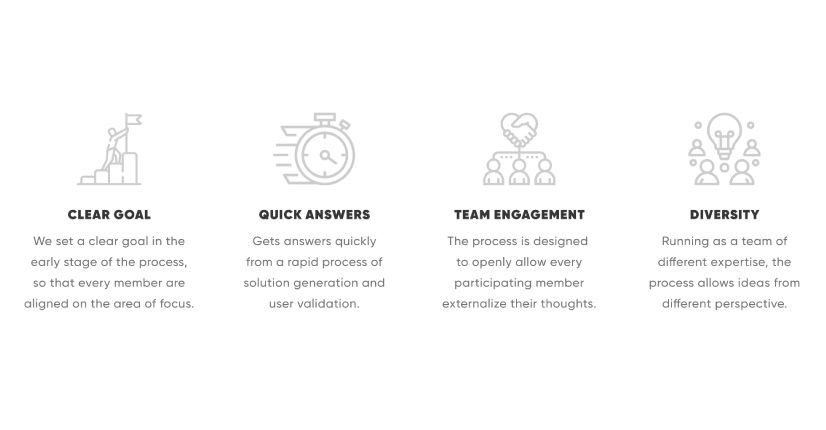 Workshop: Digital Solution Strategy
This workshop is aimed to shape an idea into a successful solution. We educate you and your team in identifying crucial technical aspects of your solution, as well as the most important KPIs. Together, we specify a plan of action and create a success-driven product roadmap toward the actual execution of your idea.
The Digital Solution Strategy workshop is perfectly aligned with the initial Design Thinking workshop, picking up where you left off. This particular workshop includes the following outcomes:
All the outcomes of the Design Thinking workshop;
The identification of relevant digital product elements;
Understanding the Key Performance Indicators (KPIs) that matter most;
Creating a success-driven product roadmap;
Establishing a realistic plan of action based on a phased approach.
Workshop: Digital Transformation Workshop
In our Digital Transformation workshop, we take you and your team on a journey to gain a comprehensive understanding of the digital opportunities that are tailored to you and your company. After the workshop, we help you with the actual development and implementation of the solutions we've come up with during the workshop sessions and guide you and your team through the process of the adaptation of new technologies in your organization as a whole.
As you can see, our Digital Transformation workshop is intertwined with a wide range of Lizard Global services. During these sessions, you'll get familiar with not only your designated Product Owner and Digital Strategist, but also our UI/UX Specialists and one of our Senior Developers with in-depth knowledge about the right technologies for your digital solutions. After finishing the Digital Transformation workshop workshop, you'll have:
A thorough understanding of digital opportunities
A comprehensive understanding of your target audience and industry analysis
The ability to disrupt and reshape current processes
The ability to eliminate waste, increasing efficiency, and effectiveness
A clear vision of realistic digital processes
A solid digital transformation strategy
A concrete step-by-step transformation planning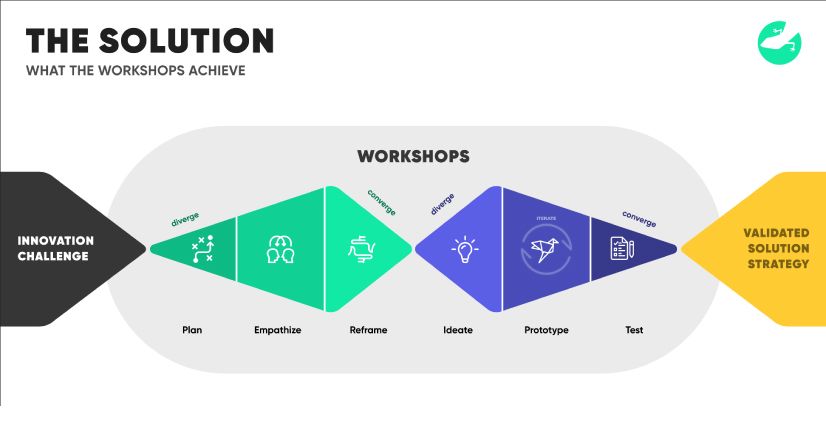 Add-ons
Every workshop has its own set of add-ons you can choose from to expand the potential of your solution. These add-ons consist of:
user validation
Also known as a usability test. During this test, we recruit users that fit your target audience profile and create a script for the specific paths of your solution we want to validate. We follow the interaction between the recruited user and the solution from start to finish and gather all the feedback that pops up on the way.
Clickable demo
The second add-on is the clickable demo, or clickable prototype, which is a realistic version of the eventual application, but without any written code behind it. With this prototype, you and your users can test the most basic functions before the actual development.
Iteration Workshop
Clients can choose to go for an iteration workshop if they want the project to be pushed further fast and capitalize on the momentum you've created after the first workshop. The iteration workshop takes the outcomes of previous workshops to the next level, building towards the actual development of your solution at a fast pace, without losing quality along the way.
Team Composition
Our workshops are designed to achieve a combination of expertise that takes your business processes and your organization as a whole to the next level.
Product Designer
During our workshops, the product designer takes charge of the organization of the whole workshop process. He/she schedules the workshops and ensures that end goals are met. The product designer helps with processes such as performing user research, competitors analysis, defining proto personas, making journey visualizations, UI/UX design, and more.
Product Manager
The Product Manager is the point of contact beyond the workshop. He/she also makes sure that main objectives are met, and helps with creating a dynamic product roadmap, technical planning, process mapping, and an implementation plan.
You & Your Team
As experts in your own organization, you know your business best. The ultimate team composition in our workshops consists of 5 to 7 experts. These experts include a decision-maker, someone who takes up the financial aspects, a marketing and customer expert, a tech expert, and a design expert. Next to that, your team needs a "troublemaker", who dares to speak up and plays devil's advocate to find the best version of a solution.
Need a hand?
Are you struggling with identifying your target audience and the concrete problems they're facing? Or are you interested in taking your business to the next level with a digital transformation? Our workshops can provide you with the tools and knowledge you need to grow further. We will gladly partner up with you and your team to define, conceptualize and create a digital solution tailored to the unique character of your business. Get in touch with us for more information, and let's team up!