Digital Transformation in Education
21 Oct, 2021
Lotte, Digital Content Specialist
Get the
latest updates

about our blog posts.
Subscribe so you don't miss out!
At Lizard Global, we believe that any industry can greatly benefit from a digital transformation. Our portfolio includes more than 20 verticals, full of different projects, all unique in their own way. The education industry is a frontrunner in the journey towards digitization. EdTech (Educational Technology) is becoming increasingly popular as a tool to enrich or even partly replace current education systems. Not only can EdTech provide ways for students to plan their homework and track their overall progress, it can also be a great solution for students who are unable to go to school physically because of an illness, disability, or other reasons. More recently, digital education has proven itself to be essential in times of crisis such as the lockdowns due to the Coronavirus that closed down schools and universities around the world. Digital education tools formed a perfect solution for students to virtually attend classes, schedule their weekly tasks, and stay up-to-date with their school work.
Digital applications offering educational tools break down barriers and free the way towards a worldwide increase in educational opportunities and with it an increased chance to find better jobs and live independently. Students who used to be unable to go to school because of a disability, financial lackings, or geographical hindrances can now access an already immensely diverse offering of educational tools on the internet.
The rise of technologies in education
Implementing educational technologies in application development has resulted in a wide variety of E-learning tools that change the way we learn and teach. From educational videos on YouTube to gamified applications, EdTech is continuously evolving and improving, and as a result, has become more and more accessible for students and teachers with different backgrounds. Here are some examples of technologies that are greatly impacting the world of education:
Virtual Learning Environments
Virtual Learning Environments (VLEs) are sets of learning and teaching tools made to improve and enhance the overall experience of online education by implementing modern technologies. Generally, a VLE consists of the following components:

Student and progress tracking
Tools for submitting and grading assignments
Tools for planning and managing courses
Online support for teachers and students
Online communication tools like chats and group discussions
Information libraries with access to digital learning materials such as academic journals, videos, images, podcasts, etc
Examples of widely used VLEs are Blackboard, Moodle, Canvas and Google Classroom. Although VLEs have been around for a while now, they were often limited to desktop devices. More recent developments include the use of mobile devices, which turned these VLEs into cross-platform applications and made them more accessible.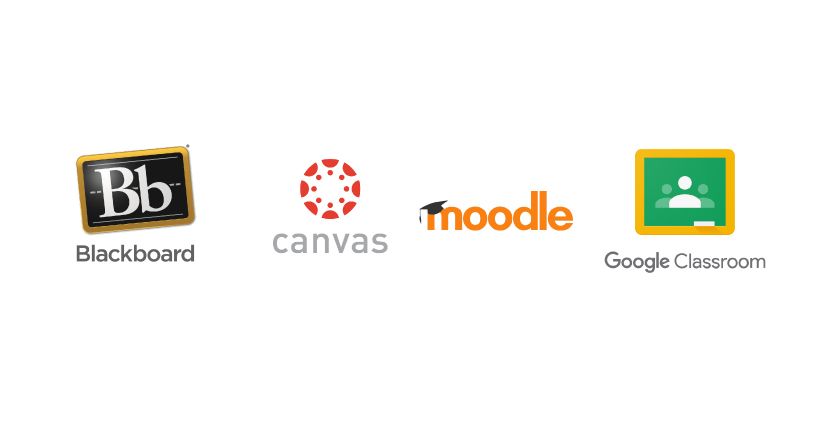 Online courses
The internet is experiencing an information overload, among which an extensive offer of online courses. From educational videos discussing a wide variety of topics for refreshing your knowledge to websites and platforms designed for offering professional courses including legitimate certificates to boost your CV, it's all there, just a few clicks away. In our blog about growing smarter during the worldwide lockdown we already discussed a few examples of platforms providing online education. Let's have a look at some platforms offering courses for the broadest variety of topics:

Virtual and augmented reality
Virtual and augmented reality technologies engage students and teachers in the study material in a totally new way. VR allows students to interact with learning material in a virtual environment, which greatly improves the engagement and learning experience. Think of, for example, a geography or history class. Rather than going through books with loads of text and a few low-quality pictures, students can wear VR gear and immerse themselves in historical events or geographical environments as if they are physically there. AR can also be used in mathematics to visualise shapes and their corresponding formulas so that students can create a deeper understanding of the interaction between changes in the formula and the shape of an object.
Another way to implement VR in the classroom is by providing a solution for students that aren't able to be present in class for whatever reason to make use of VR to feel the real-life experience of sitting in a classroom and interacting with their classmates.
VR and AR allow new learning environments we have never experienced before, and it won't take long until it's a standard educational tool in classrooms all over the world. Apart from the fun and engaging experience, it also offers a solution for learners to practice certain actions that involve dangerous risks in real life, like driving or flying lessons. Using VR in driving or flight simulators can offer the opportunity to train these skills in a safe environment where students can learn from their mistakes without serious consequences.
Hey there! Want to know more about our projects in the education industry and how we've helped our clients visualize, design and create cutting-edge EdTech solutions? Check out our projects and digital portfolio!
Gamification
Implementing gamification in educational applications can greatly improve the interaction between the app's features and its users. Especially in the case of education, gamified features can stimulate students to actively participate in the course material. Customizable application environments and profiles improve the user experience for students. They can change the layout of the app to express themselves and turn the app into a personal environment rather than a formal and detached interface.
Another great example of how gamification in app development can improve the learning experience of students are profile completion bars and loyalty & reward systems, which stimulate the interaction between in-app features and users. For example, students can be rewarded with points for completing their profile or uploading their homework on or before the due date. After completing a certain number of assignments and earning enough points, they can, for example, exchange these points for certain rewards, like discounts on customizable content for the app or physical rewards like study materials and such.
Project: Tracker Apps: Skill Tracker & Service Tracker
Tracker Apps is an organization of educational experts who are passionate about empowering students via self-awareness. They pursue this interest by providing feedback to students and teachers in order to help them improve their skills and apply the International Baccalaureate (IB) curriculum. The IB Diploma Programme (DP) requires schools to document, measure, and report on the skills that students are learning. In order to track the overall progress of students, a single centralized location or platform is needed. Students can then manage their homework and track their skills, while teachers can gain insight into their students' learning experiences - all in a single, centralized environment.
Lizard Global partnered up with the team of Tracker Apps to create two mobile- and web apps: Skill Tracker and Service Tracker. These two platforms allow students to keep track of their ATL (Approaches to Teaching and Learning) skill development and to keep track of their learning progress, activities, reflections, and experiences on an individual basis. Teachers can easily track their students' progress and control their curriculum using the apps in order to improve the overall learning experience.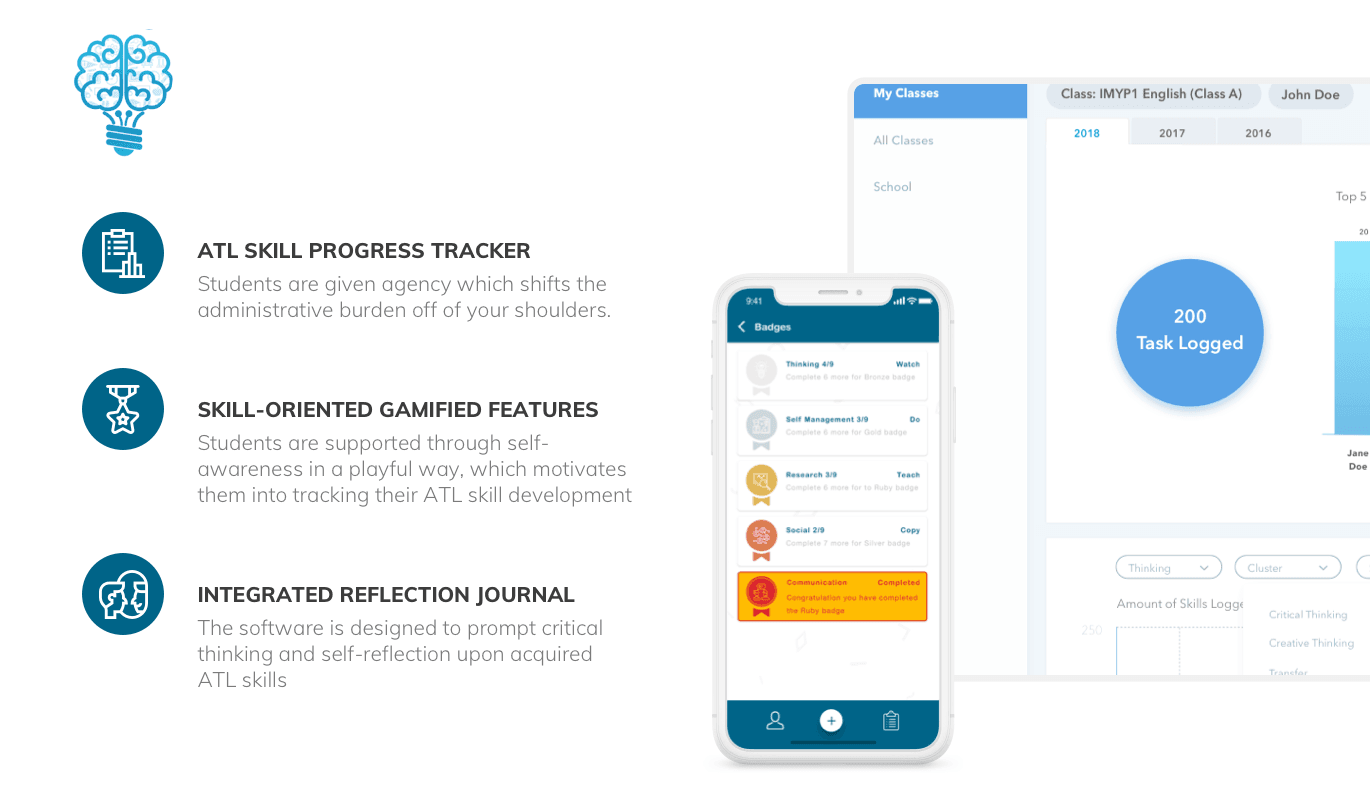 Project: EliteXMentor
Elite is a media company that distributes material via efficient workstations. Users learn from their idols through masterclasses and adapt their way of life and thinking through an online training environment. The goal of EliteXMentor is to create a collaborative and interactive environment in which users actively participate in courses and learn from one another. Users can choose who they want to learn from and what they want to learn about based on their interests.
We created a clickable demo that incorporates the fundamental ideas of
EliteXMentor
as a product. More masterclasses can be introduced on a regular basis in a cost-effective manner. Users get their money's worth out of the solution by combining the content of masterclasses with the personalized participatory aspect of the courses.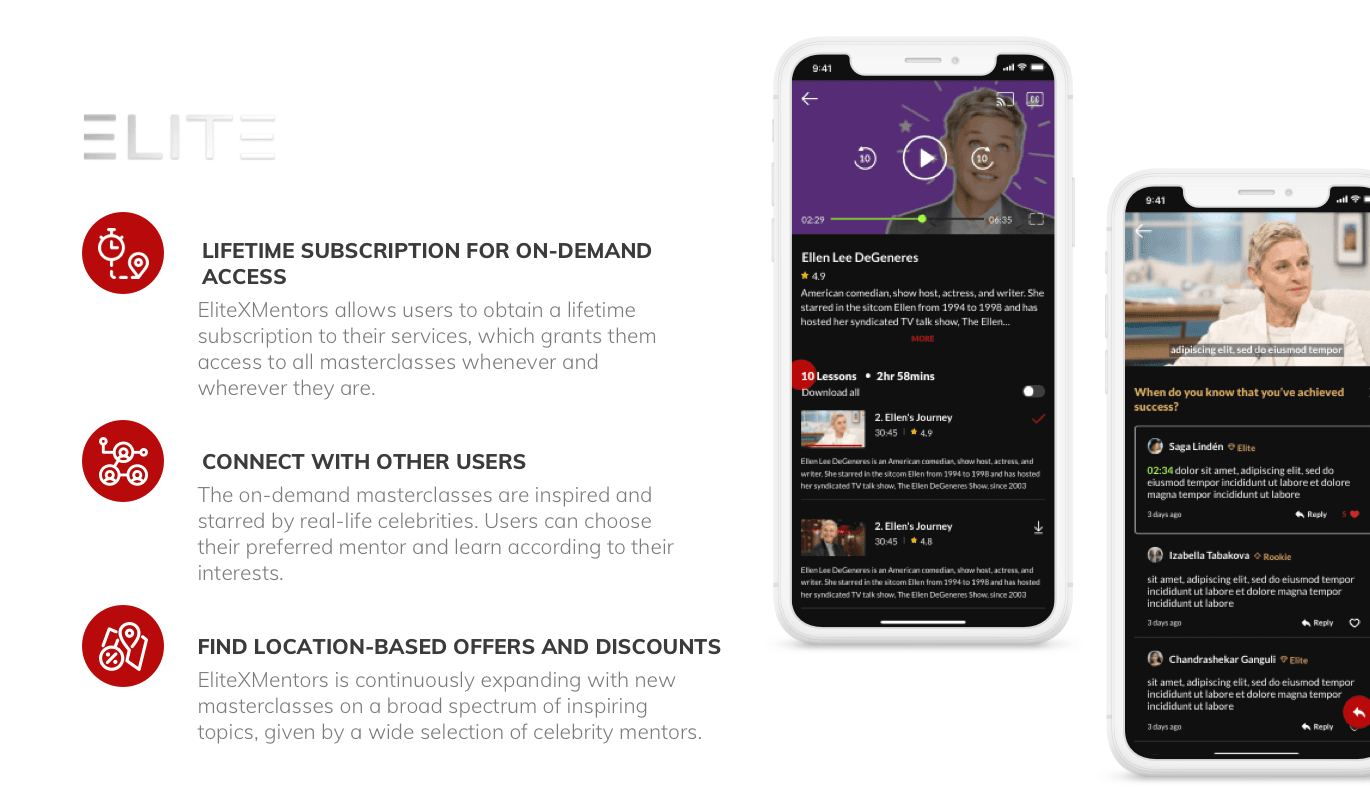 Project: GrowTribe Solutions: Growth Tracker & Performance Tracker
PeopleHive Consulting Group and Lizard Global decided to join forces in 2020 to form GrowTribe Solutions, which combines the best of both worlds: HR and technology. GrowTribe Solutions offers digital HR solutions and training to help individuals, teams, and organizations improve their competency, personal and professional development, and performance. GrowTribe Solutions does not simply hand over technology to clients to figure out. Instead, there is a thorough onboarding procedure in place to verify that all material is in line with each organization's strategic growth goals.
Together with GrowTribe Solutions, Lizard Global conceptualized, designed, and built a digital web- and mobile platform that links individual growth to an organization's overall performance goals. Growth Tracker and Performance Tracker are the two modules that make up the solution. Both are combined into a single application to allow for performance-based learning and development.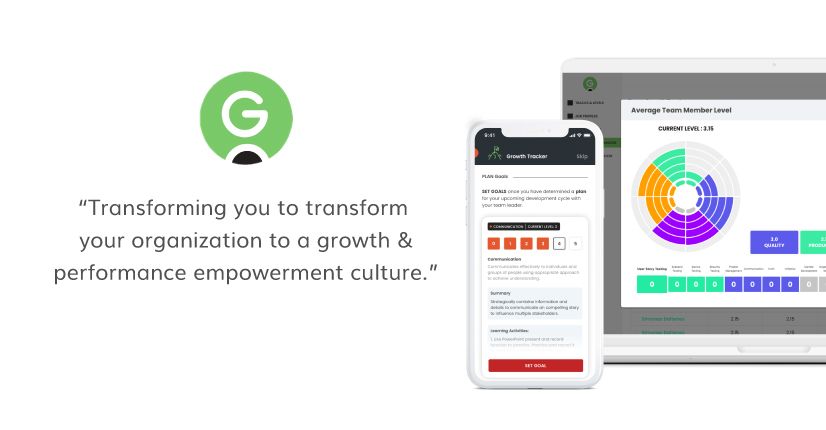 Project: Aposto
Aposto
is an organization that's working on bettering the onboarding, briefing, and knowledge transfer of key safety and event information from event/location to employee. Cathy Long, the primary client, was the Strategic Lead at Tottenham Hotspur Stadium on Access and Experience. She also was Head of Fan Experience at the Premier League for 15 years. Her inside knowledge of the pains and gaps that event-day workers feel when onboarding for an event triggered her to look for a technical solution to this problem.
Together with the team of Aposto, Lizard Global created a platform for staging/event managers to clearly identify, disseminate, and manage knowledge that has to be transferred to staff before the day of the event. Employees can use the platform to better understand their duties and what is expected of them, as well as provide useful feedback of their event-day experiences, allowing them to feel more confident and capable of assisting others on the day of the event.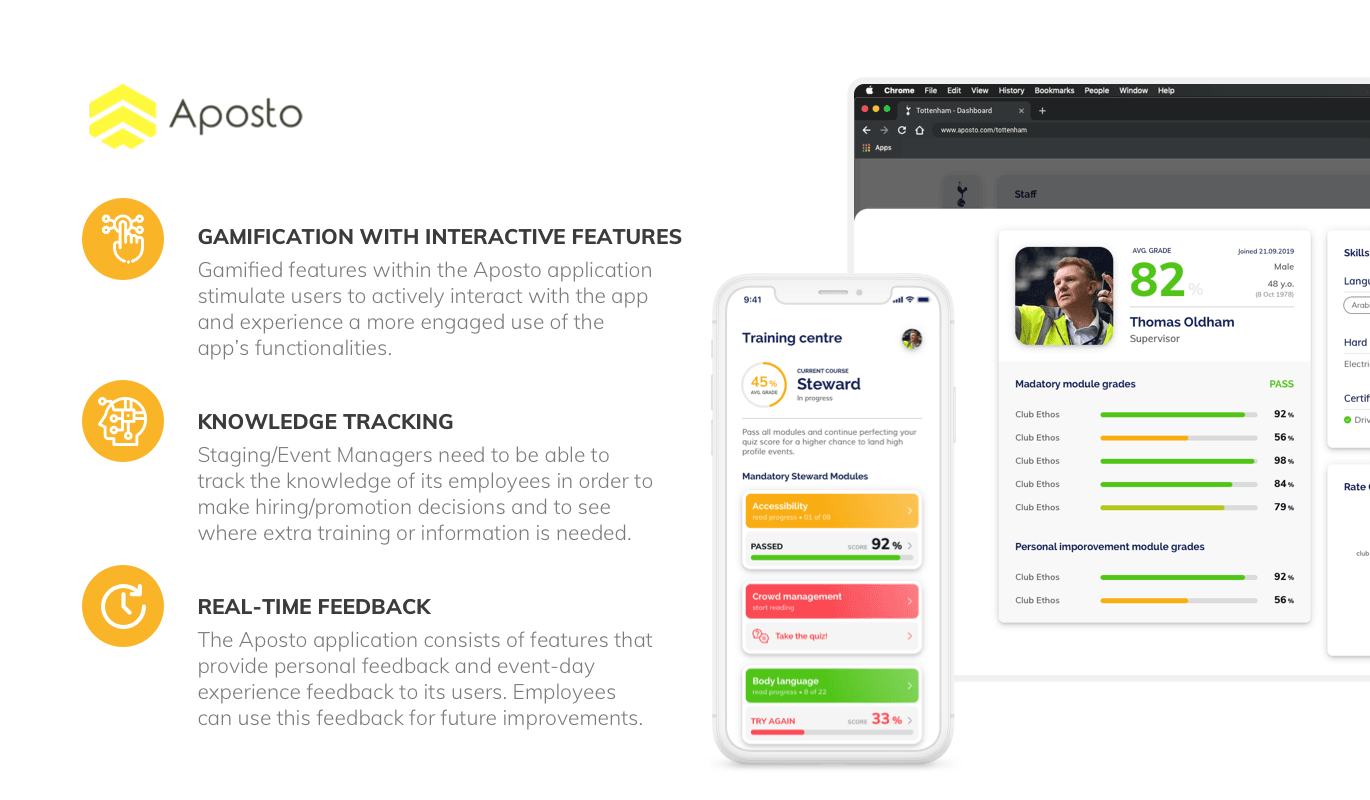 Are you interested in having your very own EdTech application developed by a professional full stack digital partner? Get in touch with us and let's get to work!
The future of digital learning
As you can see, there are countless ways for technology to immensely improve the experience of education. Not only for students and teachers in a school setting, but for any educational purpose you can think of. In our blog about the adoption of new technologies in businesses, we explain the importance of closely involving your team with the adoption of new technologies. Surgeons can learn how to operate surgery robots by practicing in VR environments, and administrators can get familiar with new automation technologies by watching instructional videos. Nothing seems impossible with the emergence of digital education and E-learning.
At Lizard Global, we realize the importance of unlimited access to education, especially in situations where access to schooling isn't available. That's why our skilled team is experienced in implementing modern technologies in educational applications. Want to know more about what we can do for your educational app idea? Get in contact with us via our social media channels or website, and we gladly lend a hand in the realization of your app idea.