How to Pick the Right Internship in IT?
02 Sep, 2021
Lotte, Digital Content Specialist
Get the
latest updates

about our blog posts.
Subscribe so you don't miss out!
You have a great affinity with technology and you want to take your skills to the next level, but how? If you recently finished (or are finishing) your studies in IT, it can be difficult to take the step towards the job market. A great way to start your career in IT is by finding a challenging and rewarding internship, where you can both showcase your recently picked up skills and improve them at the same time. Additionally, your school may require you to do an internship in order to receive your degree. No matter what phase in your studies you are, an internship is always a great option to broaden your horizon.
Many companies offer various internship programs to help you take your first steps on the market and get familiar with working in a software development organization. In this blog, we dive into the ins and outs of the process of finding an IT internship that fits your ambitions, passions and long-term objectives.
What are you looking for?
Probably the most important thing to do before looking for an internship is figuring out what you want and need. Not only do you need to think about the things you want to learn during your internship, but it's also important to find an organization that fits your preferred ways of working and possesses a working culture you feel comfortable in. Additionally, if applicable, it's important to know if there are specific requirements that your school sets forth for you in terms of an internship.
Your goals
First of all, ask yourself some questions about your main objectives during your internship. You probably want to improve the skills you've picked up during your studies. Perhaps you want to learn new skills, such as working together with a team from different departments to increase your cross-functional and teamwork skills. Especially in an agile app development company, you'll probably face a lot of intertwinement of knowledge and skills. Agile ways of working usually include frequent and iterative moments of collaboration, for example in the form of scrum sprints and meetings with clients.
Start with listing all the objectives you'd like to achieve during your internship, from broad aspirations to concrete goals. While creating this list, also start to think of ways to achieve these goals in the form of more specific tasks you have to perform in order to gain certain skills. When your list is ready, you can start ordering them in terms of priority. What objectives are most important to you or are required as part of your internship? And additionally, how likely are you to achieve these objectives in terms of feasibility.
Your preferences
Besides having your personal objectives documented and prioritized, it's time to take the next step: finding an organization that matches your objectives and you as a person. There are numerous questions you might need to ask yourself before picking an organization for your internship, as every option has its own benefits, depending on your preferred ways of working. For example, working for a smaller organization will allow you more access to various departments and to have a broader understanding of the software development process. From sales and client workshops to development, design, and testing, you get to observe the project through all of its stages.
At Lizard Global, we focus on sustaining this cross-functional and collaborative working environment. We do this because we believe that it provides the best possible environment for interns, allowing them to not only improve their own skills faster and more efficiently, but also get familiar with other elements within the process of app development.
To get an idea of some questions you can ask yourself, check out the list below:
Do you want to work in a smaller organization or a bigger corporation?

Do you prefer working in an organization that offers multiple services, or would you like to stick to a company focussing mainly on your own field of expertise?

Do you prefer a horizontal organizational structure or prefer a stronger hierarchical structure?

Do you like working in a cross-functional team? Or do you prefer working individually most of the time?

Are you keen on working in an international organization? Or would you prefer sticking to your own nationality and language?

Are you open to a multicultural organization?
The questions above are some examples you can ask yourself before looking for an organization that fits your ambitions. Once you have a clear understanding of what type of organization you're looking for, you can dive into the IT internship marketplace.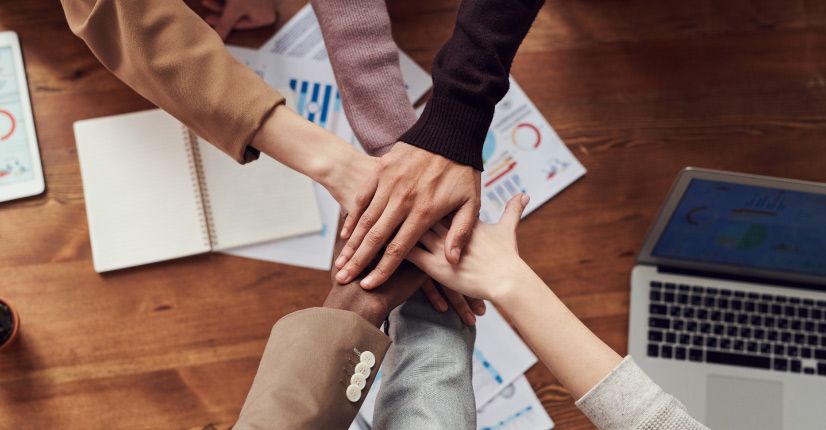 Getting in touch
Your goals are clear, your preferred working environment too. Now it's time to dive into the market itself and get in touch with potential employers. Having done some kind of study in IT, you'll probably already have some connections that are in contact with an IT company. Ask around for recommendations in your social circles, as they might have a golden opportunity for you. You can also attend networking events specialized in IT. This is a great way to introduce yourself in a casual setting, giving you the chance to get in touch in an informal environment with internship providers or contacts who may know a company open to having you as an intern.
Perhaps you already have a list of companies where you could see yourself doing an internship. Good! In order to spread your chances you can contact a few of those listed companies at the same time. This gives you the opportunity to have a face-to-face talk with multiple employers and find out which of these talks seemed most interesting to follow up to. Having multiple options open also heightens the chance of finding an open spot in a considerable amount of time.
Getting started
Congratulations! You found a company that fits your ambitions and abilities, and now you're ready to dive into the challenges and opportunities that working in the IT sector has to offer. At first, it might be difficult to find your spot in the team and balance your work rhythm with the rest of the organization. This is completely normal, and almost everyone who you are working with has felt the same at one time or another. Give it time, and more importantly, trust in your own capabilities and be proactive in asking for new challenges, tasks, and ways to be involved. The more you dare to showcase your talents and your eagerness to learn, the more you'll get involved in the process.
Ready for an internship at Lizard Global?
At Lizard Global, we believe that anyone can become an expert in their field, as long as they're passionate about what they do and have the space and time to grow their skills. An internship at Lizard Global is a great way to pave the road towards your future career in IT. As an intern at Lizard Global, you'll learn from the best. We guide you through the basics, while you get the flexibility to showcase your creativity and unique potential in your function. From development or UI/UX design to sales or product ownership, our team is always looking for an extra pair of hands to provide the best possible digital experiences for our customers. So, do you have a unique eye for detail, a strong sense of team spirit and a deep-rooted passion for digital innovation? Let's have a talk!
Are you interested in the experience of our current and previous interns at Lizard Global? Check out the interview with some of our very own young talents!