Imagine, Design, Create & Grow With Lizard Global: The Full Journey
24 Jul, 2020
Lotte, Digital Content Specialist
Get the
latest updates

about our blog posts.
Subscribe so you don't miss out!
You have an innovative idea, you want to optimise your workflow or you have a problem statement within your company and you want to turn this into a high-quality digital solution, and you can use a digital partner to turn this into a digital success?
By choosing Lizard Global as your full stack digital partner, you're choosing for a long-term partnership in which we work together to realise your (web-)app idea, from the digital conceptualisation to the delivery of the end-product, maintenance and digital marketing strategies. We don't just create and deliver. We make sure your needs and wishes are heard, and we walk the journey towards the perfect end-product together. Together as one team, because your success is our business' success.
Curious what a partnership with Lizard Global exactly looks like, from beginning to end? Stay put and continue reading to get an insight into the full journey of a Lizard Global partner.
Our Customers
Everyone who needs help with the development of their application can get in touch with us and start their journey as a Lizard Global partner. In the past we have partnered up with individual entrepreneurs with brilliant ideas for innovative software. Aside from helping our entrepreneurs with the development of their application, we also provide innovative solutions for bigger customers and organizations, working together with intrapreneurs and corporate innovators. Enthusiastic starter or experienced innovator: no matter where you and your business stand, Lizard Global stands by your side to turn your ideas into reality.
Our Approach
Before we dive into the journey, it's a good idea to first take a look at the typical Lizard Global approach. As a scaleup, we highly value the worth of working Agile. This means that we pay a lot of attention to the needs of our clients. We do this with continuous cycles of iterative prototyping and testing in order to collect enough valuable feedback from end-users. Let's have a look at the five cornerstones of the Lizard Global approach:
In order to think in solutions, you need to be able to identify problems accurately. Design thinking involves the human-centred approach of working towards a deep understanding of the customer and end-user. Design thinking involves empathy, which refers to the idea that, only when you put effort and time into putting yourself into the shoes of your customers/end-users, you can create a clear image of their needs. Design thinking requires you to put all your pre-existing ideas, inspirations, and knowledge to the side, and let the customer create the main picture. Afterwards, it is up to you to use your intuition to fill in the gaps, and take in the thoughts and opinions of actual end-users. The design thinking process generally consists of 5 phases: empathizing and listening, defining the problem, ideating with intuition, iterative prototyping and testing, and delivering the Minimum Viable Product (MVP). Lizard Global's way of applying Design Thinking has proven to be legit in a variety of industries. Our clients of unlocQed, for example, is a great example of this.
Working Agile is becoming increasingly essential for business to keep up with the speed of technological innovations and changes within the market. At Lizard Global, we aim at delivering the end-product to our customers as fast as possible, without losing quality along the way. Working Agile is the best possible way to achieve the delivery of a high-quality product in the shortest amount of time. The core principles of working Agile are:

Putting the value of communication and individual input over tools and processes.
Streamlining the process of documentation and focus on user stories
Closely collaborating with the customer rather than negotiate
Focusing on changes and incremental improvements rather than following the established plan
Lean Analytics
Lean Startup is a term growing in popularity among modern businesses, and can best be described as a mindset that's focussed on eliminating all internal business processes that don't appear to add any value to the customer and end-user anymore. The Lean Startup cycle is built upon three core aspects: building, measuring, and learning. Lean Analytics can be seen as the "measurement" element of a Lean Startup philosophy. The central idea behind Lean Analytics is the awareness of the role, state, and identity of your business in order to streamline your sales funnel. Once you know what business you are and what stage your business is in, you'll be able to track and optimize the essential metrics that fit the current state of your business at that moment. By continuously keeping a close eye on your business' status, organizations can avoid issues like premature growth, or undefined bottlenecks.
Due to its experimental nature, Lean Analytics enables you to invest where it matters and, therefore, reduces the risks of every development investment that will enhance your product. By actively involving call centre agents and implementing every new feature minimally,
ROMS
was able to push its order to 1,000 a week!
Scrum methodologies are a practical element of the Agile way of working. Scrum Sprints, for example, consist of very short cycles of iterative designing, developing, testing, returning feedback, with the eventual goal of working towards a Minimal Viable Product and shippable increment. Scrum Sprints involve all stakeholders working on the project, among which the Product Owner, the Scrum Master, and the involved departments like developers and/or designers. Scrum Sprints have become popular among modern digital agencies for a reason: it works well. The Scrum Methodology offers extremely efficient phased plans focussing on new themes, epics, and user-stories to add to the end-product. At Lizard Global, we aim for transparency in our methodologies, so our customers are always aware of what's happening and at what stage we are.
Working towards a so-called minimum viable product (MVP) revolves around the delivery of a product that's ready to be tested out by its end-users with a minimal amount of features needed to give a good impression of how the product is supposed to look and feel. While keeping further development and improvements in mind, the essence of an MVP is the delivery of a product with only the most essential features. By scaling a product down to a limited set of essential features, you not only save time and effort, but you also reduce the risk of customer dissatisfaction with an end-product that doesn't meet the user's core needs. The MVP matches perfectly with the mindset of design thinking, lean analytics, using Agile methodologies. Because the action of creating and improving an MVP is an iterative process, concepts are continuously being tested and improved, based on the feedback of its end-users.
Along with
Tracker Apps
, Lizard Global developed an MVP and released it to a limited number of schools where teachers and students were actively involved. The result was a high-value feedback that contributed to establishing a product that is active in 5 different continents!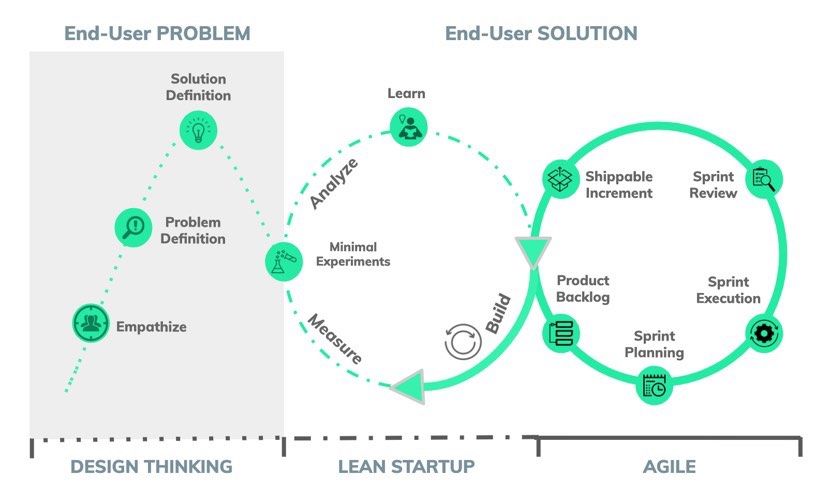 We Imagine
At Lizard Global, we understand how important it is to listen to our customers and end-users in order to fully understand their needs. That's why, before we start the process of designing and prototyping, we make sure to have a clear insight into the target market, the competition, and the possibilities and limitations of the project. Only then we can begin to formulate a solution that is perfectly tailored to the needs of our clients and end-users. The beginning of a partnership with Lizard Global consists of some time of getting to know each other, and using the principles of design thinking to create a clear image of your ideas and your needs. Before diving into the real deal, we offer all our customers a free package of services, which includes:

A free digital consultancy session
A free business research session
A free first version of your digital roadmap
These assets allow you to have a sneak peek into how your product can look and feel before we start the development process. Once we all agree on continuing our partnership, we estimate and create a budget plan together and continue our journey towards a successful end-product and market release.
In the process of digital conceptualization, we aim to define the problem of the customer and end-users. What problem is the product eventually going to solve? By means of empathy and mutual understanding within the concept of design thinking, we aim to create a tangible digital concept of the customer's ideas and needs. The digital conceptualization phase involves the drafting of the scope of the project. What work needs to be done in order to reach the successful delivery of the end-product? Lizard Global is your full stack digital partner that provides a complete package of services for turning any idea or problem into a digital success. Digital conceptualization is an indispensable part of that package.
Technical Business Consultancy
Another essential part of the first phase of our partnership involves technical business consultancy, in which we discuss the technical aspects of your product. At Lizard Global, we are specialized in everything digital. With an experience of more than 55 projects within 20 different verticals, our technical consultancy is always perfectly tailored to your needs. The process of technical business consultancy gives you and us an insight into what specific technologies we will need to use during the development of your product. Think of, for example, different types of technical features, or the choice between native application development, progressive web application development, or cross-platform development. With our knowledge and experience we can figure out exactly what type of application fits your needs.
We Design
After we've established a deep understanding of our client, the target market and audience, and the precise ideas, technical features, needs, wishes, problems, and solutions, we can begin the process of designing the product. After all, a design is like a business card that has to be perfectly aligned with the unique character of your business.
UI/UX Consultancy
During our UI/UX consultancy, we sit together with the client and discuss their preferences and options regarding the design of their application. Not only are our designers up-to-date with the latest trends and innovations, their experience also helped them intuitively feel exactly what UI (User Interface) design fits your business and your character, no matter the industry the app will be developed for. We sit together and go through all the steps the end-user would take while interacting with the application. Based on this, our UX (User Experience) designers can construct the application to optimize the overall user experience.
After defining the available options regarding the UI/UX design of your application, we dive into the practical part of the design phase. This mainly involves a lot of iterative processes of wireframing and the creation of mockups. The difference between a wireframe and a mockup is about functionality. Whereas wireframes depict the structure and architecture of the strategic performance of a website, mockups present the visual looks of the final product. One could say that a wireframe compares itself with the drawings and sketches of an architect, while mockups are like a set of 3D renderings.
The process of software design functions best when done with an Agile approach, in the form of a continuous loop between the prototyping and testing phase. With the iterative testing of our design prototypes, we can understand exactly how the mind of the end-user works, what design elements work, and what elements don't work. Once both the designer and the client are happy with the wireframes and mockups, it's time to actually implement the prototype into the final product.
We Create
After the process of iterative prototyping, implementing feedback from the end-users, and establishing a design that perfectly matches the ideals of all stakeholders, we can begin the development process of the product.
At Lizard Global, our skilled and experienced team of developers are always up-to-date with the most recent technological developments. Our customers can choose for a variety of application types, such as native applications for Android, iOS, or other platform-specific operating systems. Or they can choose for cross-platform applications and progressive web applications. We code with high-performance and scalable programming languages and offer the most safe and secure Cloud solutions, like Google Cloud, Digital Ocean, or Amazon.
We Grow
We don't just stop after the successful delivery of the end-product. On the contrary, successfully launching your app on the market might be the most complex part of the entire journey. Luckily, you don't have to do this alone. Lizard Global is specialized in offering tailored solutions regarding a solid go-to-market strategy, which makes sure your product doesn't disappear among competitors along the way. We focus on SEO, branding and identity strategies, the online presence of your business, process automation, and every other aspect of successfully putting your product into the spotlights. Additionally, once launched on the market, you'll get much more "real world" and viable feedback with which we can continuously improve and add new features that significantly increase the user experience.
Growth Consultancy & Digital Marketing (read the article)
One of the most important aspects of a successful product is, naturally, sustainable growth. But there are some things to keep in mind. For example, growing too quick can actually be harmful for your business in the long run. This is why Lizard Global offers a team of specialized growth hackers, who know exactly what your product and business need in order to grow into a long-term success. Growth hacking involves the process of closely defining, implementing, and monitoring the analytics of your application, and providing digital marketing solutions based on testing and feedback. Just like any other Agile process in software development. Our digital marketing team knows exactly what strategy works for your business, and we are constantly up-to-date with the current state of the market and possible competitors. With the right strategy, we help you stay on top of your game.
As partners of CRM software supplier Salesforce, we provide the service of CRM software integration in your company. CRM software is specifically designed to optimize and streamline the processes of communication and the management of relationships with your customers. It centralizes and automates all processes related to receiving, processing, and sending data in order to optimize your customer services. As Salesforce implementation partner, Lizard Global guides you through the entire process of sales automation without changing the established structures of your business processes.
Lizard Global as Your Digital Partner
Because the Lizard Family works closely together as an experienced full stack team, everyone of us isn't just busy with their own department. On the contrary, all departments, from design and development to sales, marketing and product owners, are continuously working together in order to achieve success and growth. The persistent collaboration and strength of our team even resulted in some impressive milestones and trophies. Check out our brochure to see what we've managed to establish during the past years.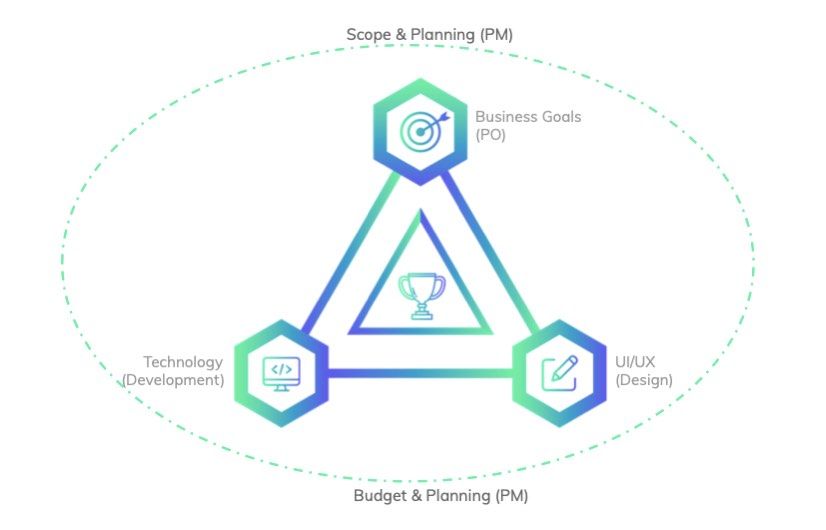 Choosing Lizard Global as your full stack digital partner involves much more than a mere collaboration. We aim to create a close bond with our clients that goes further than a digital agency offering solutions. We highly value a close relationship with all our customers, as it helps us understand exactly what you need and your overall expectations. Did you know that we're still closely collaborating partners with our very first customers? Because we aim to deliver only the best of the best, we make sure to closely involve our customers in all phases of the product life cycle, from the first moment of contact to a long-lasting, durable, and valuable partnership.
Curious about our previous partnerships and collaborations? Take a peek into the
Business Success Cases
on our website and take some time to check out our projects. We also owe our growth to our inspiring customers. Check out their reviews of our services on
Clutch
!
Not convinced yet? Don't hesitate to get in touch with us! We gladly sit with you, and guide you through the process of our digital partnership, with the comfort of a fresh cup of coffee.