Lizard Global Masters in Creating Mesmerizing Mobile Experiences: Jeremy Raes
14 Mar, 2023
Writer, Contributor - Goodfirms
Get the
latest updates

about our blog posts.
Subscribe so you don't miss out!
Follow Lizard Global on Facebook, Instagram and LinkedIn for the latest updates.
A programming agency turned into a full-stack digital agency -
Lizard Global
successfully proved its ability to turn innovation into action and create cutting-edge software solutions for world businesses. The professional duo, Jeremy and Guido, pioneered the venture making it one of the most sought-after app development companies by companies around the globe. Let's learn more about the company and its great offerings in this exclusive GoodFirms interview.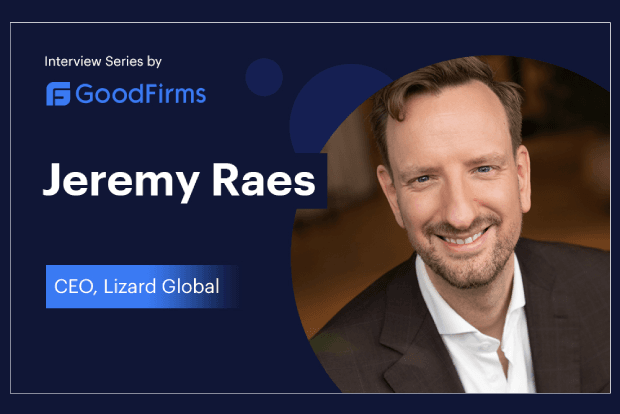 As the most-wanted destination to impart unique digital experiences for forward-thinking brands, Lizard Global came into formation ten years back, i.e., during 2012, and has now turned into a reliable digital partner constituting 35+ result-driven team players from diverse sectors, including web and mobile app development to UX/UI design and beyond.
Operating in the Netherlands and Malaysia, Lizard Global promotes goal-focused culture and is structured by the people who imagine, design, create and grow toward bringing the best possible tech outcome while working on a specific solution.

In an interview with GoodFirms' interviewer, Jeremy Raes, the CEO and Founder of Lizard Global, interestingly narrated the foundation story of the company, introduced his partner, and explained the business functionalities and plans of the company.

Jeremy initiates the interview by pointing out the need to involve programming, design, and strategy to establish a successful software development company. He said he had the same dream when he incorporated Lizard Global with his partner cum CTO - Guido Van Beek, during their college days at Technical University (TU) in Delft, Netherlands. At that time, he was involved at another startup and needed developers to help build a mobile app, and Guido was a freelancer working on various programming projects for clients.

They collaborated and brought a talented team together. They brought in the first clients and continued to build and grow. Today, the company is continuously improving and working to its full potential. It aims to provide exceptional service and long-term value to its customers and has developed strategic partnerships with many market leaders and innovators while moving forward.
Company's Business Model and Abilities to Stay Different
Jeremy and the team understand that building software requires teamwork and dedicated multidisciplinary actions. Hence, the entire operations in the company are conducted in-house.

Additionally, Jeremy affirms that they proudly serve their clients with optimum efficiency and partner their success to develop apps and maintain long-term relationships.

Industries Served and Services Assured
Mr. CEO confirms that they are fully invested in their client's success, and 85% of the company's retention rate proves their high commitment towards every project they take.

To cover the entire product development lifecycle from conceptualization to product development, deployment, and maintenance, a comprehensive suite of services offered by the company are as follows:
Software Development
Digital Marketing Strategy
Salesforce CRM Integration
UI/UX Design
Growth Analytics
Digital Consultancy
Technical Consultancy
Design Thinking Workshops
The experienced team of professionals in the company creates innovative and market-leading products. Workshops are conducted to conceptualize client ideas, design conversions through UI/UX analysis, and high-quality web and mobile app development services provided to businesses of all sizes.
Jeremy notifies that the best way to deal with Lizard Global is to use scientific methods to analyze how clients react towards the company's products and services. This helps improve user experience and the success ratio of client applications and makes the company rated as the
top mobile app development company in the Netherlands
in the GoodFirms ranking list.
Client Satisfaction Rate is a Priority
When asked how satisfied are clients are with Lizard Global services - Jeremy rates it as 9 out of 10. He added that they religiously focus on increasing their Net Promoter Score consistently for the past three years. Whenever a client gives a 4-star rating to their business, the company makes every effort to change to a 5-star rating by improving the services to the highest level ensuring ultimate customer satisfaction. Maintaining effective communication becomes the critical factor in having strong client relationships.
Jeremy emphasizes developing a sense of mutual understanding and respect to provide the best possible service to the customers. Hence, the team creates an open and inclusive environment to foster lasting customer relationships. A reliable service level agreement takes place for providing support and solving technical queries. Various support plans, including comprehensive coverage for mission-critical applications, are facilitated during product development, design, and growth stages to provide a better user experience.
Payment Structure
Following transparency and flexibility, the company works on the time and material-based payment structure. The budget is decided, accounting for all the queries, tasks, and estimations related to the projects.

Our prices depend on the projects undertaken. A minimum of €2,500 to €10,000 is charged for conducting workshops. €30,000 is charged for software platforms.
Following a Futuristic Approach
According to Mr. CEO, Lizard Global believes in the power of ambition and passionate drive. The company takes pride in working diligently to meet its clients' expectations and treat them as their extended family.
He positively looks forward to the future of the company. In the coming ten years, he wants to widen the range of their services and help their clients succeed.

Here concludes an excerpt of Mr. Jeremy Raes's interview. The detailed interview can be found on Lizard Global's company profile page at GoodFirms.
About GoodFirms
Washington, D.C.-based GoodFirms is a maverick B2B research and reviews firm that aligns its efforts in finding web development and web design service agencies delivering unparalleled services to its clients. GoodFirms' extensive research process ranks the companies, boosts their online reputation, and helps service seekers pick the right technology partner that meets their business needs.
About the Author
Prepared by Anna Stark, a Content Writer at GoodFirms, who bridges the gap between service seekers and service providers. Anna's dominant role lingers to form every company's achievement and critical attributes into words. She strongly believes in the charm of words and equips new approaches that work, always with concepts.