Meet the Lizards: Kuala Lumpur Office
28 Sep, 2020
Lotte, Digital Content Specialist
Get the
latest updates

about our blog posts.
Subscribe so you don't miss out!
Our latest "Meet the Lizards" blog dived deep into the lives of our Lizards in Rotterdam. Now it's time to hop on the metaphorical plane and fly to the other side of the globe, to the Lizard Global office in the mesmerizing city of Kuala Lumpur, Malaysia. Whereas the Rotterdam office is mainly filled with product owners and sales/marketing specialists, our office in Kuala Lumpur consists of a perfect combination of all our cross-functional departments, from Sales, Marketing, Product Managers and Product Owners to UI/UX Designers and Software Developers.
This blog gives you a sneak peek of our talented Lizards in Kuala Lumpur, their daily tasks, and experiences with being part of such a multi-skilled team. For this blog we sat down with a part of our team in Kuala Lumpur, active in various departments: Senior developers Hafiz and Daniel, project managers Khaldoon and Mimi, and commercial director Markus.


How did you end up at Lizard Global in Kuala Lumpur?
Markus: "While working as a key-account manager at Apple Business in Amsterdam, I gained a lot of experience within the IT branch from a commercial perspective. My passion is travelling, preferably in Asia. And when I came to visit my good friend and current Lizard Global CEO Asia Terence in Malaysia, Lizard Global was actually looking for someone to give the commercial team a boost. By now, I have made a total change, from The Netherlands to Malaysia, and from hardware to software."
Hafiz: "Quite some time ago, I was looking for a fun company to work with. I came across a job opportunity as software engineer at Lizard Global, which triggered my interest. Since that time, I've been working at Lizard Global, which I've been doing for about six years now."
Mimi: "Our CEO Asia Terence contacted me via LinkedIn and invited me to meet up over lunch for a casual interview. We then kept in touch, I got into a second interview with CTO/co-founder Guido and CEO/co-founder Jeremy, and the rest was history. I remember going to lunch with Jeremy and Terence when I was serving my notice with the previous company I worked for, and I even joined the 2018 Xmas party to mingle with the Lizards, my future colleagues."
Daniel: "Three years ago, I came to Lizard Apps for an internship, which initially only would last for about four months. However, I found myself really liking the way of living in Kuala Lumpur and working for Lizard Global, so I decided to stay."
What do you do at Lizard Global?
Khaldoon: "I'm a project manager at Lizard Global. This involves playing a leading and guiding role in planning, executing, monitoring and closing projects our team is working on. As a project manager I'm accountable for the entire project scope, the team working on it, the resources, and the eventual success of the project. I also fulfill the role of product owner, which means I guide our clients with concretizing their ideas into clear concepts, and supporting the team to navigate towards the realization of the concept to a functional application."
Mimi: "Like Khaldoon, I'm working as a project manager at Lizard Global, focusing on internal and external projects and leading the small project management team. This entails creating realistic plannings, anticipating potential risks and coming up with ways to minimize the risks, manage conflicts and keep the team focused on the same goal and up-to-date with their current tasks."
Markus: "I'm the Commercial Director Global of Lizard Global, and it's my task to put Lizard Global on the map and acquire new and sustainable leads. I'm mostly busy with establishing new client contacts, documenting new leads, and nurturing those leads for the longer term. Next to that, my tasks are also focused on other marketing-related aspects, like our online presence and digital marketing strategies, networking and events, customer success management, setting up KPIs, managing the overall global alignment of the company, and much more."
Hafiz: "I'm responsible for the technical development of web applications, and managing the team I'm working with. I usually start my day with daily standups, followed by managing my team and helping our developers to find solutions, as well as making estimations for upcoming projects of our product owners. Next to that, I also create structures for new development projects and make sure these match the company's requirements, ways of working, and current integrated tools, like Gitflow, CI/CD, etc. "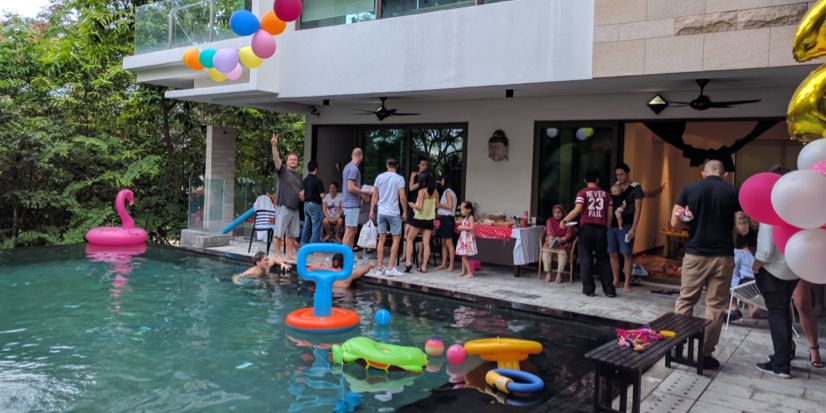 How do you experience working in KL?
Daniel: "Unfortunately, during the current pandemic we haven't gone back to our normal routines yet. But normally we have a very good and relaxed atmosphere within the KL office, with a lot of friendly colleagues. Our office is very spacious, with plenty of natural light. The city itself left a very good impression on me when I first arrived, and it still manages to impress me every day. It's a global city with tons of options for food and entertainment."
Mimi: "I love the open seating concept of the office, which makes it easier to connect and communicate with one another. I love how everyone is open and respectful towards each other's cultures and beliefs, as we are a very diverse team."
"I can open up and be myself, and others do as well, which makes our team in KL grow closer as days go by." - Mimi Khaldoon: "Kuala Lumpur is a modern and fast-paced city, while yet still very laid back in many aspects. The same goes for our office, as we always work expeditiously and are very dedicated to our jobs, but we always manage to have time to relax and have fun with each other."
Markus: "In Kuala Lumpur, we work with a cross-functional team of developers, UI/UX designers, product owners, and product managers. They can be a bit more introverted than, for example, the commercial team that's used to connecting with clients and customers. As Lizard's commercial director, I therefore try to bring a bit more of a buzz within the office. We've launched weekly network sessions on Friday afternoon, which we call 'Vrijdag Middag Borrel' or ' VrijMiBo' in the Netherlands. This proved to be a great success and gives an excited yet relaxed mood to our Fridays, which is needed after a week of hard work."
"My absolute favorite aspect is the fact that it's always summer here." - Daniel
What is your favorite spot in the KL office?
Markus: "My favorite spot in our office is probably outside, or one of our three meeting rooms with, of course, their fitting Lizard-related names: Iguana, Gecko, and the Komodo-briefing room."
Daniel: "Our new coffee machine is a clear winner for me."
Hafiz: "The pool table area."
Khaldoon: "Also the pool table, or my own desk."
Mimi: "The pool table for sure. This is mainly where the bonding sessions with the KL team happen."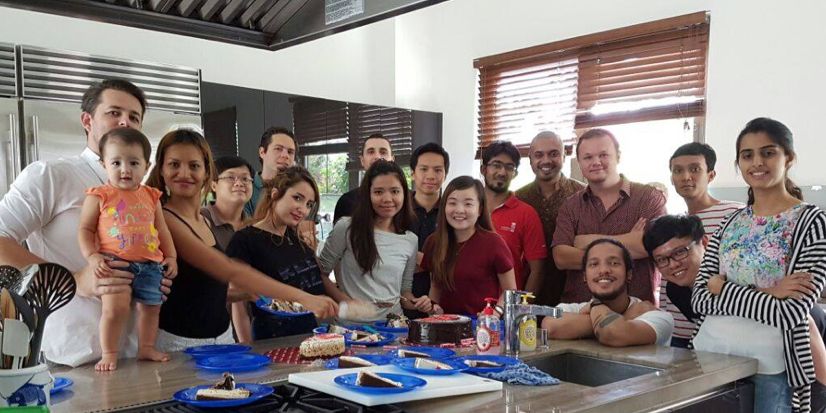 How do you experience working with the diverse KL team?
Khaldoon: "As a project manager, I work closely together with colleagues from all our different departments: development, design, and commercial (marketing & sales). I mostly like the competitiveness that we sometimes experience within the same team and between the different roles to challenge each other to work better, which contributes to the success of the product that we are building."
Markus: "Our sales department often wants to go faster than what's actually achievable, whereas marketing always aims for more time and attention to our Lizard Global brand. That's why it's very useful to work in an environment with different departments, with all their own ways of working. For the past year, we've been paying more attention to our commercial strategies, and greatly improved our website with new business success cases, a fast-growing blog page, new customer-facing documents like our portfolio and digital brochure, and much more."
"We often have meetings between The Netherlands and Malaysia in order to keep our tasks and goals aligned, and especially during the Corona Crisis we've managed to make big steps towards digitizing a lot of our projects. - Markus"
Hafiz: "My experience working with the KL team has been very good so far. As a team, we mostly collaborate using Skype, and our daily standups. This way we make sure we're always up-to-date with each others' tasks."
Daniel: "As a developer, I work most closely with other developers, project managers and nowadays increasingly more with product owners as well. I'd say the collaboration goes well due to the frequent meetings and discussions."
Have you visited the Rotterdam office before? How was that experience for you?
Markus: "Our team in KL and our Rotterdam team are both amazing, with their own quirks and talents. Visiting our office in Rotterdam is a great opportunity to work together in real life instead of Skype, and to network during the Venture Café events on Thursday afternoons. Born and raised in Amsterdam, I always have to be a bit careful in speaking positively about Rotterdam. But every time we end up in a pub after a hard day of working on Thursdays, I do have to admit I have grown a weak spot for the city. We can't wait to welcome the Venture Café networking events in Kuala Lumpur. Until that time, we'll do it with our own cosy Friday evening network sessions."
Mimi: "Yes! I went there last year and enjoyed my first time at the Pride festival. And, yes I also LOVE our office in Rotterdam, mostly because of the facilities that place has to offer, the friendliness of everyone in CIC, and the opportunity to work face-to-face with the NL team rather than virtually. The part that is different is just the faces that I'm seeing. Other than that, I believe the company culture remains the same in both locations. Or how the local people like to say it - same same!"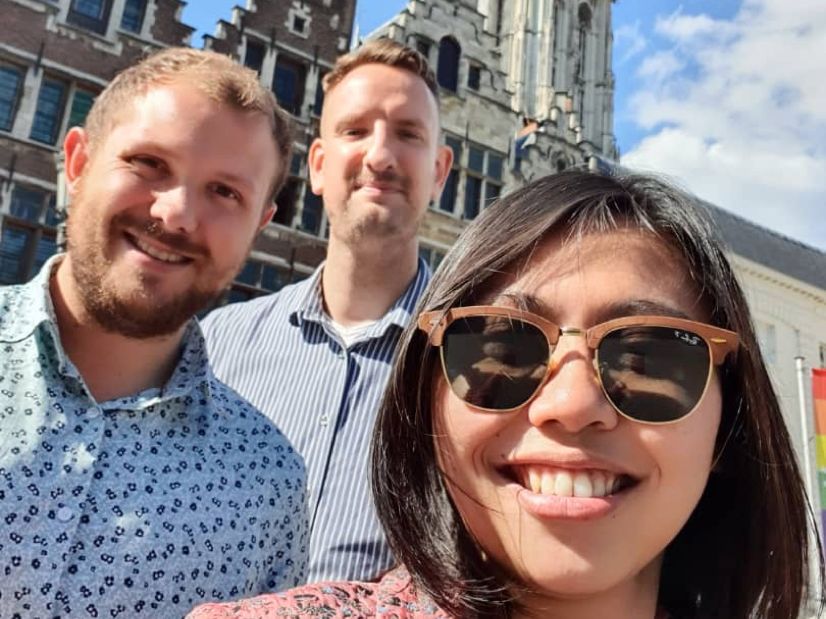 If the company grows more international, would you consider moving to another city or country to work for Lizard Global?
Hafiz: "Yes, definitely! I'd love to continue to work for Lizard Global, and I would love to move to Pakistan and represent our company there, as resources are very affordable, and there's a wide availability of high-quality software engineers."
Khaldoon: "I'd like to, although I have no specific city in mind. Perhaps a city with a different lifestyle and different weather. I do like living in KL, but I would like to try a different environment if I'd get the chance."
Mimi: "I wouldn't mind! It needs to be near the beach, either Bali, Barcelona, or maybe Hauge. I would like to explore living in a different city, since I spent most of my life in Malaysia."
Daniel: "I don't have a particular place in mind, but I'd definitely be open for suggestions."
Where do you see yourself in 5 years?
Markus: "In five years time, I see Lizard Global with a worldwide presence and at least one office on every continent. My dream has always been to be able to work from three different locations, and we're working hard to establish this dream. At the moment, we have about 60 successful projects, within 18 different verticals and industries, spread over multiple countries. If we keep this up, you'll probably find me in our office in Bali in five years."
Hafiz: "In five years, I'd like to see myself as an even further grown and experienced developer, leading my own passionate team of developers towards creating beautiful and high-quality work to our clients."
Mimi: "In 5 years, I would like to see myself as someone who doesn't only make sure that the PM team delivers the project on time and on budget. I want to be someone who can help the company to drive, guide, and execute company-identified value-added goals. From hiring the right resources to increasing the chance of executing high-impact, high-visibility projects that align with the long-term goals of companies and continuously review the process, technologies, and culture, so that we can make changes that in the end meet our company's vision in becoming the world's leading digital partner."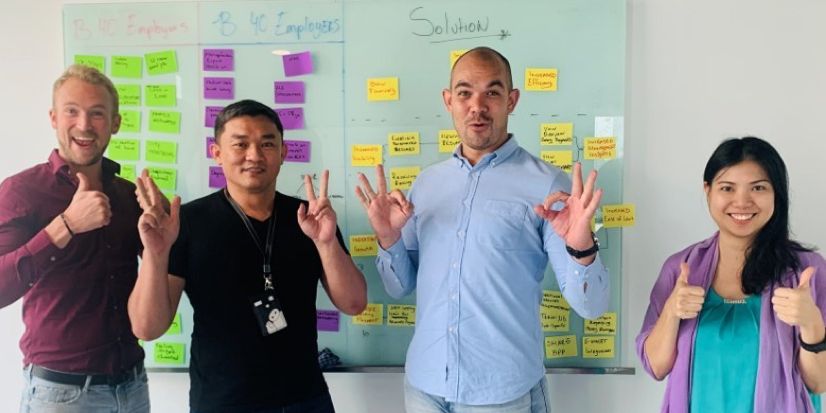 Meet more Lizards!
Want to know more about our different departments, offices, our individual Lizard Family members and their daily occupations? Check out our previous interviews with our software development team and Chathuri, our CEO and CO-founder Jeremy, our CTO and Co-founder Guido, our CEO Asia Terence, our Product Owner Jordi, and our Senior Software Engineer Kenny. Or check our recent interview with our Lizards in our office in Rotterdam! Keep an eye out for more interviews and find out more about our unique and skilled Lizards!