Meet the Lizards: Lotte | Content Manager
18 Jan, 2021
Lotte, Digital Content Specialist
Get the
latest updates

about our blog posts.
Subscribe so you don't miss out!
In our last Meet the Lizards, you could read about our new Product Owner in Malaysia, Simonas, who joined the Lizard Global family during a year of unrest while a global pandemic abruptly threw our daily routines overboard. About half a year before the start of the pandemic, back in 2019, Lotte joined the Lizard Global team in Rotterdam. Her passion for creative writing and content creation resulted in a brand new Lizard Global blog page, now counting approximately 100 blogs about a wide range of tech-related topics. You may be surprised to learn, however, that this isn't the first time she's been a part of the Lizard Family. Continue reading to find out where the Lizard Global adventure started off.
First things first, who are you & what do you do?
"I'm Lotte, content manager at Lizard Global since September 2019. From professional copywriting to creative writing in the form of poetry, songs and fictional stories, there's not much I love more than grasping the attention of my readers and taking them along on a journey through my writings. When I started at Lizard Global in 2019, I began as a blogger, which is still one of my main practices within the company. However, over the course of the year I've expanded my knowledge and passion of content creation, and now I'm in charge of the social media marketing branch, guest blogs, and other fields of commercial content creation."
How did you come in touch with Lizard Global?
"I got to know Lizard Global back in 2015, when it was still known as Lizard Apps. After finishing high school, I wasn't sure about my next steps in life. I had no idea what my passions were, and what road I had to take to follow these passions. I decided to take a year off before choosing a university where I would dedicate myself to for the coming three or four years. Coincidentally, I came in contact with Lizard Apps, which, back then, still consisted of a one man team in The Netherlands, while the rest of the team was stationed in Kuala Lumpur, Malaysia. I got the chance to get a taste of the working life. Firstly, I started off as an intern Product Owner for smaller projects in Rotterdam, and after a while I took the plane to Kuala Lumpur to live and work there for about three months."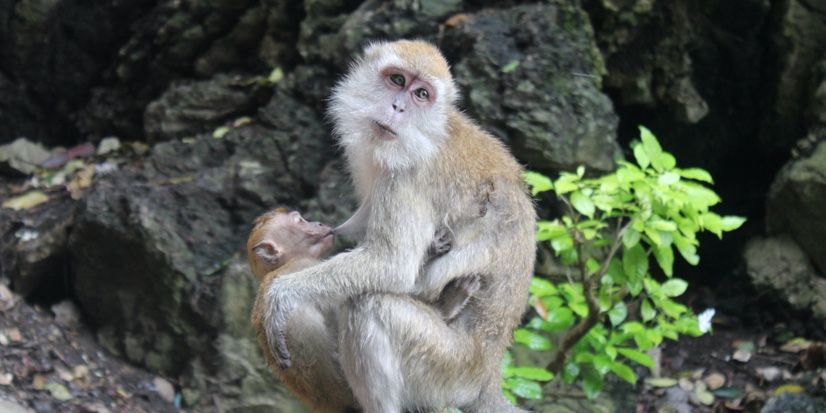 How did you experience working at Lizard Global before?
"I was about 19 or 20 years old when I moved to Kuala Lumpur, and I had never done something spontaneous and big like that before. Needless to say I was beyond excited to go to Malaysia, but I was also unsure of what to do once I got there. Once I arrived, I slowly started picking up the rhythm, and in a matter of days I got used to the new environment. While being in the role of a product owner, I realized quite soon that the function wasn't creative enough for me. Although the function of Product Owner at Lizard Global has enough room for creativity, I missed sitting down with my laptop and tinkering with graphic design and written content. However, I'm always in for learning new things, so while it didn't scratch my creative itch, it certainly opened my eyes to the various types of projects Lizard Global works on and it gave me a deeper understanding of the role of a Product Owner, which comes in handy when I work with them on a project now."
"When I started working at Lizard Apps for the first time, I was still very shy and not used to being part of a larger team or leading meetings with clients. I remember struggling a lot with finding and taking my place in the company. It's amazing to see how much I've grown as a person in the meantime, and how comfortable and confident I feel in my position at Lizard Global at the moment."
What was it like to live in Kuala Lumpur for three months on your own?
"It was a gift sent from heaven. I got the amazing opportunity to both work and live in the former Lizard Apps office, which was probably the most luxurious thing I've ever experienced in my life. In the morning, I could roll out of my bed, take a shower, eat some breakfast, and join the team that was already present."
"At daytime, I was always surrounded by an incredible group of hardworking people, and at the end of the day I had an entire palace-like building for my own."
"After about 1,5 or two months, a feeling of loneliness started creeping in, and I felt the need for a companion. Together with our CTO/co-founder Guido, I went on a search mission, and we found Billy, my new buddy and our new office mascot. Being abandoned by his mom and left alone on the streets of Kuala Lumpur, Billy was a kitten of merely a week old. The first 3 weeks with Billy mostly consisted of sleepless nights and sitting on the kitchen floor feeding the tiniest cat with an even tinier syringe. But I enjoyed every minute of it."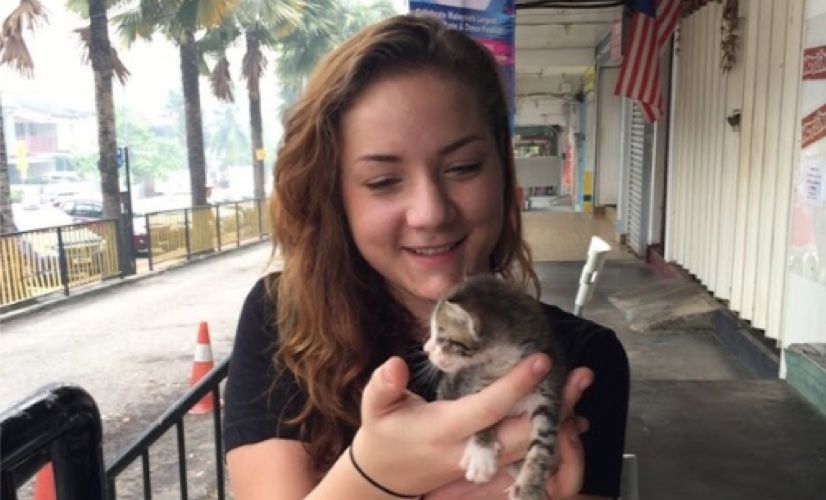 "I had to leave Billy behind in KL when I moved back to The Netherlands. The team continued to treat him like a true part of the Family - even though his rough upbringing meant he could be a devil of a cat. One day he decided to leave us all behind and didn't return to the office after his daily exploration session, and we still have no idea what exactly happened to him. Whatever happened, I'm sure he had the best life a stray cat can have."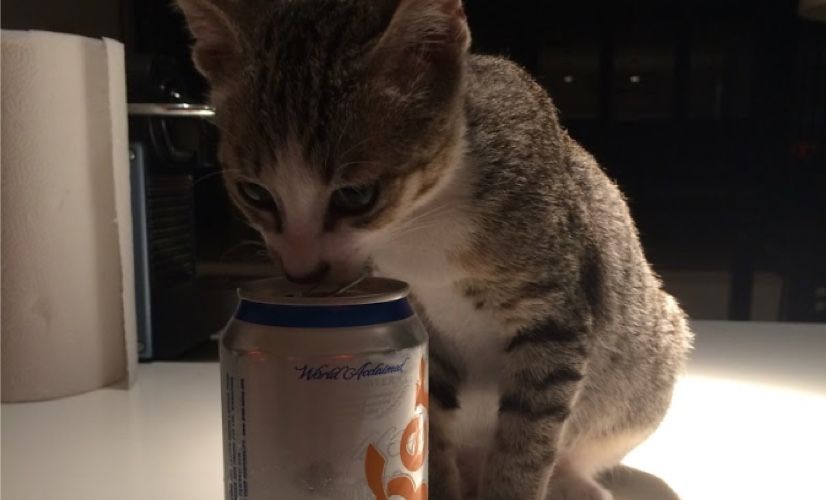 What made you come back to Lizard Global?
"I finished my Bachelor New Media & Digital Culture at the University of Amsterdam in 2019. And again, I had no clue what to do next. Luckily, I was still in contact with Lizard Global, and followed the company and their growth during the past years on the sideline. Although business was going great, there were still a lot of opportunities for growth in marketing and their online presence. After a talk with CEO/co-founder Jeremy, we decided to start the Lizard Global blog page, and I would take care of the content. At the moment, I work closely together with our Commercial Director Markus, and the combination of his commercial background and my creative perspective turns out to work really well. I see it as another amazing opportunity to be back at Lizard Global, but with a healthy dose of "grown-up confidence" and in an entirely different role that fits me like a glove."
"It's very inspiring to see how Lizard Global has grown over the past 5-6 years. Back in 2015, Lizard Apps stood at the start of the bridge towards success, but there was still a lot to do to get there. It was great to see that, in the years after I had left, the company was making immense progress and huge steps towards becoming a top app development company."
"Definitely a lot has changed over the years, but what stayed the same is the immense drive, persistence and passion of the team as a whole. Next to that, it's fun to see that some of the Lizard I met back in 2015 are still part of the family, and each and every one of them has grown in their own unique way."
How are you experiencing the current working environment & culture at Lizard Global?
"I'm a big fan of the international vibe within Lizard Global. The team consists of many different people with many different backgrounds, ideologies, religions, passions, and interests. We learn from each other every day, not just work-wise. Being a part of the commercial team requires me to be in contact with basically all other departments, from development and design to sales and product owners. I can't wait to be allowed to travel again and meet/catch up with the Lizards in KL in real life."
How did you experience working during a global pandemic?
"After about half a year of working at Lizard Global as content manager, the Corona crisis took over the world. Since then, I've been working from home in Amsterdam. Luckily, because the Lizard Global team is active on two different continents, we're used to doing most of our work and communication online. This made us adjust to the new situation regarding covid-19 regulations pretty easily and quickly, which caused our internal processes and pipelines to continue as normal."
Where do you see yourself in 5 years?
"I hope to be traveling the world in 5 years, preferably before then. As a content creator, I have a lot of freedom regarding the location I'm working from. Most of my work I can do online and in the Cloud, and communication with clients and colleagues can be easily done with video conferencing applications. These types of technology will probably only rapidly improve now remote working is steadily becoming the norm. In 5 years, I hope to still have my focus on creativity in my writings and other content, so I can travel around the world and help smaller businesses and startups create the perfect online identity for the unique character of their brand."
Meet more Lizards!
Want to know more about our different departments, offices, our individual Lizard Family members and their daily occupations? Check out our previous interviews with Commercial Director Markus, our software development team and Chathuri, our CEO and CO-founder Jeremy, our CTO and Co-founder Guido, our CEO Asia Terence, and our Senior Software Engineer Kenny. Or check our interview with our Lizards in our office in Rotterdam and Kuala Lumpur! Keep an eye out for more interviews and find out more about our unique and skilled Lizards!