Meet the Lizards: Markus Monnikendam | Commercial Director Global
09 Nov, 2020
Lotte, Digital Content Specialist
Get the
latest updates

about our blog posts.
Subscribe so you don't miss out!
Meet Markus, our Commercial Director at Lizard Global. He has an astounding passion for delivering excellent customer services and bringing a smile on the faces of everyone that crosses his path. His experience of working at tech giant Apple taught him to have an incredibly sharp eye for detail when it comes to listening to the needs and requests of customers, with which he forms an indispensable asset of the Lizard Family.
Firstly, how would you describe yourself in 5 words? And can you tell us something about your passions in life?
"If I would have to describe myself in five words, I would describe myself as adventurous, enthusiastic, energetic, social, and sportive. My biggest passions are traveling and sports. When I have the opportunity to discover new things and places, I would always take them with both hands. Since I've been living in Malaysia, I often take the time to visit beautiful coastal areas, which I enjoy together with my fiancée Sara."
"During weekdays I like to work out. Currently, my favorite sports are football, futsal, squashing, fitness, running, climbing and kickboxing. It's a blessing to put my mind at rest after a day of hard work, and to keep myself in top condition, physically and mentally. Finally, I'm always in for discovering new things here, such as restaurants and street food stalls, so called 'Mamak food-stalls', as I'm a big fan of the Asian kitchen."
In what ways do your passions and interests come alive in the work you do?
At work, my passion results in discovering, defining and implementing new strategies and commercial projects, such as the revamp of our Lizard Global website, our blog page, new business success cases, review pages like Clutch and Sortlist. These innovations all contribute to bring attention to the Lizard Global brand. During the past months, we've also worked hard with the revamp of our official documents, like our pitchdeck, our digital brochure with aligning all our services, our portfolio with all our projects and verticals, and our security documents with all the info you need about our security measures. By making sure that these kinds of documents are up-to-date with our methodologies and current trends, we can correctly inform our customers at all times, and keep adding value continuously.
How did you end up at Lizard Global, and why in Malaysia?
"I've been working as a key-account manager at Apple for six years, back in my hometown Amsterdam. Thanks to this enormous tech giant and pioneer in the field of customer success, I had the unique opportunity to move to London to train my skills in delivering excellence in business satisfaction (NPS). Apple is the predecessor of the current trend of applying Design Thinking in customer relations, from a customer-centric perspective."
"Steve Job's vision has always inspired me in my career, motivating me to sell a service or product to people that can greatly enrich their lives for the better."
"After working at Apple, I craved a new international adventure and decided to broaden my horizon. And as an entrepreneur and shareholder of two internationally active startups, I've definitely had some amazing adventures along the way. When my friend Terence told me about Lizard Global, he immediately caught my interest. I met up with Lizard Global's CEO and Co-founder Jeremy in Rotterdam, and with CTO and Co-founder Guido and CEO Asia Terence in Kuala Lumpur, Malaysia, I was sold by the unique character of Lizard Global and the amazing atmosphere within the company and the team: a true Lizard Family."
How is working at Lizard Global different from your previous experiences in the commercial field?
"I'm glad I've been able to experience working at one of the biggest tech giants in the world, as well as with corporate businesses and working as an entrepreneur. These experiences come together perfectly while working at Lizard Global, which brings the best out of both worlds. My commercial experience comes in handy with our diverse target audience at Lizard Global: entrepreneurs, intrapreneurs, corporate innovators and partnerships. Lizard Global is in its prime, and we are motivated to bring our services, locations, and marketing opportunities to the next level. When I just arrived at Lizard Global, the marketing department had a lot of opportunities for growing bigger, and the entire commercial team managed to greatly improve the way we convey our services to our customers. And as we're never done with growing bigger and better, we always welcome the feedback of our readers, customers, and clients with open arms."
What does a typical day at Lizard Global look like for you?
"During weekdays I have a steady routine, which I keep optimizing every week to eventually reach the perfect rhythm. I think that you can never change your life for the better until you improve the thing you do daily, and make it a habit. Every morning, I try to dive into topics I don't know much about yet to get wiser every day. During my adventurous trips to the office driving my Malaysian Honda EX5 Dreamer scooter, I always try to mentally go through my day and list all the things I need to do that day."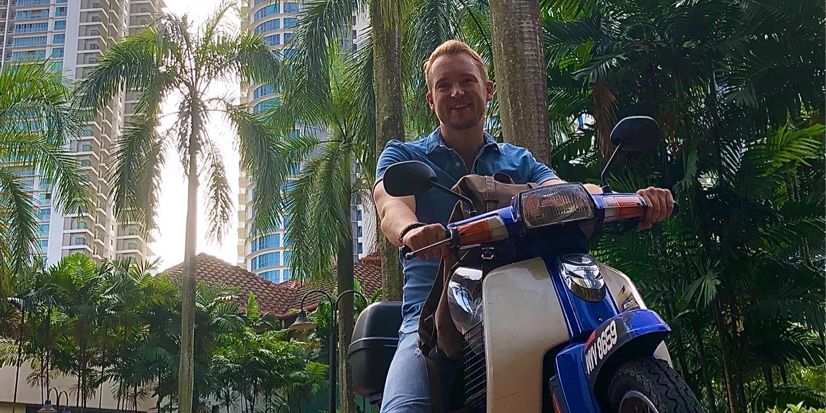 "The secret of your success if found in your daily routine."
"Arriving at the office, I mostly start my day with a cup of coffee together with Terence. I prioritize my daily tasks, scan through my emails and implement them in my daily Salesforce (CRM) which automatically links to the calendar. Because Lizard Global is split up by a couple of continents, with an office in Kuala Lumpur and Rotterdam, most of our communication happens through Skype. Besides Skype, our business partners, clients, and website visitors can now reach us via WhatsApp. So, after going through my Skype messages, I take some time apart to answer any questions or requests I received through WhatsApp. Most of my days consist of keeping in contact with clients and partners, so online and offline meetings are a daily business."
In what ways do you work together with the other departments/functions?
"All departments at Lizard Global are equally important for the commercial success of the company. After I've spoken with someone who is interested in digital innovation, I talk them through our services and the process of partnering up with Lizard Global. This usually involves a customer journey that looks a bit like this:"

Digital idea conceptualization
UI/UX consultancy and design
Technical consultancy
Custom software development
Growth consultancy
Digital marketing strategy
Salesforce (CRM) integration
"As commercial director, I introduce our clients to the services we deliver, and warm-handover new projects to our Product Owners, who will then guide them throughout the entire journey from idea conceptualization to the delivery of their end-product. We make sure to discuss the projects we're working on within the team on a daily basis, so everyone is up-to-date with the progress of our projects and all tasks are streamlined."
"At Lizard Global, we don't sit at the other end of the table, facing our clients. We sit next to you, and take every step of the journey together."
What, in your opinion, are some fundamental elements of a good marketing strategy?
"This year, we've worked on achieving the right tone-of-voice on our communication channels. We educate our followers with a large variety of content: from personal company insights to in-depth technology insights, like our technical blog posts. We practise what we preach, within our ways of working. We tend to let data drive our strategy, and add value continuously."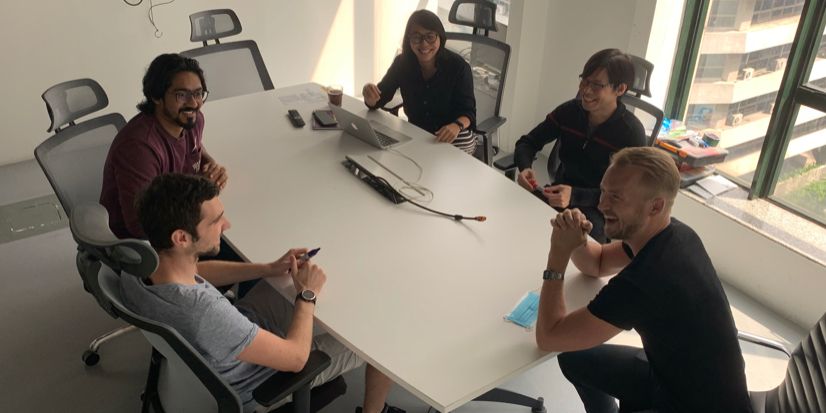 What is your favourite thing about working at Lizard Global?
"My absolute favorite aspect of working at Lizard Global is the open, multicultural, innovative and motivating working culture among our colleagues and customers. Because Lizard Global is active internationally, with an office in Kuala Lumpur and Rotterdam, we are lucky to welcome so many unique and interesting Lizards to our Family. This beautiful combination of cultures makes the working environment at Lizard Global very open minded, supportive and motivating."
"As Commercial Director, I'm most passionate about welcoming new potential customers, and improving the ways we communicate with our customers and partners. We are currently growing very fast, and especially on the Asian market we've noticed a big potential for Lizard Global and our digital solutions."
Where do you hope to see yourself and Lizard Global in 5 years?
"In five years, I'd love to see Lizard Global grow internationally. I'd love to travel the world for Lizard Global and satisfy even more clients with the digital solutions we deliver. And I wouldn't say no to a lovely office in Bali, Indonesia."
Meet more Lizards!
Want to know more about our different departments, offices, our individual Lizard Family members and their daily occupations? Check out our previous interviews with our software development team and Chathuri, our CEO and CO-founder Jeremy, our CTO and Co-founder Guido, our CEO Asia Terence, our Product Owner Jordi, and our Senior Software Engineer Kenny. Or check our interview with our Lizards in our office in Rotterdam and Kuala Lumpur! Keep an eye out for more interviews and find out more about our unique and skilled Lizards!