Meet the Lizards: Rotterdam Office
02 Sep, 2020
Lotte, Digital Content Specialist
Get the
latest updates

about our blog posts.
Subscribe so you don't miss out!
Meet our Lizards in Rotterdam: a close team of hardworking people, dedicated to providing our clients with the best possible services, day in, day out. While our cozy office is normally filled with the six of us, nowadays it's a bit more empty than usual. Because we want to do everything in our power to prevent COVID19 from spreading any further, some of us work from home, while others switch their shifts throughout the week. Our Rotterdam team consists of the head of product delivery Roelant, product owners Jordi, Kaz and Lieke, CEO/co-founder Jeremy, digital marketeer/content creator Lotte, and our freshest member product owner intern José.
We interviewed the Rotterdam team to get a little sneak peek into their daily lives, their workdays, their experience of the office and the city, and their connections with our team in Kuala Lumpur.

Firstly, how did you end up at Lizard Global in Rotterdam?
Roelant: "There's no real short answer to this. I was born in Delft but moved to the US at age 3. Fast forward close to 40 years. My situation changed and I met Jeremy through my brother - who was a client at Lizard. We struck up a conversation, one thing led to another and now I find myself back in The Netherlands and working for Lizard Global doing a job that provides me immense satisfaction."
Lieke: "I went to a weekly networking breakfast for entrepreneurs, BNI, to search for an interesting internship. At this event, I met one of the Lizards, we talked and then scheduled an appointment for a job (internship) interview. The rest is history. After my internship, I got the chance to continue my journey as PO at Lizard Global, which I gladly signed up for."
José: "Around two years ago, I met Kaz at Venture Cafe, who introduced me to Jeremy and the rest of the team. Fast forward to now, I was looking for a summer internship, so I reached out to Jeremy, who put me in contact with Roelant, and offered me the internship position."
Lotte: "I've had my first internship at Lizard Global (Lizard Apps back then), in 2015, the year I finished high school. I got the amazing opportunity to move to Kuala Lumpur for three months and experience working with an amazing international team. After my internship, I started my bachelor New Media and Digital Culture in Amsterdam and left Lizard Global behind me for some years. After finishing my bachelor in 2019, I got back in contact with Jeremy, and we both decided to have me back at the company as a content creator and social media marketeer."
What's your function at Lizard Global?
Jordi: "My main role is Product Owner, which means I am the go-to partner of the client. Together with the client, we identify possible technical solutions, define the dot on the horizon, and process the wishes and requirements in an understandable language for the designers and developers in Malaysia to work with. Internally, I represent the client while seeking new (business) opportunities simultaneously by processing and analyzing data, market movements, and other sources."
Roelant: "I am Lizard Global's Head of Product Delivery. This means that I manage the team of Product Owners and am ultimately responsible for the quality of our products and services. Aside from this, I am also the Product Owner on several products that we work on for our clients. Day to day, I provide coaching, guidance, process improvements, and more. Aside from that, I also do the more typical Product Owner work - such as creating and managing strategic product roadmaps, backlogs, and much more. It's a lot of work but also incredibly rewarding."
How do you experience working at the Rotterdam office?
Kaz: "It is a great working environment! The office often organizes events, great services, drinks, daily self-made meals, etc. I never experienced a work environment better than this. I would not be disappointed if I could keep working at CIC for the foreseeable future."
José: "My experience of the working environment here has been really nice so far. The people here are always willing to lend me a hand when I struggle with something, and they treat me as if I've been working here for a long time."
Jordi: "Working at Lizard Global has been one of the best decisions I have ever made in my career. The atmosphere and culture in the Rotterdam office, but also CiC, is hugely motivating and challenging at the same time. The entire surrounding breaths innovation and change, while it also sets a stage to learn, develop, and explore. Each day is different, and we have a great team that works closely together to achieve goals."
What's your favorite spot in the CIC office?
Roelant: "Aside from any spot near their fancy coffee machines, personally, I love the rooftop. On those days where Rotterdam has sun and warmth, there's no place like working from the rooftop. The views are amazing and it helps put everything in perspective."
Kaz: "My desk or the lazy chairs in the Venture Café with a great view over Rotterdam Central station."
José: "Definitely the games room."
Lotte: "My favorite spot in the entire office is probably the "secret mirror room". Although I never actually sit there, I lost my mind when I found out there's a mirror-filled room hidden behind a secret door somewhere in the office. Small things like that can turn a boring office into an adult playground, which is so much better for gaining inspiration for my writings."
How do you experience working with the Rotterdam team?
Jordi: "The combination of unique characters, backgrounds, ages, motivations, and disciplines makes working at the office very interesting and fun. Unique, but no individualism, as we all aim to work together as a well-oiled team. Furthermore, there is a very good and also competitive synergy within the team, allowing us to challenge each other, thrive, but also reach and share great successes."
Kaz: "My experience with the Rotterdam team is good. We don't have that many departments in Rotterdam, but we have a close group that goes out for a drink once in a while. It did become a bit shattered due to corona, but it's slowly picking up again."
Lieke: "It is nice working with the Rotterdam team since it feels like a family. However, this family is only complete with the KL team included. I never met the KL team in real life, but it does feel like I did. Lizard is not just about working together to deliver great products, we also bond together as a family."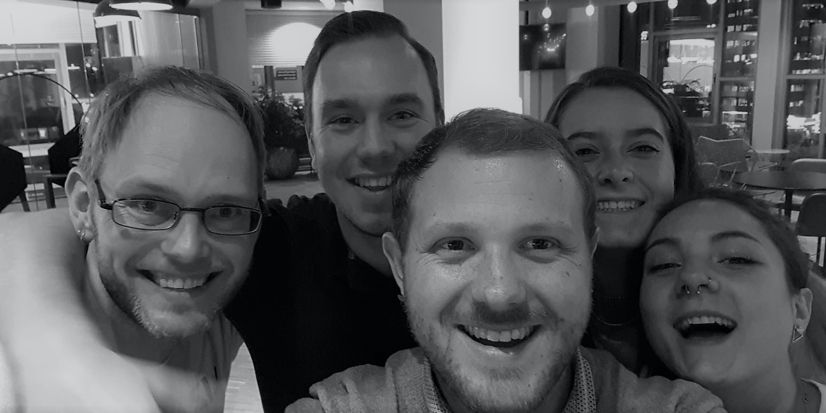 Have you been at the KL office? What were your experiences working there?
Roelant: "I have been to KL once. My experience there was amazing. It's a beautiful area and the team is very hard-working, smart, and diligent. They all get along very well and made me feel super welcome."
Jordi: "In the past 3.5 years I've been to the KL office twice. The atmosphere in the KL office is different. Mainly to the fact that we host so many different nationalities and cultures there, but also because we have more people and other disciplines working in the KL office. The roles and daily tasks of the project managers, designers, and developers are different than the PO, and that results in different interactions within the team. I always love to see how they are working closely together during work, but also have fun and go out after work."
"At Lizard Global, we always talk about being a "Lizard Family", and although easy to say, we are indeed a great family. Ever since my first visit, I was welcomed with open arms. The people in KL are great hosts and truly make sure that you enjoy your visit to the office on the other side of the world. - Jordi"
Lotte: "I worked in the KL office for three months in 2015. Back then, the company was much smaller, and much more like a startup than the scaleup it is now. The Rotterdam crew pretty much only consisted of me and Jeremy, so there was no real close connection between the two offices. Fast forward to five years later, it's beautiful to see how both offices have grown and how much everyone is working together, even though there's a huge distance (and time difference) between us."
If the company grows more international, would you consider moving to another city to work for Lizard Global?
José: "Definitely. I'd love to go to exciting cities in Asia or South America."
Roelant: "Currently, for me, I am happy in The Netherlands. I just moved to a new country and have a wife and life here. Therefore, moving to another location would require a lot of other dominoes to fall into place."
Jordi: "I used to have the ambition to move abroad and work from KL. However, as time passed and my personal life changed, I'm happy to work from the Rotterdam office. As said earlier, there is still so much fun in the Rotterdam office that I enjoy going to work every single day. Never change a winning formula, so no need for me to move abroad or move to a different city."
Lotte: "Although I'm still enjoying living in my student flat in Amsterdam, I would love to see the world and experience different cultures and work environments. So the moment Lizard Global is ready to spread its network to other big cities, I probably won't hesitate to move along to the other side of the globe."
Meet more Lizards!
Want to know more about our different departments, offices, our individual Lizard Family members and their daily occupations? Check out our previous interviews with our software development team and Chathuri, our CEO and CO-founder Jeremy, our CTO and Co-founder Guido, our CEO Asia Terence, our Product Owner Jordi, and our Senior Software Engineer Kenny. Keep an eye out for more interviews and find out more about our unique and skilled Lizards!