The True Price of App Development
05 Aug, 2020
Lotte, Digital Content Specialist
Get the
latest updates

about our blog posts.
Subscribe so you don't miss out!
Before you decide to have your app developed by a professional digital partner, you should be fully prepared for all the situations and bottlenecks that'll come on your path during the development process. In our blog about 7 questions to ask yourself before you have your app developed, we already gave you an insight into how you can optimally prepare yourself. One of the things we discussed is the importance of making sure you have the requirements to have your app developed by a professional. In other words, do you have the right budget to invest in the development of your app? The actual budget of having your app developed by professionals depends on a number of key factors, which we will break down for you in this blog.
Type of application
The price tag of app development varies greatly among different types of applications. Developing a rather complex game, for example, often requires many interactive features, experienced graphic design artists and much more. So, this is more difficult and time-consuming to develop than non-interactive features like static images or a limited amount of pages. Good to keep in mind when investing in a certain type of app is the possibility of eventual popularity. Gaming apps are the most popular category of applications worldwide and are usually downloaded significantly more than applications focussing on niche business. Angry Bird, for example, required an initial development budget of approximately 140.000 dollars, whereas they brought in roughly 70 million dollars in the first year after their launch.
Type of platform/device
In our blogs on mobile app development we've gone through the different ways you can have your app developed, and their qualities. The budget needed for developing an app heavily relies on the platform or devices it has to run on. For example, native mobile apps are bound to one specific platform or operating system with one codebase. This means that, if you want to have your app available for both Android and iOS, you need to have them both developed separately. Obviously, this significantly increases the overall budget, as the same work has to be done more than once. However, because they are built with OS-specific codes, native apps can possess the quality of high performance and optimized user experience. It's all about finding out if these pros are worth the extra investment.
Complexity of the design
Naturally, you want your app to look sleek and absolutely spotless. However, a beautiful design comes with a price tag. Lots of flashy images and animations greatly increase the overall complexity of the design, and therefore ask more time from the designers and developers. App design generally consists of two core elements: User Experience (UX) and User Interface (UI). UI design refers to all the visual elements a user sees when using the app. Think of images, colors, fonts, shapes, and basically everything that adds to the layout of the design. UX design implies the structure behind the design that makes sure a user has a pleasant user experience. This can be, for example, a strategic placement of buttons, or the structure of the menu and different pages. In order to achieve a spotless design, both UI and UX need to be in perfect harmony, which will require an experienced designer.
Amount and complexity of features
Just like the design of your app: the more abundant and complex the features, the more time and effort your app requires to be developed. These features can consist of, for example, the option to share in-app content on social media channels, a video calling function that requires access to your device's camera and microphone, multilingual support, 3rd-party integrations, custom animations, complicated back-end, professional design, or real-time features. The budget for all these elements can differ greatly depending on how many features you want to implement in your app and how complex each one is. Simply said: the more features, the more work, the higher the price.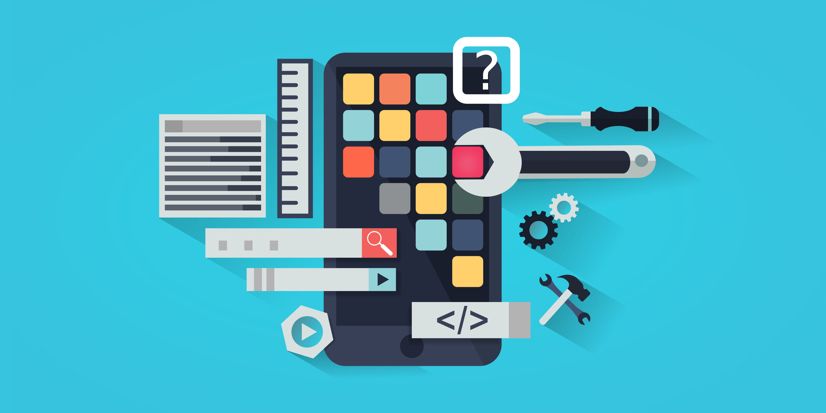 Bottlenecks and changes
It is to be expected that you and your digital partner will face some drawbacks at one point. Not because someone did something wrong, but because app development is a constantly changing process. This continuous change makes working Agile so important. The Agile mindset is specifically focused on the aspect of iterative implementation, testing, feedback, and changing. It possesses methodologies like Scrum Sprints that greatly optimize the development process by being prepared for continuous adjustments and improvements. Certain aspects of your app will go through some changes along the way, perhaps because you changed your mind about a certain feature or design element. And although you can never be sure how many and what bottlenecks and possible changes you and your development team will face, it is good to have a bit of extra budget set aside to be able to make up for these adjustments.
So, how much does making an app cost?
All aspects considered, having your app developed is not cheap. And we haven't even talked about the additional costs that come into light after the development of the product, but which are essential to turn your product into a success. Think of a solid go-to-market strategy or long-term service and maintenance costs. You need to be sure of the fact that your budget is big enough to cover all the aspects of app development, from business research and design to development and drawbacks along the road. Although every digital partner has its own price list, the eventual price of app development is usually comparable among multiple agencies.
Generally, the price of the development of an application can end up somewhere between the broad range of €10.000 euros to a whopping €1.000.000 euros. This, of course, depends fully on the aspects we've highlighted in this blog, but also on the digital partner(s) you decide to involve in the process. The "big boys" among digital agencies tend to ask a great deal of money in return for their services, mostly because you pay for the brand that is famous for creating high-quality applications. However, that doesn't mean smaller companies deliver lower quality products. On the contrary, smaller startups and scaleups generally still possess the quality of working closely together with the client, rather than developing a product for them as a mass production routine. Their close relationship with the customer has as a benefit that internal communication is often better regulated, and the needs of the customer are more clearly understood.

At Lizard Global, we highly value the delivery of high-quality and sustainable end-products. We also understand that this quality requires a fitting budget. Partnering up with Lizard Global as your digital agency therefore entails a free session in which we help you pick the right target audience for your product. We also present a product roadmap and a budget estimation for the development of your product. Get in touch with us on our social media channels or the contact form on our website, and we'll tell you all you need to know about the price of app development at Lizard Global.