To CES 2020 with Skoon and Lizard Global
21 Jan, 2020
Lotte, Digital Content Specialist
Get the
latest updates

about our blog posts.
Subscribe so you don't miss out!
This month the largest tech event of the year, CES (Consumer Electronics Show), was hot and happening. Our partners of Skoon Energy asked our Lizard Jordi to join them to Las Vegas as their Digital Partner. Together with 49 other Techleap startups, Skoon Energy represented the innovative spirit of Dutch entrepreneurs.
Skoon Energy at CES 2020
CES 2020 came down to four full days, packed with the freshest and finest cutting-edge technologies. From the slickest cars to the flattest TV-screens and bendable phone screens, it's only a small selection of all the mindblowing tech innovations CES visitors have encountered. When our partners of Skoon Energy asked Jordi to join them as their Digital Partner, there was no doubt he would be in for a mindblowing experience.
For the past four years, Techleap gives Dutch startups and scaleups the opportunity to show their innovative solutions at CES in Las Vegas. The goal of these trips is not only to show the world the great power of Dutch innovation, they also aim to form new partnerships and collaborations on the international market. Skoon went along with Techleap to show the sustainable energy solution of their Skoonbox, a decentralized source of energy in the form of a shipping container. Skoon Cloud, their online platform for the supply, demand, and management of these energy containers, designed and developed together with Lizard Global, also got a space in the bright spotlights of CES.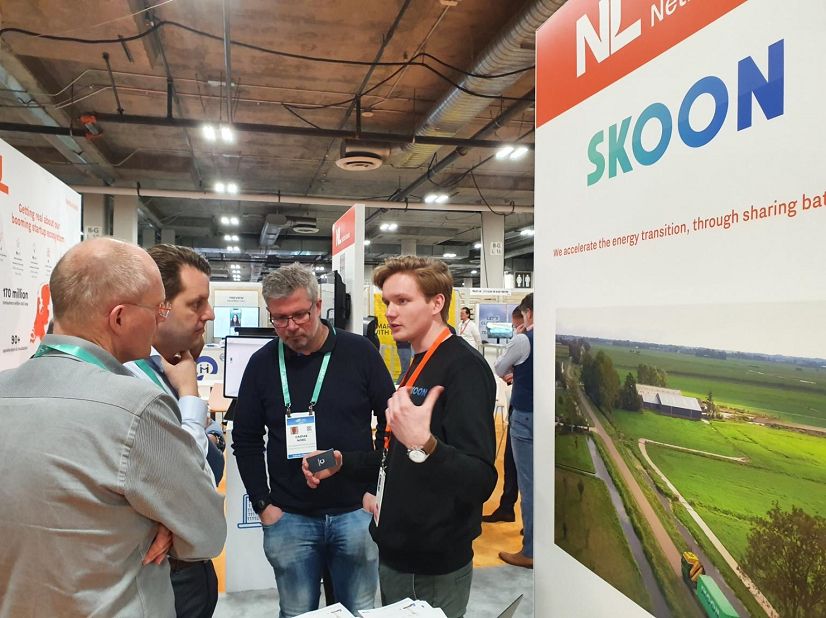 Highlights and opportunities
Besides having the opportunity to attend the largest tech event in the world, it also brought four days of exploring Las Vegas along with it. A city that never sleeps, always surrounded by flashing lights, music, and masses of people. But there wasn't much time to freely enjoy the pleasures of Vegas, as this is a business trip after all. Together with 1099 other startups and scaleups from all over the world, Jordi supported Skoon in showcasing their sustainable energy solutions with their own stand at CES.
All in this together
Four days of being surrounded by masses of innovative businesses and creative entrepreneurs resulted in interesting encounters and experiences. It's a real challenge to stand out within an entire marketplace of 1100 innovative companies, but luckily, Skoon didn't suffer from a lack of parties interested in their services and solutions. On the contrary, most visitors already came in with a very precise vision of what Skoon could do for their business, from energy supply for big (festival) events to even a potential solution for the energy supply of emission-free race cars.
Next to that, there was a big sense of unity among the other startups and scaleups, all of them searching for ways to partner up, instead of simply trying to sell their own innovations. Especially the 50 Dutch startups invited by Techleap showed a great interconnectedness, all equally interested in one another.
youtube: https://www.youtube.com/watch?v=FNZalyC0A3A
Trends to watch: Skoon
Right before the official kick-off of CES 2020, insight was given in the influential tech trends and highlights of the coming year and decade. Not only did it give us an insight into the future of consumer technology, but it also proved to be a special moment of fame for Skoon. They had the great honor to get officially proclaimed as "a company to watch", which is not without meaning on a big and influential event like CES. Of course, this was a huge honor for both Skoon and Lizard Global, and a great start of four days in Las Vegas.
Technology of the future
Although there were loads of interesting and groundbreaking pieces of technology to admire, one thing that stood out was the fact that the future is all about smart technology. We're already familiar with the use of smartwatches, but what about voice-controlled smart showerheads? Or smart door locks? No appliances appeared too unusual for becoming smart. In a few years, our houses will be filled with these smart gadgets, controlling every corner and surface while we sit back and relax.
Another big thing at CES 2020 was the introduction of 5G, which will provide us with faster data speeds and greater density for smart devices, like self-driving cars, and that smart showerhead in our bathrooms. And of course, brand new, bigger, better, faster, and sharper TV-screens, and Samsung's "The Wall'' in particular, couldn't be overlooked. Literally, because it was positively huge.
Skoon and Lizard Global
CES 2020 wasn't just an exploration of the newest technological innovations, it was also a great opportunity to meet new inspiring people, and even some new friends. As Jordi quoted: "You walk in as strangers, and come back as friends." Although Las Vegas has been an epic adventure, he is more than happy to be back home again. With a proper jetlag still lingering on his shoulders, it's time to continue our partnership with Skoon back in The Netherlands. Because we are far from done collaborating and creating more beautiful solutions together.
Want to know more about Skoon Energy? Check it out here.