Top Web & Mobile Development Firm Switzerland: Xpeer's "Insider's Choice Award" 2023
07 Nov, 2023
Asrul Ash, Content Writer
Get the
latest updates

about our blog posts.
Subscribe so you don't miss out!
Follow Lizard Global on Facebook, Instagram, and LinkedIn.
We've had a wonderful year in 2023! There's no denying that winning an award has numerous benefits not only for us as a company but also when it comes to getting attention for web and mobile apps, it is indeed the most powerful catalyst in broadening our reach digitally. It is not only encouraging because it shows that we are doing an outstanding job and that Switzerland's IT industry is aware of our endeavors, but it also offers us the visibility we need to keep improving and proving to clients why we are the best software development firms in Switzerland. Winning this award is one of our greatest successes in 2023.
We have learned so many priceless lessons this year. The most important thing to remember is how important collaboration and teamwork are to creating successful digital products. Up to now, we have finished about 100 major projects in over 25 different industries, including FinTech, eCommerce, Education, HR, Mobility as a Service, Community, and more.
Switzerland's Mobile Apps Market Forecast 2023
Switzerland is a promising market for mobile apps because of its robust combined economy and high rate of mobile use. It is anticipated that the Swiss mobile app market will bring in over $3.5 billion in revenue by 2027. According to Statista, total revenue in the Swiss App market is estimated to reach US$1,784.00m in 2022, with a 10.10% yearly growth rate, resulting in a market volume of US$3,004.00m by 2027.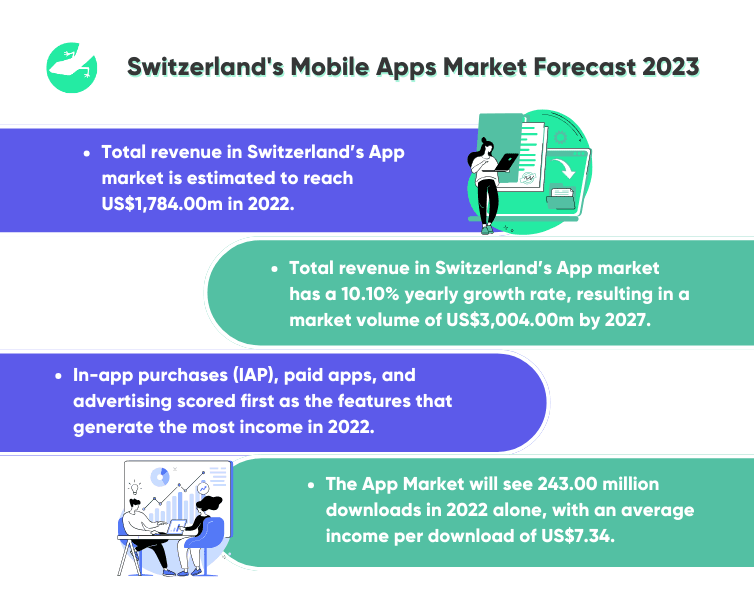 This is due to the fact that consumers in the region now consider smartphones to be indispensable tools, which has led to an expected 87% penetration rate by 2028. With 98% of Swiss people predicted to utilize mobile internet by 2028, this trend is significantly increasing the country's mobile internet user base.
Among them, in-app purchases (IAP), paid apps, and advertising scored first as the features that generate the most income in 2022. It is anticipated that the App Market will see 243.00 million downloads in 2022 alone, with an average income per download of US$7.34.
Xpeer's "Insider's Choice Award" 2023: Top Web & Mobile Development Firm Switzerland
A while back, we received a nomination for the Xpeer "Insider's Choice Award" 2023 in Switzerland, and we are happy to inform you of this positive development now.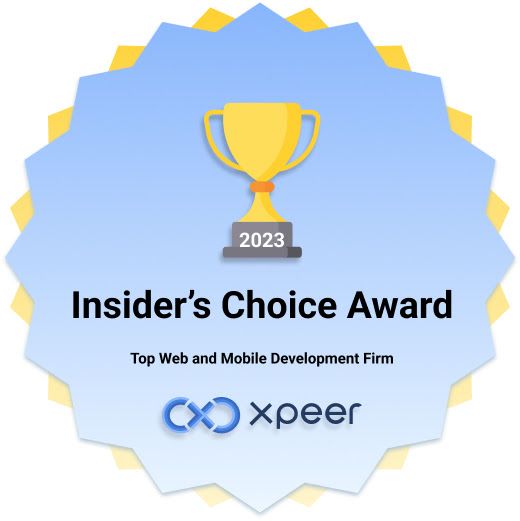 After a thorough evaluation that takes into account individual excellence, organizational sturdiness, and project success in the region's web and mobile app development industry, Lizard Global has achieved yet another significant accomplishment: it has been named one of the best Web and mobile Development Firms in Switzerland.
Xpeer is an industry-leading team of specialists and results-driven executives who are constructing a next-generation business infrastructure. A new era of economic performance requires both our everyday lives and corporate marketplaces to be able to support a B2B marketplace that is driven by client feedback. Hence, they are making an area where people may exchange digital word-of-mouth.
They provide the transparency and accountability that the B2B industry needs, assisting decision-makers in sifting through the clamor of vacuous promises and establishing genuine business connections with A-players who have demonstrated their ability to deliver excellent service and whose clientele are willing to share their success stories.
Lizard Global as Your Trusted Development Partner
Receiving an award as esteemed as Xpeer's Insider's Choice is not just a recognition of our hard work, but also a testament to our commitment to excellence. We're deeply honored and grateful to be recognized as a top development firm in Switzerland. This achievement is the result of tireless dedication, innovation, and unwavering client satisfaction.
Validation of Our Expertise
Being acknowledged as the top web and mobile development firm in Switzerland reaffirms our expertise and competence in the field. It's a validation of our skills, knowledge, and the exceptional quality of services we offer. Our team of talented developers, designers, and strategists has consistently gone above and beyond to deliver outstanding results.
Trust and Credibility
Receiving this award bolsters our credibility in the eyes of potential clients and partners. It showcases that we are a trusted and reliable company, known for our ability to consistently meet and exceed client expectations. This trust factor is invaluable in a competitive market like Switzerland.

How the Award Benefits Clients in Switzerland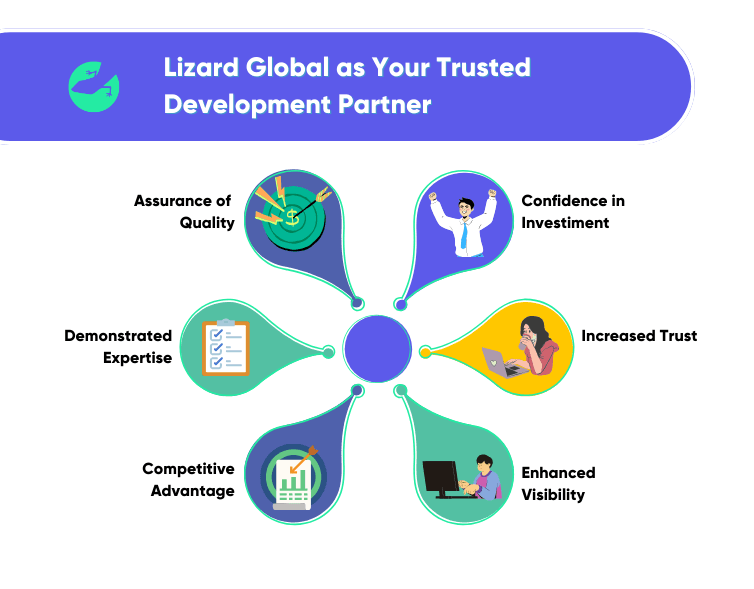 While we're incredibly proud of this achievement, we also believe that this award has a significant impact on our current and potential clients in Switzerland. Here's how this recognition can benefit them:
1. Assurance of Quality
Clients look for a development firm that can provide high-quality services. The "Top Web & Mobile Development Firm Switzerland" title is an assurance to our clients that they are partnering with a company that delivers top-tier services. They can rest easy knowing that their project is in capable hands.
2. Demonstrated Expertise
This award serves as tangible evidence of our expertise. It assures clients that our team has the skills and experience required to successfully execute their projects. This peace of mind is invaluable in the decision-making process.
3. Competitive Advantage
Clients in Switzerland are often spoiled for choice when it comes to selecting a web and mobile development partner. Having the recognition of being a top development firm can give us a significant competitive edge. Clients are more likely to choose Lizard Global over other options because of our demonstrated excellence.
4. Confidence in Investment
Hiring a development firm is a significant investment. Clients want to be certain that their investment will yield results. The award provides clients with the confidence that their investment in Lizard Global is a wise one, and we have the track record to back it up.
5. Increased Trust
Trust is the foundation of any successful client-firm relationship. The award serves as an endorsement of our trustworthiness. Clients can trust us to deliver on our promises and to prioritize their success.
6. Enhanced Visibility
Lizard Global's recognition as the top development firm in Switzerland will likely result in increased visibility. More businesses and entrepreneurs will discover our services, potentially leading to more partnerships and collaborations.
Imagine, Create, Design, Grow with Lizard Global
Receiving the "Top Web & Mobile Development Firm Switzerland" award from Xpeer's Insider's Choice is a momentous achievement for Lizard Global. It underscores our dedication to excellence, showcases our expertise, and enhances our credibility in the industry.
For our clients in Switzerland, this award is a seal of quality, a demonstration of our capabilities, and a powerful tool to instill confidence in their decision to work with us. We are committed to continuing our journey of excellence, and we look forward to delivering innovative, reliable, and exceptional web and mobile development services to our clients in Switzerland and beyond.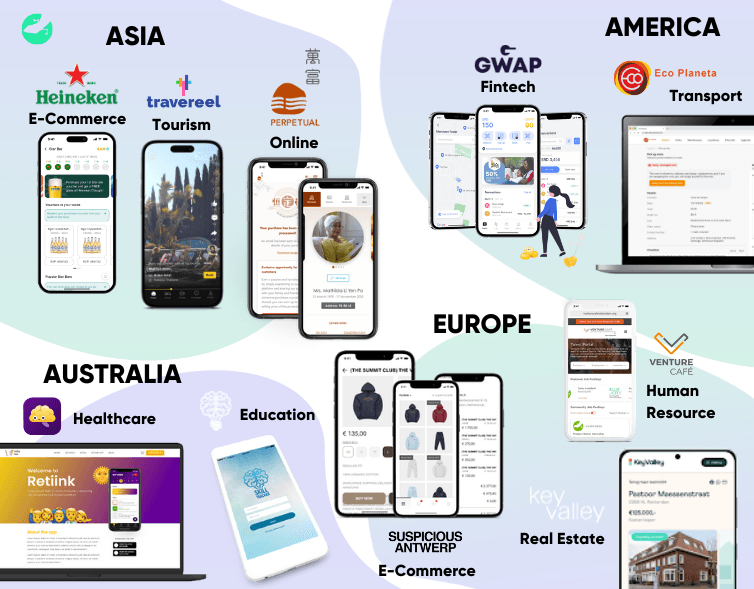 Let's Collaborate!
Lizard Global, one of the top software development firms in Switzerland, helps several businesses worldwide develop digital solutions that are efficient and productive. In addition to other things, we provide full product development services, which include website design, development, hosting, support, and maintenance.
Check out some of our works, learn more about our process, or get in touch with us to schedule a meeting – consultations are always complimentary!