5 Useful Tools for Interactive Prototyping
25 Feb, 2020
Lotte, Digital Content Specialist
Get the
latest updates

about our blog posts.
Subscribe so you don't miss out!
Prototyping is a crucial part of a software development process, but creating a fully functioning interactive prototype for your client is a challenging task. Not only do you need a concrete vision on what your client wants, you also need to have the tools to actually realize the design. With the overload of currently available design and prototyping tools, it is difficult to find the one that fits your needs. Don't worry, we're here to help you. Here's a list of five big players in the field of prototyping tools. Perhaps you'll find your perfect match in one of them.
InVision (3 projects from $13/month)
InVision is a tool for creating prototypes, created by designers who know exactly what features an efficient and user-friendly prototyping application needs to possess. The program is focused on interaction with your colleagues, who can comment on specific elements of your design. With InVision you can send your clients a fully functioning interactive prototype of their product. They can play around with it and test its features like it's the real deal, without accidentally messing up your design.
Main features:
Slick and easy-to-use design prototyping
Design sharing, presentation, and feedback
Real-time design meetings and whiteboarding
Integrations with Sketch, PS, Basecamp, Trello, Jira, Slack, Teamwork, Hipchat, and Flowdock
Pros:
Advanced transitions and animations for creating interactive designs
Allows colleagues and clients to test and comment feedback
High-fidelity results, giving the client a clear vision of how the end-product will look like and function
Cons:
Transitions and animations are limited compared to its competitors
The software tends to be a bit slow and heavy
A pretty steep learning curve for a limited amount of features
No offline version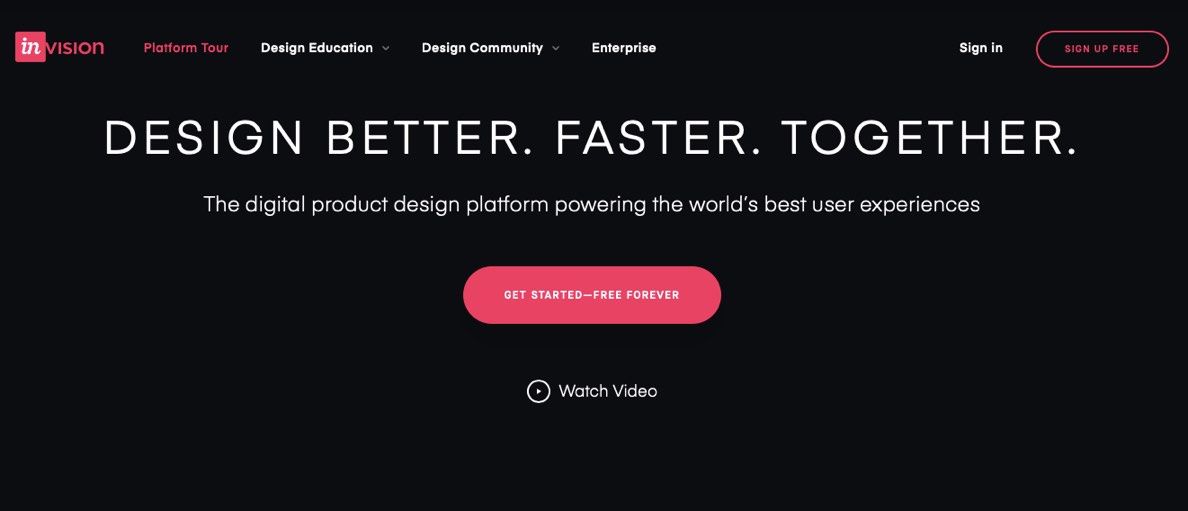 Principle ($129, 1 month of free trial)
Principle is a tool specifically focused on creating interactive designs and prototypes. Just like InVision, Principle values the presentation part of its designs, which are easy to test out and play with. However, the application is only available for Mac, and only Mac and iPhone users can actually preview and try out the prototypes.
Main features
A standard palette for aligning specific elements
Timeline animations
Real-time preview panel to immediately test and edit your project
Pros
Integration with Sketch, another design program, for a better workflow
Easy to learn, and a user-friendly interface
Export interactive files in videos or GIFs
One-time payment of $129 for unlimited use
Cons
Only available for Mac, previews also only visible on Mac or iPhones

Proto.io (from $24/month)
Proto.io is a web-based application for making high-fidelity interactive prototypes without using code. Because of its very extensive library and amount of features, it's possible to make a prototype that comes very close to the image of your end-product. However, the immense amount of options also results in complexity, and it'll take some time to get used to the app and all its features. Finished prototypes can be shared by creating a unique URL, a QR code, or immediately embedding the new feature in an already existing project. The app is also available on mobile, for iOS and Android devices.
Main features
Extensive libraries with animations, transitions, and scrollable containers
Allows creating interactions, custom animations, scrollable containers, screen states, play videos, toggle visibility, implement logic, and much more.
Pros
Lots of features and a very extensive library
Because of the extensive features, Proto.io can make high-fidelity designs, as close to the final product as possible, without having to touch any kind of code
Cons
Long learning curve, takes time to get familiar with all the features
Takes about 8 hours to create a functional design

Marvel (basic version for free, unlimited project from $12/month)
Marvel is a very basic and slick tool for creating interactive prototypes, and is comparable to InVision regarding its features and user-friendliness. Just like InVision, Marvel is easy to get familiar with, but it also lacks in the range of options for animations and transitions. Marvel is mostly used by smaller companies and startups, as it's simple, fast, and inexpensive.
Main features
Unlimited prototyping projects for the free package, 3 comments per project
Integrations with Sketch, Slack, Box, Asana, Google Drive, and Dropbox
Automatic synchronisation and backups with Dropbox and Google Drive
Pros
Short learning curve
Probably one of the cheapest options: unlimited projects from $12/month
Dropbox integration for syncing files
Cons
There's no integration for immediate in-app client feedback, but this is still being worked on
Limited in options, not the best option for complex projects
No offline version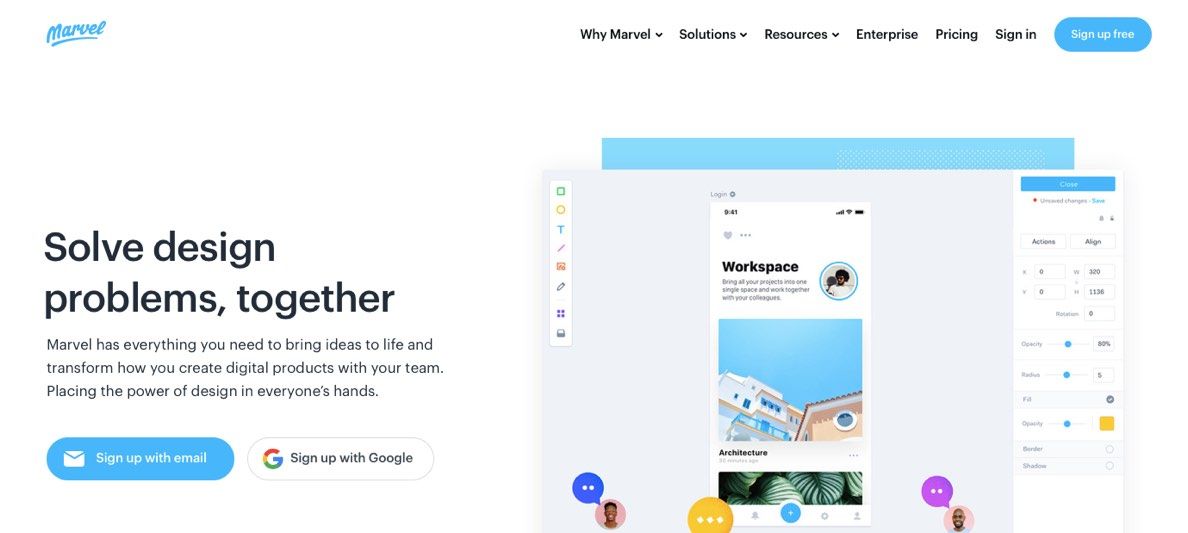 Figma (Free for up to 2 editors and 3 projects, $12/month for unlimited projects)
Like Marvel and InVision, Figma is a very user-friendly and easy to use tool for prototyping, with options to collaborate with colleagues in real-time. It's both available as a browser application, but can also be downloaded for Windows, Mac, and Linux.
Main features
Precise scalability
Real-time collaboration
Interactive high-quality 60fps editing
High-quality image previews
Pros
Short learning curve, easy to use
Real-time collaborative previewing and editing
Cloud-based storage
Limited in features, but enough for a good-looking prototype
Cons
Can be slow and heavy, sometimes the app freezes
Running the app locally takes a lot of RAM
No offline option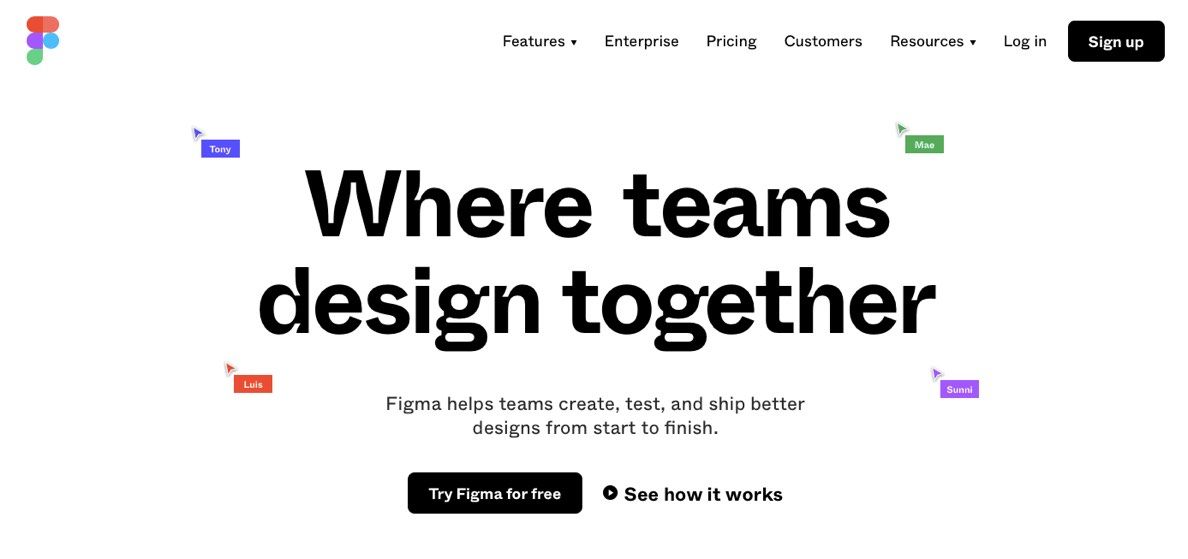 Pick your poison, or delegate
It's probably going to take some trial and error before you find a prototyping tool that ticks all the boxes. Not only do all of them have their own benefits and shortcomings, it's also quite an investment if your money doesn't grow on trees. Because of that, it's important to try out multiple options before you decide to settle for one that turns out to be lacking essential features for your project.   Lacking the skills or time for creating design prototypes with the tools described above? Perhaps it is a good solution to delegate the job to an individual or digital agency specialized in creating interactive prototypes. In that case, you can be sure of a professionally executed design, without having to spend your precious time in familiarizing yourself with the tricks of prototyping and all the different tools and features.   Not ready to dive into prototyping yourself yet? At Lizard Global, we can do the job for you! Feel free to contact us for more information.