Why Should You Hire a Technical Consultant? (Tips & Benefits!)
02 Nov, 2023
Asrul Ash, Content Writer
Get the
latest updates

about our blog posts.
Subscribe so you don't miss out!
Follow Lizard Global on Facebook, Instagram, and LinkedIn.
Statista reports that with the help of tech consulting, many organizations experience notable improvements. Experts with years of expertise, IT consultants offer companies professional guidance on how to increase efficiency. Hiring IT consultants will help you rework your IT strategy and realize your true business potential with the use of their knowledge, analytical abilities, and attention to detail, enabling you to further comprehend your business needs and develop an exclusive strategy for your systems. Consultants are now an essential component of the workplace, with a 5.98% annual growth rate and a market revenue of $57,000 million.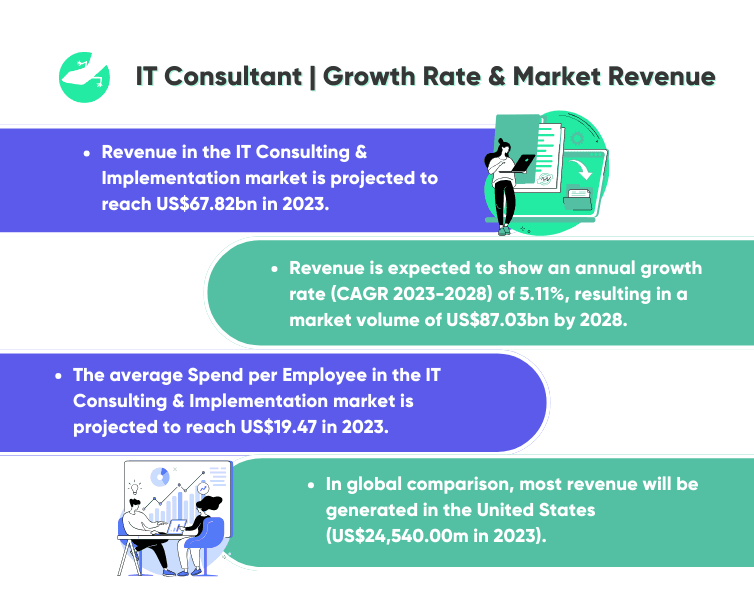 Let's look into the potential benefits of employing an IT or Technical Consultant for your business's goals.
What is a technical consultant?
Technical consultants come on board as temporary partners to assist you in meeting a specific need, rather than working for your firm on a full-time basis. This can involve working on a particular project or evaluating the cybersecurity posture of your company. Technical consultants frequently spend years honing their skills in a certain area of technology, equipping them with a special ability to lead your company toward innovative ideas and solutions.
Best technical consultant certifications in 2023
Finding reputable specialists to assist in securing your company is essential when selecting a technical consultant. A great place to start is by looking up certifications. The following are some of the top certifications for IT consulting to seek out:
Certified Management Consultant
Talent Optimization Consultant Certification
Certified Risk Manager
Project Management Professional
Certified Human Resources Consultant
Professional Certified Marketer
Communication Management Professional
And many more!
At Lizard Global, we take great pride in offering the most technically sound solutions that take into account your target market, budget, and market. Our full-stack developers are experts in identifying the technologies that can help you grow your company to its maximum potential. We examine which technologies are most appropriate for your product and how your company may achieve its short-, mid-, and long-term goals through the strategic application of technology. Curious to learn more? Click here!
Why should you hire a technical consultant?
By definition, a consultant is "a person who provides expert advice," and companies have learned to rely on consultants when they want outside insight or specialized knowledge. Businesses have been able to become more competitive and professional while also saving time and money. Depending on the technology needs of their customer or business, a technical consultant's duties may differ significantly. The following list of typical responsibilities on how technical consultants collaborate with you:
Discussing and identifying technology needs, technology behaviors, and solving difficult technical problems with clients.
Creating guidelines and practices to resolve any problems and enhance your IT performance.
Developing, putting into practice, and overseeing innovative hardware and software solutions to keep bugs and errors at bay
Finding performance indicators and other techniques to evaluate an organization's technology performance
Presenting the outcomes of the assessment to the appropriate staff, clients, and other important stakeholders

11 benefits to answer why should you invest in tech consultants
Now that you are aware of what an IT consultant is and how they operate, it's time to determine whether or not you should hire them in the first place. We are discussing your money after all. These are eleven advantages of having a technical consultant for your software development:
1. Proficiency and in-depth understanding
Consultants, being specialists in their fields, could help you determine which hardware and software components are optimal for your business. They can also highlight shortcomings in the current system and provide appropriate substitutes for the technologies you now use.
Another responsibility of a technology consultant is project management. They are a dependable resource for determining the scope, budget, and timetable of a project as well as for anticipating obstacles. Working with a third-party specialist can help you prevent technical issues and pay off technical debt. Such self-assurance is crucial when launching a new software or application.
2. Low Cost
The advantages of IT consulting services extend far beyond the savings derived from their cost-effectiveness initiatives. Paying a full-time employee's salary, perks, workspace, and other costs can get very costly. In order to address a specific issue within a given period and make better use of time, it is necessary to hire an IT consultant.
3. External viewpoint
Keeping up with technological trends can be challenging because technology is always changing. CTOs find this particularly challenging because they also have to oversee daily operations and spearhead expansions. When choosing technology for your company, it's very simple to become a victim of deceptive advertising and overstimulation.
You may stay up to date with industry developments without having to worry about deceptive advertising by hiring IT consultants. Consultants can offer you advice on the trends that best fit the needs of your firm because they are knowledgeable about contemporary technologies. They are also able to evaluate the kind of effect and degree of disturbance that a new technology might have on your company. Thus, bringing in a consultant might help your company gain impartiality and a new perspective.
4. Upgrading IT resources in alignment with business shifts and expansion.
When it comes to IT, there are no universal solutions. Many businesses require a customized technology stack to match their particular requirements. Regretfully, there are no standard operating procedures in place to handle circumstances like these.
You can benefit from a consultant's vast expertise and experience by hiring them. They can assist you in creating custom solutions that meet the demands of your business. This also enables you to avoid technical debt and take on challenging tasks head-on.
5. Enhanced Safety
In 2017, managed cybersecurity became more important and common than it has ever been. Not only are large corporations vulnerable to cyberattacks, but small businesses are as well—62% of all cyberattacks target them, and 60% of small businesses that experience a cyberattack go out of business within six months, according to the U.S. National Cyber Security Alliance. Engaging a cybersecurity-focused IT expert may help you create a disaster recovery plan, discover any security holes in your network, and set up data security procedures. Additionally, they may teach your employees how to spot viruses and other potentially harmful spyware.

6. Effective time management
Businesses that operate online frequently experience technical difficulties. Sadly, it's possible that company owners (or their staff) lack the necessary expertise to deal with these obstacles without delaying progress. Technical difficulties can potentially cause timetable delays and compromise project completion.
Having a tech specialist on board guarantees the prompt resolution of any issues your company may have. Hiring them also saves you time and keeps your business profitable because they are skilled, knowledgeable people who can handle a variety of problems.
Additionally, consultants can streamline your routine procedures, giving you the ability to exceed customer expectations. Delivering more than expected boosts client happiness and guarantees client loyalty.
7. Reaching business objectives
By automating repetitive tasks, managers and staff members may focus more of their time on the tasks that bring in the most money for the business. Businesses frequently utilize IT consulting and planning services to save time and free up workers to concentrate entirely on the main business, which leads to better decision-making throughout the organization.
You'll put a lot on the line and risk losing a lot of money if you don't have a well-defined plan. With the assistance of an IT expert, you can establish clear objectives and create a budget-friendly plan that will ensure you meet your targets.
8. Employee education and coaching
A consultant helps to teach your personnel new procedures and optimizes your usual ones. Employees can receive direct instruction from an experienced professional in a variety of disciplines to upskill rather than attempting to learn on their own through online courses or tutorials. Adoption of new technologies and procedures is also facilitated by effective training. Additionally, in the event that project problems develop, properly trained staff members are capable of handling them on their own.
9. Disaster recovery and crisis management
A crisis is frequently around the horizon, ranging from unapproved breaches and equipment malfunctions to several cyberattack potentialities and technological problems. The idea is not to avoid them but to be ready to address and reduce them.
If your money, time, and people are already committed to the fundamental components of your organization, you won't have any extra resources for crisis management. An IT consultant can help in this situation by offering the know-how and resources necessary to handle any crisis because they have dealt with them before. They can also assist you in anticipating the issue before it arises because of their experience and vision.
10. Custom software development
There are no one-size-fits-all solutions in the field of IT. Companies frequently want a customized tech stack to meet their needs. Sadly, there aren't any established standards or recommendations on what to do in these kinds of situations.
If you have a consultant on your team, you can benefit from their knowledge and insights. They can assist you in developing unique solutions that meet your company's needs, persuading other team members to embrace innovative approaches and technology. Additionally, Tech-consultants therefore serve as a catalyst for change within your company, keeping you ahead of the curve when it comes to difficult difficulties and technical debt.
11. Actual results
The IT consultant gains success when you do, making you two have similar interests. Strategic consultants genuinely care about the success of your company and will work to increase output and income while assisting you in concentrating on what really counts. They might offer a fresh perspective to the table, but there's no denying that they can support the expansion and success of your business.
Nobody will be hanging around hoping something better happens, so you won't have to worry about that. They are as invested in the success of your company as you are, which makes them a financial and strategic asset.
Looking to hire a tech consultant for your app development?
It seems obvious that an IT consultant can give you the tools and knowledge required to grow your company. One of the best tools for establishing best practices and producing quantifiable results is tech consulting. Lizard Global provides ongoing managed services in addition to one-time consultancy. Lizard Global offers a range of consulting services to meet your needs, from project-specific assistance to full-time technology team recruitment.
We at Lizard Global are proud to offer our all-level IT services to businesses of all sizes, including corporations, startups, and entrepreneurs. By addressing problems promptly—often even before you are aware of them—our team of professionals can act as your outsourced IT department. We offer end-to-end solutions for all your tech needs, covering everything from your devices, workstations, servers, and network infrastructure to your mobile devices.
Get in touch with us right now to learn more about our technical consulting services.