An Insight Into OKRs and KPIs
15 Mar, 2021
Lotte, Digital Content Specialist
Get the
latest updates

about our blog posts.
Subscribe so you don't miss out!
A business without challenging objectives and clearly measurable results won't be likely to make it to the top. In order to get there, you'll need a set of clearly defined objectives, a strategy to achieve these objectives, and a way to measure the success of your strategy. This golden trio of effective goal management is crucial for sustainable growth, as it provides a clear focus on a continuous flow of measuring and adapting where necessary. By putting proper structure around your objectives, you can be sure that the set goals are always in line with the mission and vision of your business.
In this article, we dive deeper into the golden combination of setting clear goals, implementing steps to achieve these goals, and measuring the success of your strategy. Two popular tools among modern businesses are Objectives & Key Results (OKRs) and Key Performance Indicators (KPIs). Because both terms have their focus on objectives and performance analytics, they often get confused with one another. So, if you're still struggling with pinpointing the difference between them, keep on reading.
OKR or KPI?
Although OKRs and KPIs are both efficient tools for businesses to achieve sustainable growth, they are quite different in approach. First of all, the main difference between a KPI and an OKR is their intention behind the objective-setting. OKRs are high-level and challenging goals set by organizations to achieve sustainable improvements of performances. KPIs are used to track the metrics that will bring you to this point of sustainable improvement. The implementation of OKRs and KPIs are closely related to the practice of Lean Analytics, which refers to the close analysis and continuous adaptation of strategies. In short, an OKR is an outcome and a KPI is a measurement to track the progress towards this outcome, following the practice of Lean Analytics. Next to Lean Analytics, KPIs are still important to measure in order to keep track of your overall performance within the organization. However, the difference is that Key Results are focused on achieving strategic objectives and KPIs are purely to track if everything else is operating accordingly.
Objectives & Key Results
Objectives and Key Results, or OKRs, are used for defining and setting specific business objectives and keeping the team and their goals aligned with one another. Generally, an organization has about five high-level objectives with each its own measurable key result. OKRs bring alignment from strategic planning to the actual execution. Its goal-setting framework is used by businesses to align individual performance with organizational goals. OKRs consist of the following formula:

Objectives: "what do I want to achieve?"
Key Results: "what measurable results define success?"
Initiatives: "what do I need to do to achieve my goal?"
An objective can be defined as a prioritized goal that needs to be achieved in a specific year or quarter of a year. Key results are measurable outcomes that are required to achieve the objective: the primary indicators of success. Initiatives are the specific tasks and projects you and your team have to complete in order to successfully meet the key results and thus the objective. Or in other words, initiatives are the actions you need to perform to follow the directions of your key results.
Generally, the 'Objectives' in OKRs possess a time-based, non-numeric and aspirational character. The focus of OKRs lay on the empowerment and promotion of cross-functional collaboration. This focus on cross-functionality fits perfectly within organizations that aim to work
100% agile
. Cross-functional teams stimulate a constant alignment of objectives and tasks, which results in a streamlined process towards the achievement of an objective.
Let's have a look at an example of a typical OKR:
Objective: Become the number one downloaded Android productivity app
Key result 1: Get featured in 10 productivity-related websites
Initiative: Research a top 15 of most popular productivity websites
Key result 2: Let 20 influencers in 5 countries promote our product on social media
Initiative: Research 50 influencers in 10 different countries and make a selection of 20
Key result 3: Set a digital advertising campaign to target 500.000 downloads
Initiative: design and frame a set of advertisements for a campaign.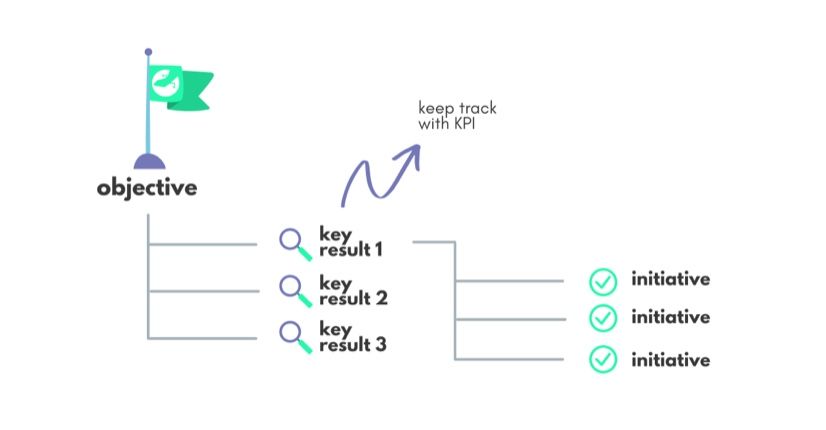 Key Performance Indicators
As we know by now, Key Performance Indicators, or KPIs, are all about measurement. Whereas OKRs are focused on strategy, KPIs are needed in order to analyse the progress of your defined Key Results. For example, if a Key Result of your OKR consists of increasing your conversion rate, one of your KPIs should consist of tracking your web traffic at specific steps of your sales funnel with a tool like Google Analytics. The interplay between KPIs and OKRs is often explained by the following analogy:
OKRs are your navigation system in your car. They'll visualise your path towards your destination and show your progress towards this end-goal, correcting where needed. KPIs are the dials on the dashboard of your car, showcasing the metrics you need to know in order to arrive at your destination. Think of the amount of fuel you still have left, or the current speed of your car.
A KPI usually consists of 5 elements: what, why, how, who, and when. Imagine if your objective consists of increasing the number of monthly leads. One of your key results might focus on increasing the number of qualified leads coming from your social media channels. And in order to do so, you set an initiative to grow your overall number of social media followers. As such, you would need to set KPIs around this initiative. For example, you could set a KPI with a focus on analysing the growth of your LinkedIn channel. This will probably look a bit like the following:
What: Increase LinkedIn followers by 20% before the end of the year.
Why: A higher number of LinkedIn followers can increase the overall generation of new qualified monthly leads. How: Upload or share a post daily with a call to action and interact with posts and accounts within your industry at least once a day. Who: The (social media) marketing team. When: The KPI will be measured and reviewed on a monthly basis using LinkedIn statistics.
The success of your journey towards your objectives will depend on the extent to which your KPIs and OKRs are aligned with one another. It might take some time to get the hang of, especially if you're just starting off. But that's OK! After all, continuous improvement and analysis is the cornerstone of an agile business. Plus, the better you know your business, the easier it will be to create objectives and strategies that fit the current market and the nature of your business. So remember: practice makes perfect.
Need a hand?
At Lizard Global, we're always striving to reach the top. This means that growth strategies, including the use of OKRs and KPIs, form a core part of our agile organization. Besides helping our clients with the design and development of their applications, we also provide them with a solid growth strategy (through the use of OKRs and KPIs). Based upon the objectives of our clients and the mission of their business, we help them formulate clear action plans to achieve their goals and keep track of their progress along the way. Can you use a hand with defining concrete goals and strategies for the sustainable growth of your business? Get in touch with our experts, and they gladly lend you a hand.