Wat kan een growth hacking agency betekenen voor jouw applicatie?
28 Apr, 2021
Lotte, Digital Content Specialist
Get the
latest updates

about our blog posts.
Subscribe so you don't miss out!
Growth hacking is een van de bekendste termen geworden binnen de online marketing wereld van de afgelopen jaren. Dat zal dit jaar niet anders zijn, want de populariteit van growth hacking neemt steeds meer toe. Vele consultants, entrepreneurs en marketeers zien growth hacking zelfs als de toekomst van marketing. Maar wat is growth hacking precies en hoe kan jij het gebruiken om met jouw product of service de markt te bestormen?
Deze blog duikt in het ontstaan van growth hacking en de verschillen en overeenkomsten tussen growth hacking en digitale marketing. Ter inspiratie hebben we bekende best practices van growth hacking verzameld. Daarnaast beschrijven we een aantal stappen waarmee je vandaag nog aan je growth hacking journey kan beginnen.
First things first: wat is growth hacking?
Growth hacking is een mindset en werkwijze waarbij er zo efficiënt en schaalbaar mogelijk groei wordt gerealiseerd door middel van experimenten. Deze werkwijze is ontstaan in Silicon Valley, waar bekende applicaties, producten, services en bedrijven die wij nu allemaal kennen toen nog kleine start-ups waren met weinig budget voor grote marketing campagnes. Deze start-ups probeerden met hun beperkte middelen een zo groot mogelijk effect te bewerkstelligen. Growth hacking hangt sterk samen met de experimenterende werkwijze van Lean Analytics, Agile en Scrum, die veel start-ups en scale-ups hanteren.
Sean Ellis bedacht de term 'Growth Hacking' in 2010, toen hij vertrok bij PayPal en een opvolger zocht als VP marketing. Hij zocht naar iemand die verder keek dan de basics van marketing en vooral de groei van het bedrijf voorop stelt. Veel bekende bedrijven, voornamelijk in de tech industrie, hebben inmiddels hiervan een eigen VP/head of Growth en aparte 'growth teams' volledige toegewijd aan de duurzame en effectieve groei van het bedrijf.
Het verschil tussen een 'growth hacker' en een 'digitale marketeer'
Het is belangrijk om het verschil tussen traditionele marketing en growth hacking te begrijpen zodat je goed kunt inschatten wat jouw app nodig heeft. De voornaamste verschillen zijn:

Een growth hacker focust zich op groeimogelijkheden terwijl marketing zich vaak focust op de dagelijkse day-to-day marketing.
Een growth hacker kijkt naar de hele marketing funnel, ten opzichte van een marketeer die zich voornamelijk focust op Awareness en Acquisition.
Een growth hacker gebruikt kleine experimenteren om te falen, leren, itereren en groeien. Marketeers werken vaak aan grotere projecten. Een growth hacker volgt vaker een agile methode, terwijl marketeers vaker volgens het waterfall principe werken.
Growth hackers maken beslissingen op basis van data. Dit is echter wel iets wat steeds meer common practice wordt binnen marketing, maar helaas gebruiken nog lang niet alle marketing departmenten de data die ze tot hun beschikking hebben.

Een growth hacker onderzoekt op een experimenterende wijze waar in de hele marketing funnel groeimogelijkheden zijn en maakt deze keuzes op basis van data. Een marketeer daarentegen is vooral bezig met de brand en day-to-day marketing van het bedrijf.
Best practices
Dropbox is een van de eerste bedrijven die grote groei heeft gehaald door het gebruiken en belonen van bestaande klanten voor het aandragen van nieuwe klanten, beter bekend als referral. Het klinkt inmiddels heel logisch om deze techniek te gebruiken, maar toen Dropbox via deze growth hack van 100,00 gebruikers in 2008 kon doorgroeien naar 4 miljoen in 2010, was dit heel innovatief.
AirBnb is tegenwoordig een van de meest gebruikte platformen voor het boeken van appartementen, maar ook AirBnB is begonnen als kleine start-up en staan bekend als het ultieme voorbeeld van het gebruik van slimme experimenten en hacks om groei te realiseren. AirBnB plaatse hun aanbod op Craigslist; een ander bekend platform wat destijds de grootste online marktplaats was voor het huren van appartementen. Hun aanbod op Craigslist bevatte een link naar de eigen website van AirBnB, waardoor het aantal bezoekers aanzienlijk groeide. Dit is een perfect voorbeeld van growth hacking omdat ze niet alleen een slimme groei-hack ontdekte, maar dit ook eerst hebben uitgetest voor het daadwerkelijk te implementeren.
Waar kan je zelf beginnen?
Zoals eerder gezegd focust digitale marketing zich op awareness en acquisition, terwijl growth hacking focust op de gehele funnel. Maar over welke funnel hebben we het? Growth hackers gebruiken de zogenoemde "Pirate Funnel". Deze funnel, bedacht door Dave McClure, beschrijft 6 fases binnen een bedrijf: Awareness, Acquisition, Activation, Revenue, Retention en Referral. Wanneer je de eerste letters achter elkaar zet lees je AAARRR. Dit kun je opvatten als een typische piraten uitroep, vandaar de naam "pirate funnel".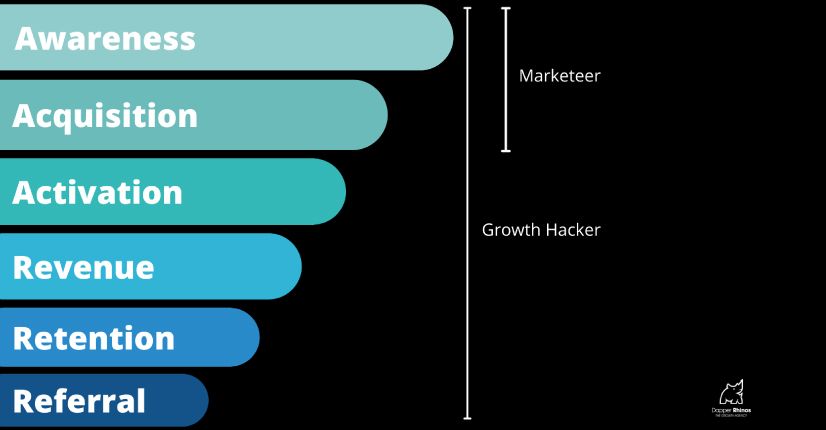 Ga deze funnel langs en ontdek waar de grootste drop-off is van klanten. Bij Dapper Rhinos zoeken we eerst naar de quick fixes omdat hier al vaak veel groei mee te behalen valt. Dit is dus dé manier om te beginnen. Handige plekken en tools om hier insights in te krijgen zijn hotjar, interviews met klanten, negatieve reviews, en usability hub waar je visuals en usability kan testen.
Om verdere groeimogelijkheden te identificeren is het belangrijk om eerst te brainstormen. Samen met je team verzamel je ideeën en vervolgens kan je deze ranken op basis van het ICE (Impact, Confidence, Ease) model. Na het ranken van ideeën is het belangrijk om deze ideeën in een experiment om te zetten. Hierna ga je een voor een de experimenten uitvoeren. Door het analyseren van de data zal je erachter komen of jouw hypothese klopt en of het experiment dus effect heeft gehad op de groei van je bedrijf en/of product. Dit process blijf je herhalen om tot de meest efficiënte strategie te komen.
Zelf doen of een agency inschakelen?
In deze blog geven we jou de handvatten om zelf te beginnen. Als je de tijd en middelen hebt om de online marketing tools en growth hacking methodiek onder de knie te krijgen, kan dit ook zeker. Wil je toch liever op korte termijn groei boeken met behulp van een professioneel team? Dan kan het goed van pas komen om een agency in te schakelen.
Dapper Rhinos
en Lizard Global werken nauw samen, en we kijken graag mee wat we voor de klanten van Lizard Global kunnen betekenen. Dapper Rhinos is benoemd tot de beste kleine Growth Agency van Nederland in 2021! Doordat wij een kleinere agency zijn is het mogelijk om met persoonlijke aandacht naar elke klant te kijken en kunnen we snel projecten oppakken en opzetten. Hier helpen we jou ook graag mee!
Dus als je na het lezen van deze blog benieuwd bent wat growth hacking voor jouw app zou kunnen betekenen, stuur ons dan vooral een berichtje!