What is A/B Testing and Why Is It So Effective?
24 Jun, 2021
Lotte, Digital Content Specialist
Get the
latest updates

about our blog posts.
Subscribe so you don't miss out!
If you're a member of the software startup community, you've probably heard of the term "A/B testing" before. If not, you're in luck! This blog dives into the ins and outs of A/B testing and shines a light on its benefits for growing startups and any other company, for that matter.
What is A/B testing?
Let's take it easy and start at the very beginning with an essential question: What is A/B testing? As the name suggests, A/B testing refers to a methodology of testing out two or more specific features, elements, strategies, etc. in order to find out which one of them proves to be the most effective for reaching your business' OKRs. If your goal is to achieve a major increase in your conversion rates, A/B testing can be an efficient way to try several strategies and see which performs best. This prevents you from going all-in on a single strategy that might not be as effective as you'd hoped. Perhaps you need to redesign your site's Call To Action (CTA) buttons? In that case, A/B testing is a great way to try out various designs, colours, microcopy, and placements to see which provides the best results.
With A/B testing, you implement several slightly different strategies at the same time, shown to different user segments in order to determine which version leaves the biggest impact without making risky and high-effort implementations. While the term A/B testing suggests a test with just two different variants (A and B), it can also include more variants. However, the more different versions included in an A/B test, the more difficult it becomes to analyze and eventually pick the best solution.
Who uses it?
A/B testing is applicable to multiple practices. Hence, digital agencies make use of A/B testing in various departments, from development and design to their commercial department. Developers can use A/B tests to experiment with different implementations and functionalities, randomly shown to different user segments. For example, you might be working on an e-commerce application that includes in-app purchases. In this case, you can implement A/B testing for trying out different check-out buttons to find out which one results in the highest number of purchases or net purchase amount. Marketers can implement A/B tests for optimizing their conversion rates, user acquisition, and audience retention by trying out different ways of approaching their followers with, for example, A/B-tested advertisements or email campaigns.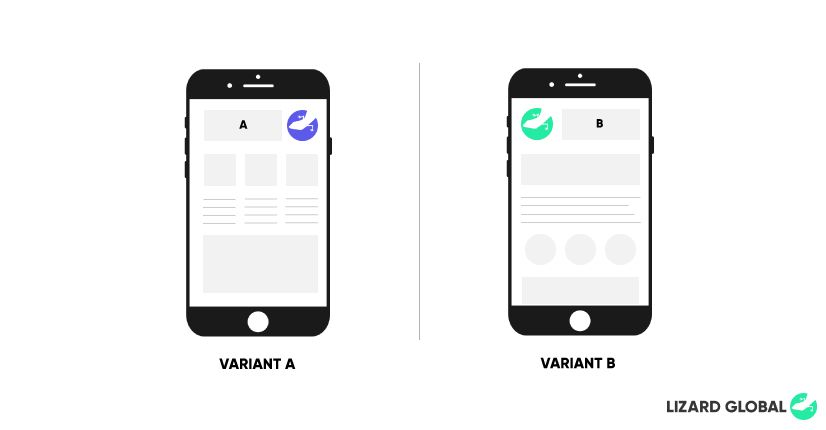 A/B testing fits well with agile ways of working in app development companies. At Lizard Global, we implement various methodologies to continuously optimize our products and services. The definition of agile is based on the iterative process of creating, testing, reviewing, and adjusting in order to make sure the end-user receives the perfect end-solution. This loop of feedback and adaptation is essential for app developers to create a better understanding of what the end-user wants, and how they visualize their ideal end-product. A/B testing fits perfectly into the image of working agile, as it provides a quick method to efficiently implement and validate improvements to a product and user experience by means of direct feedback and user interaction with your product.
The process of A/B testing
A/B testing is meant to be efficient and to provide valuable insights in a considerable amount of time without too much effort. In order to actually end up with valuable results, it's important to not haste your taste and take enough time to gather your data in order for it to be accurate. Generally, we recommend running your test for at least one or two weeks, so your visitors have enough time to interact with your product and try out the implementations. The process of A/B testing usually follows the following steps:
1. Collect and analyse your data
Before even thinking of implementing A/B testing, you need to have a steady insight into your current data. After all, when making data-driven decisions, you need to know what data to look at. Make use of tools like Google Analytics and HotJar to get trustworthy insights into your product, and keep a close eye on the metrics that matter most. Get insights into where the highest traffic takes place by looking for pages with low conversion rates and high drop-off or exit rates. These elements show you exactly where to implement your A/B test in order to gather as much data as possible: the more visitors, the more data.
2. Define the problem
Once you've got a steady insight into your business and its data, it's time to find out where and why your metrics get stuck. Only by knowing where the problem lies, you can start thinking about valuable solutions. Do you want higher conversion rates? If so, find out what elements contribute to a higher conversion rate. It's always a good idea to check a few of your competitors to get insights into their strategies.
3. Ideate and hypothesise your A, B, Cs
Once you've identified your problem, you can start ideating A/B testing ideas for the next step, and think of hypotheses for why you think your new A, B, C, etc. implementations will be better than your current version. Think of small adaptations such as the colour of your CTA button or the placement and order of visual elements like images.
4. Run your experiment
It's time to get real and start off your experiment by implementing your variations into your application or website. These variations are randomly assigned to different users that access your app or site, and each small interaction with your product is precisely collected, measured and compared. So sit back and let your users and data analytics tools do the rest.
5. Analyse the results
After about a week or two, you should have a pretty clear insight into the effectiveness of your implementation variations. Your A/B testing tool will show you exactly what you need to know, differentiating the effectiveness of each implementation. If there's a clear improvement, great! You now know what to implement for all your users! If not, try to find out why the results were murky, and think of a solution. Perhaps you don't have enough visitors yet to gather enough data to really notice a difference. In that case, an A/B test might not be the best strategy for you at the moment, or it'll take some more time to show useful results. Luckily, A/B tests are designed to be quick and efficient, so you probably didn't waste too much time and effort implementing your variations. Don't fret, keep trying, that's the beauty of A/B testing

Need a hand?
Want to know more about A/B testing, and how we implement this strategy at Lizard Global to provide you with the best possible digital solution? Get in touch with one of our experts, who'd love to tell you more about it. Still searching for the right digital partner for the development of your mobile or web application? Contact us on our social media channels, phone, email, or by the contact form on our website. Rather send a quick WhatsApp message?
No problem! Get in touch with our Global Commercial Director Markus at +60183565702.