Top App Developer (Best Ranked!) Company In Australia
16 Mar, 2023
Writer, Tasnim & Asrul Ash
Get the
latest updates

about our blog posts.
Subscribe so you don't miss out!
In 2012, two young and ambitious innovators from the Technical University of Delft founded a startup that would eventually be known around the world. From humble beginnings, in their home country Netherlands with an interest deeply rooted in technology they saw its potential to change lives for the better through software engineering excellence guided by clean code principles which created one thing you never heard before: "Lizard Global".
Jeremy Raes (CEO, Co-Founder) and Guido Van Beek (CTO, Co-Founder)
had a vision of how technology could change the world. They quickly discovered that they shared a passion for entrepreneurship and a desire to build something of their own. They took the plunge and the company took off almost immediately, thanks in part to Jeremy's business acumen and Guido's impeccable talent for software engineering and clean code. Today,
Lizard Global is one of the leading app development companies in the world.
Who is Lizard Global?
Lizard Global
is one of the
top best-ranked app developer companies in Australia
with a reputable presence throughout countries across the globe.

There is no one-size-fits-all digital solution, which is why we take a bespoke and personalized approach with every one of our clients. We sit down with you to understand your unique needs and requirements, and then we put together a tailor-made plan to realize your vision.

At Lizard Global, we pride ourselves on being more than just a development partner. We are your plug-and-play CTO, working with you every step of the way to ensure the success of your digital solutions. Our full-stack in-house team is equipped to handle all aspects of your project, from conceptualization to development to growth strategies. And because we believe in true partnership, we never outsource anything to a third party. When you work with Lizard Global, you can rest assured that you have a technical partner who has your best interests at heart.

We are a digital agency that is constantly striving to disrupt the market with our innovative solutions. Our award-winning formula consists of a core passion for digital innovation and close collaborations with our partners. We have a team of more than 45 result-driven team players who are passionate about what they do. We work closely with our partners to create digital solutions that are innovative and effective. We are constantly evolving and expanding our services to stay ahead of the competition.

We have a proven track record of success in helping our clients and their end-users achieve their digital transformation goals. We don't win awards by simply knowing how to build software, but rather because we understand how the right digital transformation strategy can provide our clients and their end-users with successful and sustainable solutions.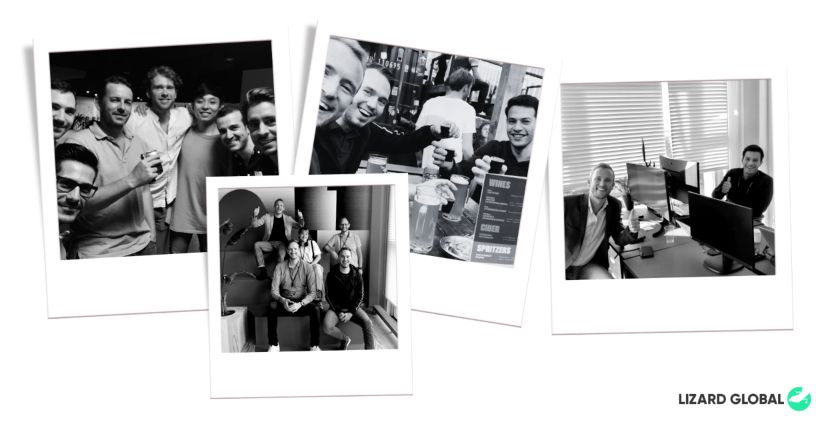 We evaluate their industry landscape, organizational structures, end-users, and competitors to develop a tailored plan to help them leap ahead of the competition. Our deep understanding of the digital landscape means that we can provide guidance and expertise at every stage of the transformation process, ensuring that our clients are well-positioned for success.
What's Lizard Global origin story?
When Jeremy started the company in 2012, he chose the name 'Lizard Apps' for two reasons. Firstly, he was inspired by the lizard's ability to change its appearance and behavior to blend in with its environment. This is something we try to do as a company: to always adapt to the latest changes in technology and user behavior. He liked the idea of a small company that punches above its weight, and that's what we've been striving to do ever since.

Here at Lizard Global, we take pride in being part of the Lizard Family. By showcasing our team spirit to the world, we exemplify the meaning of true camaraderie. In 2019, we decided to change our name from "Lizard Apps" to "Lizard Global" to better reflect our international client base and expanding list of services. We pride ourselves on being more than just a development company. We offer a comprehensive suite of services that can help take your business to the next level. Whether it's growth strategies, CRM integrations, or digital workshops, our team of experts is here to assist you. Not to forget we offer technical consultancy services to ensure that your applications are up to date and compliant with industry best practices.

With more than 15 different nationalities represented in our offices in Rotterdam and Kuala Lumpur. We come from all walks of life, with different cultures, backgrounds, and religions, but we're united by our passion for technology and our commitment to providing the best possible service.

This diversity is one of our greatest strengths, and it helps us to better understand and serve the needs of our global client base. We're constantly learning from each other, and we believe that this makes us stronger as a company. So whatever your background or nationality, if you share our passion for technology, we welcome you to join us on this journey. Together, we can achieve great things.

For over 8 years, we have been working hard to improve our services and expand our customer base globally. We now have a strong presence in both Malaysia and The Netherlands, Australia, Belgium, and Singapore and we are constantly striving to provide the best possible service. We offer a full range of services, from initial idea development to final product launch, and we are always working to improve our offerings. Our goal is to help them turn their vision into reality by providing the highest quality development services available. We challenge ourselves every day to stay ahead of the curve.
How do we solve our clients' app development challenges?
Lizard Global is always looking for new partners to work with on a variety of mobile application development projects. We have a team of experienced developers who can help with any stage of the development process, from ideation and planning to design and implementation. We are also well-versed in a variety of different development platforms and can work with you to choose the right one for your project. In the past, we have partnered with a myriad of different customers, including small businesses, startups, and large enterprises.
An enterprise that is driven by the desire to improve and disrupt their industry with cutting-edge technology.
Startups who need to get their business off the ground and make it profitable.
Scaleups who want to improve their current success formula into an even better solution to surpass their competitors.
Innovators in search of new opportunities to adapt their business models with the latest tech developments, but who don't have access or desire for on-site development expertise
It's not just about turning ideas into reality. Sometimes it's living up to your full potential and realizing an even greater tomorrow through innovation with clients from all over the world, in different industries- no matter what challenges you face along this journey. Our ways of working are organized in such a way that we can help customers from all over the world. Even during challenging times like the COVID-19 pandemic, we've managed to continue our services and realize amazing projects with clients all over the world.

We've had the privilege of working with some amazing clients, across a wide range of industries, on some truly complex and interesting projects. To date, we've completed over 80 projects in 24 different industries
from FinTech and Human Resources to EdTech and Real Estate, and we seem to cover it all. We're always up for a challenge, no matter how complex the solution might be. It's our variety of experiences that allows us to approach each new project with fresh eyes and an open mind.

Lizard Global: Best Ranked Full-Stack App Development Company in Australia and more.
Since 2012, Lizard Global has been working hard to get to the top, continuously improving our services and expanding our customer base to a global scale. By now, we form a core part of the best web- and mobile application developers in Australia, Malaysia, and The Netherlands, providing a full-stack package of services to enthusiastic individuals all over the world. We have always emphasized quality, which is evident in our long-standing relationships with clients and partners alike.
Our team comprises some of the most talented and driven individuals in the industry, who are passionate about creating innovative solutions that exceed expectations. In everything we do, we aim to deliver value and make a positive impact on our clients' businesses. We are proud to have worked with some of the biggest names and look forward to continued success in the years to come.
Lizard Global's application development services
To achieve the best possible service, we made sure to assemble a cross-functional team that's specialized in their profession, while also being experts in assisting other departments when needed. By having a team that's specifically dedicated to each department, we're able to provide a level of service that's unmatched by our competitors. Furthermore, our team is always available to assist other departments whenever necessary.
We are proud to form a core part of the best developers in both Malaysia and The Netherlands, providing a
full-stack package
of services to individuals all over the world.
Digital Workshops

Business & Market Analysis
Target Audience Analysis
Digital Solution Strategy

Digital Marketing Strategy

Marketing & Sales Advice
Roadmap Integration

Software Development

Mobile Solutions
Web Solutions
Server Hosting & Maintenance
Pilot-phase Testing

Growth Consultancy

Growth Hacking
Usage Analytics
Data Intelligence

Technical Consultancy

Code Reviews
App Store Submissions
Licenced Modules

UI/UX Design

UI/UX Research & Consultancy
Visual Research
Wireframing, Prototyping, Mockups & Clickable Demo's
Responsive Web Design
Brand Identity & Digital Brand Book
A/B Testing

Digital Consultancy

Digital Conceptualization
Business Research & Consultancy
Go-to-market Strategy

Salesforce CRM Integration

CRM Architecture
Sales & Marketing Analytics
Workflow Creations

Digital Marketing Strategy

Marketing & Sales Advice
Roadmap Integration
Focalize customer success as our business backbone
At Lizard Global, we are committed to providing the best possible customer experience. To that end, we have implemented the human-centered approach to Design Thinking. This approach allows us to empathize with our customers and understand their needs and behaviors. By taking the time to truly understand our customers, we can develop solutions that meet their needs in a way that is both effective and efficient.
By understanding the needs and frustrations of your users, you can develop a solution that meets their requirements. However, simply empathizing with your users is not enough. You also need to experiment with different functions and design elements to find what works best for your solution. This is where our
agile development
process comes in. By implementing bi-weekly
scrum sprints
, we can test and iterate on new features and designs quickly. This allows us to rapidly converge on a successful solution. And because we deliver shippable increments, you can be confident that the product we ultimately deliver will be exactly what you need.

Need a hand?
As one of the top web and app developers in Australia, Malaysia, and The Netherlands, we are well-positioned to provide high-quality solutions that are perfectly aligned with your industry, target audience, and growth potential. Our team of experienced professionals will work closely with you to understand your business objectives and develop a customized solution that meets your specific needs.
We believe that effective digital transformation requires a holistic approach, and we will be with you every step of the way – from strategy and planning to design and development to launch and post-launch support. With our deep understanding of the latest technologies and trends, we will help you stay ahead of the competition and realize your full growth potential.