7 Steps to Create the Best eCommerce App Development
01 Sep, 2023
Asrul Ash, Content Writer
Get the
latest updates

about our blog posts.
Subscribe so you don't miss out!
Follow Lizard Global on Facebook, Instagram, and LinkedIn.
A vital tactic for succeeding in the online market in today's rising eCommerce environment is to develop a strong app. The online retail sector is dominated by a number of major competitors, like Amazon and Alibaba. As a result, developing business organizations have to establish a competitive edge in their specialized market. Everyone wants to know how to build eCommerce app that is both distinctive and cost-efficient. The challenge gets considerably more difficult for businesses and development teams who don't have thousands of dollars to spare.
The Malaysian eCommerce market is projected to reach RM47.07 billion by 2023 and RM78.43 billion by 2027, growing at a 13.6% CAGR. What makes eCommerce such a game-changer for Malaysian businesses? Which major trends should companies be on the lookout for? Explore some of our top discoveries together here.
The Writers, Business Analysts, and Software Developers of Lizard Global will detail the process of developing ecommerce app development, which enables an impressive and user-friendly eCommerce experience, in this post. Using the Lizard Global app case study as a guide, this blog post looks into the major features, tech stack, design, and architecture components required in developing an eCommerce app.
1. Research and preparation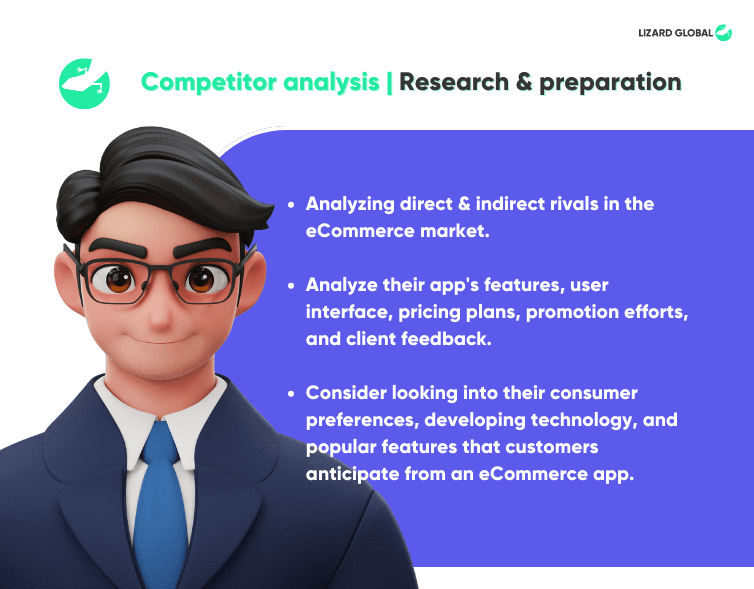 It is crucial to perform a thorough review of your competition and the most recent industry trends before beginning the ecommerce app development process. This step enables you to discover potential gaps or openings for you to build an eCommerce app and obtain insightful knowledge about what performs well in the sector.
Analyzing your competitors should begin with a list of both direct and indirect rivals in the eCommerce market. Analyze their app's features, user interface, pricing plans, promotion efforts, and client feedback. You can learn about their advantages and disadvantages as well as areas where you can excel thanks to this examination.

Consumer preferences, developing technology, and popular features that customers anticipate from an eCommerce app are all factors to consider. With this knowledge, you can adapt your app to users' changing demands and expectations.
2. Setting successful business goals
The development process is guided by clearly defined goals and objectives, which also aid in the evaluation of the finished eCommerce app. Here are some crucial things to remember: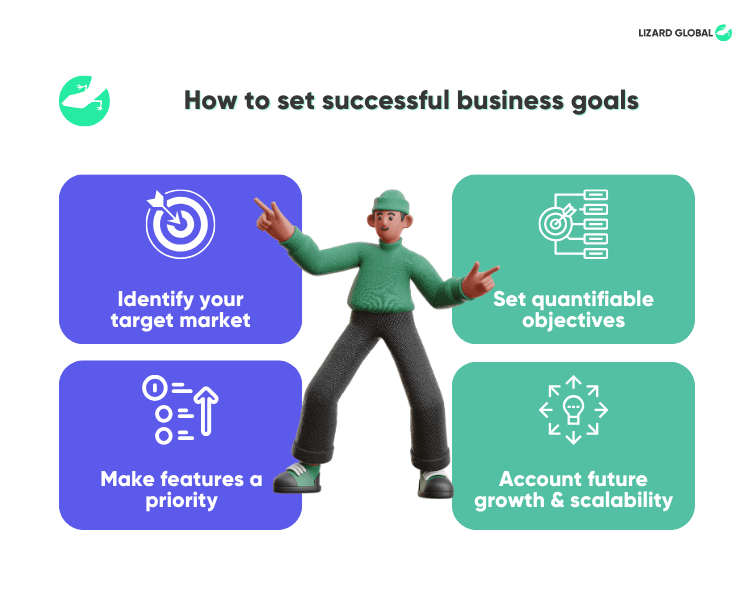 Identify your target market: Recognize the characteristics, tastes, and problems of your users. This information enables you to customize your app to fit their unique demands and produce a unique user experience.

Set quantifiable objectives: For instance, your objectives can be to boost revenue, raise customer satisfaction, increase conversion rates, or broaden the clientele. These objectives offer a framework for assessing the effectiveness and success of the app.

Make features a priority: Ensure that your primary features are in line with your USP and offer users value. Among the necessary elements are a user-friendly interface, fluid navigation, secure payment methods, product search capabilities, and tailored recommendation systems.

Take future growth and scalability into account: Make sure that the architecture and infrastructure of your app can support growing user traffic, interface easily with third-party systems like payment gateways and inventory management systems, and accommodate new features.

3. Selecting the right application development: Native, Web, Progressive, or Cross-Platform.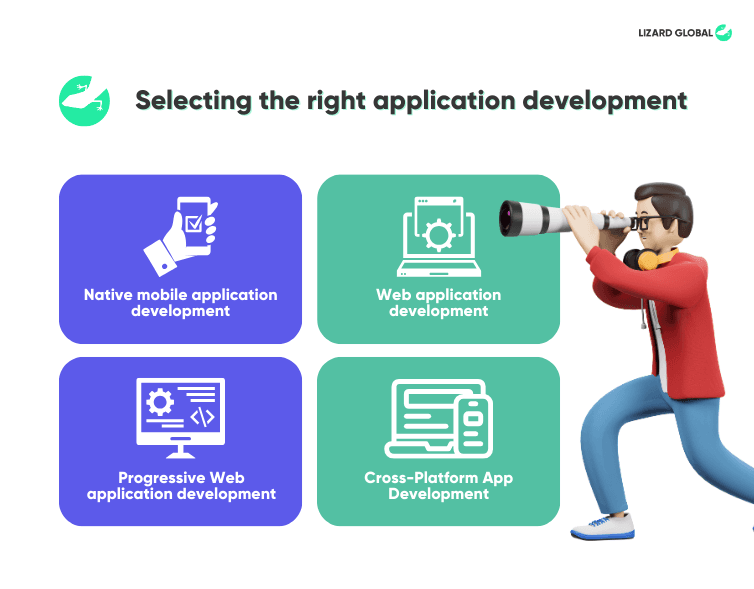 A development team should first decide on a platform or framework before beginning to construct an eCommerce application. The best option should take into account business needs in addition to technological considerations. For instance, at Lizard Global — as an eCommerce app development company — our main objective when planning the development of the eCommerce application was to produce a versatile solution that store owners could easily adapt and connect to their websites. The other issue was commercial effectiveness and time to market.
Understanding the types, functions, benefits as well and downsides of the different application software can be quite overwhelming. But, lucky for you, we have explored the topic in one of our previous blog posts. Read the more in-depth post here!
4. Designing the best UI/UX eCommerce app design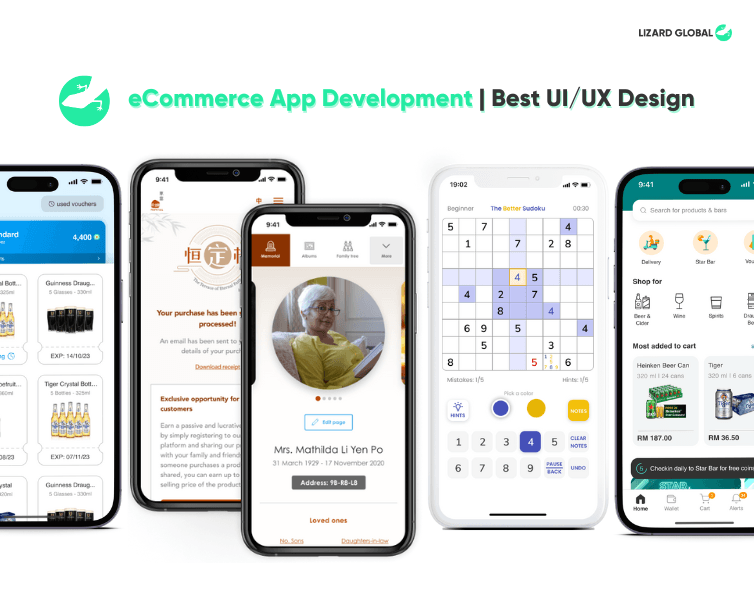 According to research, 76% of users will move to a rival app if they have even a single problem with it, therefore there is no place for even a single error. There are various advantages to evaluating new design elements and efficiency. Understanding how users interact with your app and use it is crucial to designing a great user interface. The greatest and most distinctive UI components are based on how your app makes users feel, boosting good feelings and muffling bad ones.
It can be challenging to design and build an eCommerce product, but when you know the key UX/UI design principles for an eCommerce app development, you have what you need to build ecommerce app that looks fantastic and converts like crazy.
If you are interested in understanding how the UI/UX Designers and Product Designers at Lizard Global operate in creating the best eCommerce application design, go to this blog!

5. Select unique eCommerce app development features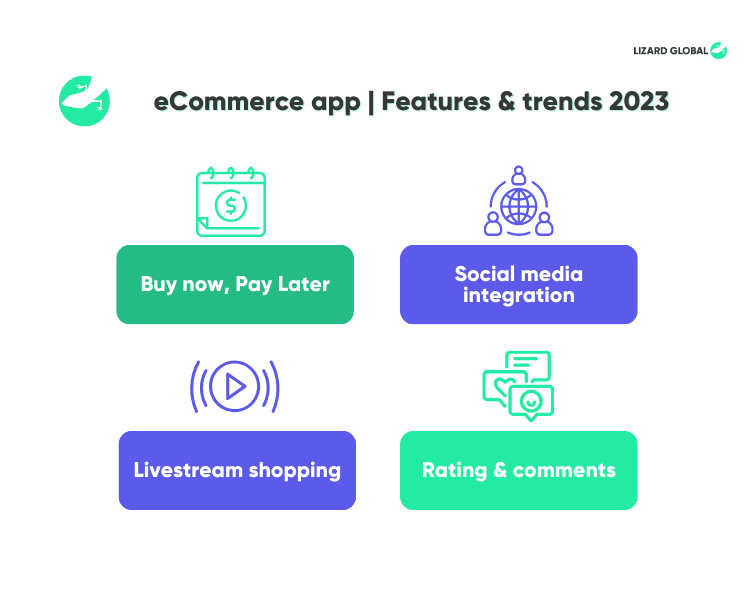 One of the most important components of any ecommerce app development process is features. Without distinctive features, an application is nothing more than a simple services app. How will you make your application stand out in the plethora of eCommerce enterprises and eCommerce apps available today?
You can opt to incorporate the following important features in your eCommerce app to keep your users interested:
Buy now, pay later
With a service like Afterpay, more and more customers expect to have the option to "buy now, pay later" (BNPL). Users have the option to buy something now and pay for it over time in several installments. In fact, it is anticipated that BNPL deals will increase by more than $450 billion by 2026. BNPL is reportedly favored by both consumers and businesses for making sizable installment purchases and payments.
Livestream shopping
You may implement this wonderful feature when you want to build an eCommerce app as well. Live streams frequently pin a direct link to a product profile that showcases the company's goods. In the previous year, live streaming on eCommerce websites had a conversion rate that was 10 times higher than other components.
Social media integration
Social media integration is the most potent and important eCommerce component in terms of retail technology. If you include social networking, users may access your app's login, registration, and product-sharing functions more quickly. Another practical feature of eCommerce app development is the ability to share promotional codes and other marketing initiatives with friends and followers. Youths can also showcase their achievements by using the app. As a result, more clients will become acquainted with your business and product.
Rating and comments
Most eCommerce apps need users to review and comment on products. It's simple to believe that a reporting or feedback system is exclusively beneficial to users. Users' feedback and recommendations for improvement on your app may be helpful to you. Since it enables users to rate your app in a public place, this is a great feature for your app. Positive reviews are believed to draw more consumers through word-of-mouth.
6. Find an eCommerce app development company & start developing
The ideal moment to construct the ideal shopping app is right now after you have completed all five of the aforementioned procedures. Here, you may make use of all the knowledge learned through research to create eCommerce software that increases your income and profits. For even better and more certain results, you can even hire specialized eCommerce developers from a reputable business. The cost of developing an eCommerce app will be greatly influenced by the developer you choose, depending on the services offered by the eCommerce app development company, so exercise caution when making your selection.
For instance, when working with full-stack developer Lizard Global, we will need to look at the specifics of the project to determine the ecommerce app development cost. However, in general, a simple eCommerce app costs around $10,000, while a complex application with lots of features can cost anywhere between $80,000 and $100,000. The cost of using the technological stack, the time spent by the developers, and the cloud implementation are typically included in this range.

7. App deployment and testing before launching on Google Play Store or the App Store.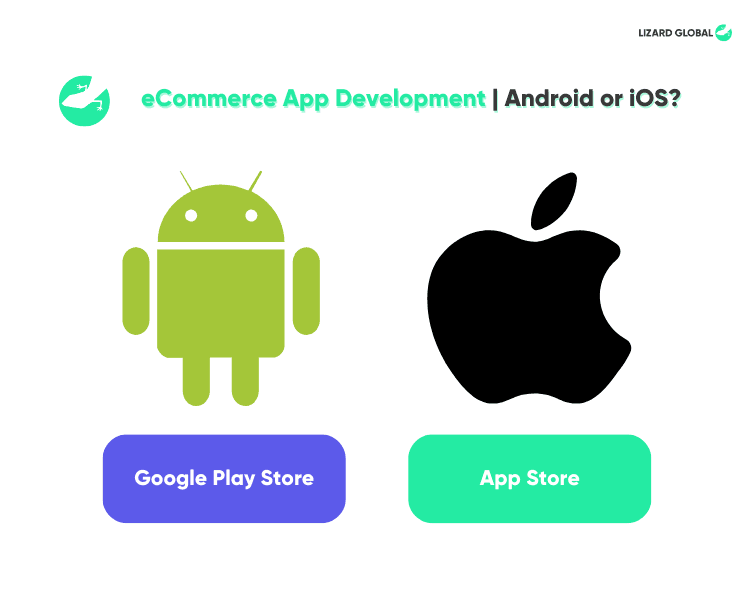 This step in the development of an eCommerce app includes testing the application for quality. Before release, the software is meticulously tested to remove any faults or defects. As a security-first organization, Lizard Global takes great satisfaction in making sure the software is secure at every level of the development lifecycle. Before customers meet them, we will fix the flaws and assist you in quickly releasing your app on the Google Play Store or the App Store. Knowing how to create and maintain eCommerce app security is crucial given the rise in hacking and breach incidents.

Think it, dream it, we'll build it!
Are you planning to digitize your company or create your own online store? We are always willing to hear your suggestions, collaborate with you, and provide the best ecommerce app development services to build the internet business of your dreams. Get a sneak peek of what's in store for you with the fantastic partners that we've worked with, whether you're ready to jump into an online business or just want to get inspired. Send us a message on our website whenever you're ready to talk, and let's get started!