Meet the Clients: Nicole | Retiink
29 Mar, 2021
Lotte, Digital Content Specialist
Get the
latest updates

about our blog posts.
Subscribe so you don't miss out!
In our recurring "Meet the Clients" interview series, we put our clients in a well-deserved spotlight. Last time, we had a peek behind the scenes of the creation of Globiz and the vertical of Industry 4.0. This week, we dive into our Medical vertical, with our recently finished project Retiink on the stage. Retiink is a revolutionary application that is designed and developed to help users in their recovery after a traumatic brain injury. The innovative mind behind Retiink is Nicole, owner of Holding on To Hope and author of her book of the same name. Nicole's relentless passion for helping others, combined with the skills of our driven team at Lizard Global resulted in a cutting-edge application that guides its users through recovery by the means of structured planning and task completions, a supportive community, and challenging brain games. Sit back and relax, and continue reading to find out more about Nicole and her motivation and passion behind Retiink.
Firstly, tell us something about yourself and your passion
"I am Nicole, a Rehabilitation Counsellor specialising in occupational rehabilitation and brain health education, an accredited Mediator specialising in workplace disputes, and a best-selling author. I frequently work with people who believe they will never be able to work again, due to their acquired injury limitations. As a person who has come back from a medical diagnosis of 'expect death or life in a vegetative state', I believe everyone has strengths. I enjoy being a part of the journey to creating opportunities for steps to success after injury, through targeted interventions that individualise the rehab process."
What made you want to develop a digital solution together with Lizard Global?
"I have developed my own memory strategies over many years of trial and error. However, through my work, I found that many people were struggling with short-term memory issues and poor organisational capacity, particularly following a brain injury. I wanted to create something that was easy to use, had built-in reminders, and the ability to empower people by taking a proactive approach to their own health, memory etc. I researched everything available in the market and even trialed some organisational apps, but found them lacking in many ways. This inspired me to look at creating the ideal memory management app and that's how my collaboration with Lizard Global was born."
How did the idea of Retiink come to life? And what made you choose Lizard Global to help you in the process of turning your idea into an application?
"The process started when I was writing my book, Holding on to Hope, Finding the 'New You' after a Traumatic Brain Injury. As I wrote, researched, and communicated with other people with various memory issues following brain injury, I was inspired to make a difference and to try to help others in their rehab pathway to reaching their highest potential."
"I interviewed four different app companies, and to be honest, I was hoping to find an Australian company, something close to home. Although that was my initial aim, a friend of mine recommended me to get in touch with Lizard Global, and I'm glad I made the choice to partner up with them. Lizard Global did what they said they would do in the allocated timeframe, and made me feel like a true partner in the process through regular communication, brainstorming sessions, and adding further improvements to my original idea through collaboration. With a beautiful and well-functioning mobile application as a result."
"Lizard Global provided excellent communication, a competitive price, and the team consists of great people!"
In what ways does Retiink solve the problem your target audience was facing?
"The product has just been launched and it aims to help manage and improve memory issues, improve spatial awareness and concentration, help with health goals and health/rehab education and serve as a collaborative communication tool between injured parties, caregivers, support workers or anyone else involved in the rehab process."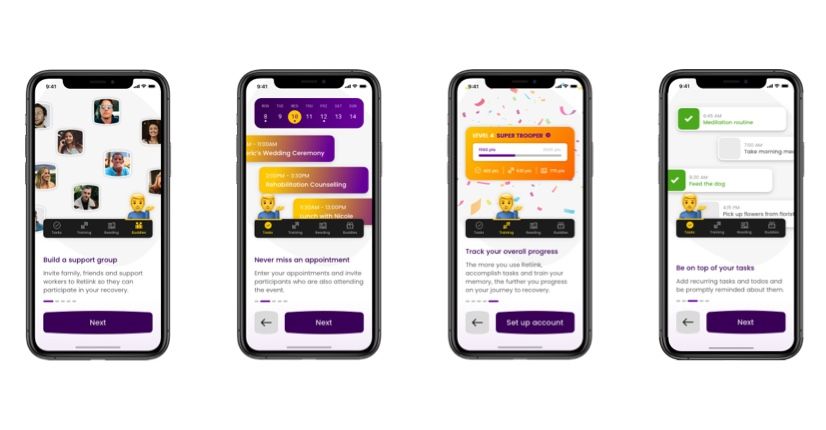 How did you experience the collaboration with Lizard Global during the project?
"When I approached Lizard Global for the development of Retiiink, I already had a pretty clear idea of what I wanted the app to look and function like, but I didn't have a lot of technical experience and didn't even know what a wireframe was. During the entire collaboration process, specialists from all different departments, from development to design, guided me through the process. I was mainly in touch with Simonas, the Product Owner of the Retiink project. Together, we created a clear insight into what the Retiink app would look like, including its most important features and overall design. When the idea was concretely conceptualized, one of Lizard Global's design specialists joined the force to work on design details by creating UI/UX wireframes and mockups to turn the application into a digital piece of art. In addition to design, the commercial team showed me how to create engaging blog content and we've planned how we will market the app going forward."
"Overall, I've been impressed by how well they communicate and collaborate with us, which can be especially difficult when done fully digitally. They seem like a lovely bunch of people, friendly and approachable. They stood out from other companies because they always followed up and kept in close contact with us. They were consistent and that was important."
Get Retiink for iOS and Android!
Are you ready to train your brain towards its best potential? The Retiink application is now freely available for iOS and Android. Together with Nicole's innovative spirit and deeply-rooted passion for helping those around her, Lizard Global designed and developed Retiink, a revolutionary application to support the rehabilitation process after a traumatic brain injury. By regularly using the application, users can improve their memory and time management skills, collaborate with their support team, and keep up to date with helpful tools and resources to improve their overall brain health and reach their highest potential.
Retiink's main features include an in-app agenda to help users plan their activities and follow up on tasks, an extensive knowledge library filled with interesting articles and other resources about brain injuries and the recovery process, and a supportive community to connect and guide each other through rehabilitation. Besides these functionalities, Retiink differentiates itself from other digital solutions by providing a gamified and interactive environment. Users of Retiink can challenge themselves by completing engaging brain training games to level up, track their progress over time and grow their skills and abilities in a playful and lighthearted manner. Curious how that works? Check out the app in the App Store and Play Store, and get started!
Need a hand?
Do you want to know more about our partnership with Holding On To Hope's Nicole? Or did Nicole's story light a spark to also finally turn your innovative app idea into a real-life cutting-edge application? Don't hesitate to get in touch with us to know more about our services, and let's schedule a meeting to find out how we can turn your dreams into reality!