Meet the Clients: Globiz
01 Mar, 2021
Lotte, Digital Content Specialist
Get the
latest updates

about our blog posts.
Subscribe so you don't miss out!
At Lizard Global, we value a mutually beneficial and innovative partnership with all our clients. That's why, besides the projects we've been working on over the past years, we also want to put our clients in the spotlights they deserve. In our 'Meet the Client' series, we sit down together with our clients to ask them all about their innovative solution, and their experience of working closely together with Lizard Global as their digital partner. This time, we have a talk with Carmen and Stefan, the founders of Connected Global (M) Sdn Bhd.
First of all, who are you?
"We are Carmen and Stefan, owners of the Connected Global (M) Sdn Bhd company, formed and registered in Malaysia. We've launched our business in order to establish the development and launch of our 'Globiz' application. Globiz is an innovative mobile platform that allows users to customize and exchange digital business cards. At the moment we're working full-time for Globiz, in Kota Kinabalu, the capital city of the Malaysian state of Sabah, located on the west coast of Borneo."
How did Globiz come to life?
"We thought of the idea of Globiz when we were all stuck at home during the Malaysian Government Movement Control Order, or MCO, as a preventive measure by the federal government of Malaysia in response to the global pandemic of COVID-19. As professionals active in the business world, we are constantly involved in the exchange of business cards when we're at work. Due to COVID-19, we became much more aware of the potential dangerous spread of the virus by touching, handling and sharing physical business cards. That's how we came up with the idea of digitally transforming the world of business cards, from physical to digital."
What problem do you want to solve with Globiz?
"Our motivation is to bring an application on the market that provides an ultimate convenient solution for people to exchange and store their business cards in a sustainable, organized and environmental-friendly way. We came up with the idea not only because of safety reasons regarding the spread of COVID-19 via physical touch, but also because of the rapid disorganization that physical business cards can bring along. We noticed that we, and many others around us, easily misplaced collected business cards. This misplacement often causes difficulties in organizing and managing them for future use, like getting in touch with a potential client or partner. And when we wanted to hand our own business cards out, we often couldn't find them. Globiz is entirely focused on bringing back the organization of business cards by turning them into a digital product, instead of a piece of paper."
"Besides organization, we also wanted to provide our users with the possibility to easily and quickly design and customize their own business cards within the app. The in-app tutorials show exactly how users can change the design elements of their business cards, and how to share and store their cards by the use of a link or QR code."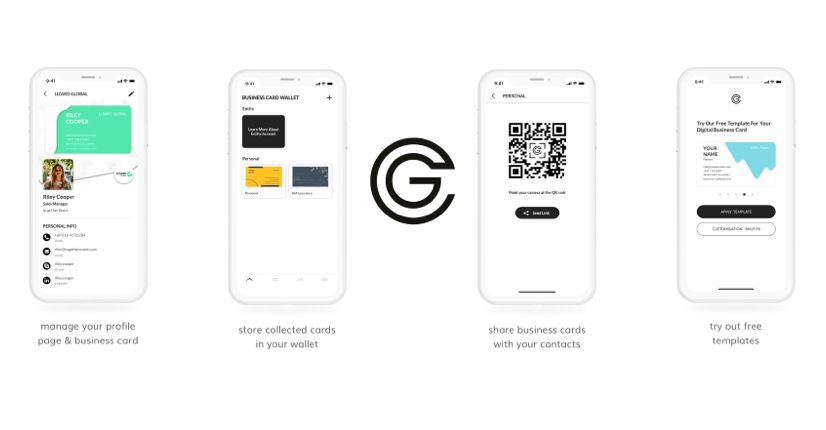 How did you get in touch with Lizard Global? And what did the partnership look like?
"Via via, we heard about Lizard Global's long-term experience with the development of applications in all kinds of industries. We got in touch with CEO Asia Terence, and had our first meeting back in September 2020. We flew over from Sabah to Kuala Lumpur to discuss our ideas in the company of a delicious lunch. After that, we started off the project with Product Owner Simonas. Together with him, we discussed the possibilities and precise functionalities of the Globiz app. After that, YoYo helped us with the UI/UX design, and the development team picked up the technical part of the application. Markus and Lotte helped us with some commercial aspects of Globiz and our partnership in general in the form of this particular interview, a business success case on their website, and some partnership content for our own website.
How did you experience the partnership with Lizard Global?
"We were impressed by the professional introduction to new innovative technologies and the overall guidance during the process towards a digital transformation of our business. We always had the opportunity to ask questions if we faced unclarities during the development process. We know a thing or two about running a business, but app development was an entirely new world for us. We really noticed Lizard Global's drive to keep the entire development process transparent, and they kept us up-to-date with the status of our project in the form of frequent digital meetings. The COVID-19 pandemic and consequential measures luckily didn't hold us and the team back to stay in touch."
In what ways did your digital solution solve the problem of your customers? And where do you see your solution in ten years?
"The application is still at the start of its hopefully bright future. So far, the app has been tested, and proved to serve its purpose of providing an efficient and user-friendly solution for the digitalization of business cards. We hope that, in ten years, while technology will only continue to advance and more and more business aspects will turn digital, Globiz will stand at the core of the most successful business applications. We hope to see that Globiz can reshape the culture of business card exchanges all over the world."
Want to see Globiz for yourself?
The Globiz digital business card application is available for your Apple and Android devices. Check out the app in the Play Store and the App Store, and start designing and sharing your very own digital business card with your contacts!