What is Digital Transformation and Why Does it Matter?
23 Dec, 2021
Lotte, Digital Content Specialist
Get the
latest updates

about our blog posts.
Subscribe so you don't miss out!
At Lizard Global, the term "digital transformation" is uttered on a daily basis. It forms a cornerstone of our work and it is one of the main goals we aim to achieve when partnering up with our clients. A quick scan through some of our blog posts shows that digital transformation is on our minds at all times. We regularly dive into one of the industries we've worked in to describe their position in a rapidly digitizing world. In fact, we even created an entire workshop based on the topic of digital transformation.
In order to understand why the digitization of your business is so important, let's start at the beginning. In this blog, we're going to answer all your questions about digital transformation. What is it exactly? Where did the term come from? What does it mean for the future of your business? And how do you actually start a transformation towards digitization? Stick around and continue reading to find out.
The birth of digital transformation
While we often connect the term "digital transformation" to modern technologies, it actually has a much longer history than you might think. Its origins date all the way back to the 1940s. It only became a real buzzword in the 90s, when rapidly advancing technologies allowed businesses to move their practices to the world wide web.
What is a digital transformation?
Digital transformation is the integration of modern technology into all areas and processes of a business. By doing this, business owners can greatly optimize their operations and add value to their customers. Digital transformation doesn't just require updating operations and processes to make the move from offline to online, it also requires a cultural change in which organizations continuously challenge the status quo, perform agile iterative experiments, empathize with the client and its end-users, and thrive on user feedback.
This type of transformation goes beyond typical sales, marketing, and customer service jobs to focus on how businesses think about and interact with customers. By going through a digital transformation, organizations have the opportunity to re-examine how they do business through technology. This allows them to greatly improve their customer experience and establish a competitive advantage in their sector.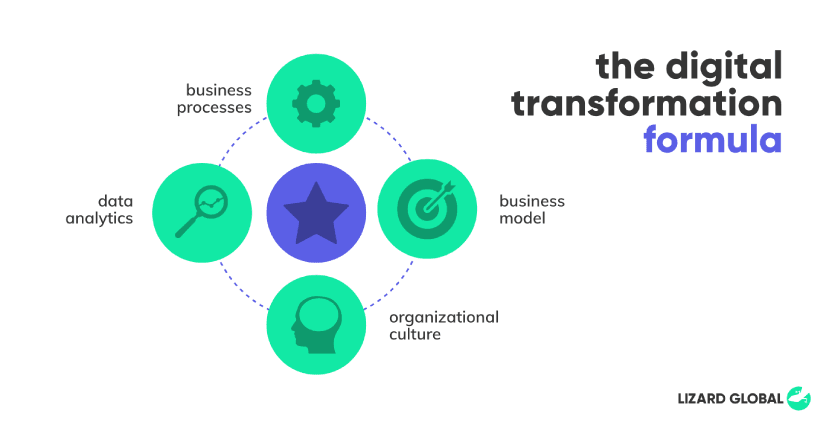 The digital transformation formula
Generally, we can define four key factors that play a crucial role in digital transformation. By focusing on all four of these factors, businesses can greatly heighten their chance of a successful and sustainable transformation. These key elements work hand-in-hand and leaving one of them out will likely negatively impact your business.
Business model
When shifting towards a digitized version of your business, your values, objectives, and strategies must change and adapt. In order to clearly visualize the path towards a digital transformation, you'll need a business model that fits this end goal. By reinventing and upgrading their business model, businesses can achieve a transformation that leads to significant new opportunities for growth. The process of adapting your business model isn't something that happens overnight.
During your digital transformation, you'll have to continuously adapt to the way newly adopted technologies impact your business. For example, new technologies have the power to redefine your products and services or even blur the boundaries between industries and competitors. As a business owner undergoing a digital transformation, you need to consider all potential opportunities new technologies bring along, and constantly adapt your strategy to it, even if that means redefining your market.
Data analytics
As a business going digital, data is one of your most essential assets. By collecting, processing, and analyzing the metrics that matter most, you can greatly optimize your strategies and continuously steer towards the best possible outcome. Unfortunately, a lot of businesses do not (yet) realize the importance of a solid data analytics strategy. Knowing where your business stands at all times and analyzing trends, means knowing where to go and how to get there. If you decide to digitally transform your business, data analytics becomes one of your main priorities.
Business processes
Process transformation requires changing components of your business processes to achieve new objectives. When a company's business processes are in need of a significant upgrade, a business process transformation is usually the way to go. An example of a digital upgrade like this is digital process automation, or DPA, which turns tasks that were previously done manually into a digital process.
DPA, or Digital Process Automation, is one of the basic types of process automation. DPA aims to improve the customer experience by automating digital operations, relying on the latest automation technologies. By automating business processes, more time and attention can be invested in tasks that require human input, which can greatly improve the overall customer experience.
Organizational culture
A successful digital transformation requires much more than merely upgrading technologies and automating processes. If a company's efforts aren't aligned with its internal values and habits, it can have a negative impact on the company's culture. The negative consequences range from a slow adoption of digital technology to a loss of market competitiveness, as well as a complete transformation failure and loss of productivity and money. A thorough and collaborative effort can assist in shifting the culture to accept and adopt new technologies and ways of working. Employers must develop a clear vision for the transition and communicate it effectively throughout the organization on a regular basis.
Check out these tips and tricks to stimulate your team in adopting new technologies and establishing a successful digital transformation!
The benefits
While the ROI (return on investment) from a digital transformation depends on the successful implementation of the key factors described above, implementing the right technology can significantly improve how your company operates and how customers interact with it. Let's have a look at the main benefits of digitally transforming your business: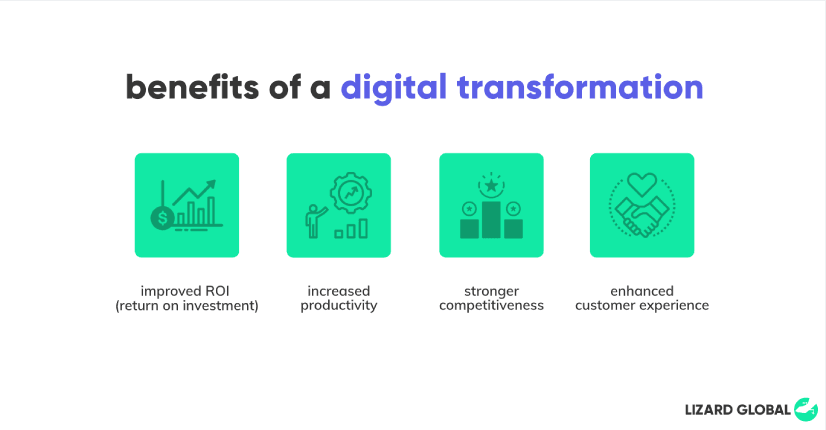 Productive & cost-effective
It boosts productivity while also lowering labor costs at the same time. One of the most effective methods to alter your company is to use technology to function more efficiently. For businesses, the time and money spent on training new workers and updating digital resources, for example, can add up quite rapidly. With the right tools, you can keep expenses down while increasing production processes.
Improved customer experience
Some technologies can greatly improve your customer services and therefore optimize the customer experience. Think of, for example, communication through social media, live chat through a mobile app or website, or chatbots that are reachable 24/7. The easier it is for your customers to get in touch with you and get the right answers to their questions, the better their experience with your brand.
Increased competitiveness
Whether or not you are considering digital transformation, your competitors probably are. If you avoid embracing digital change and postpone your digital transformation, you're probably going to fall behind your competition and lose customers to a party that's able to provide better services with their clever uses of technology. Choosing for digital transformation and keeping up with the latest technological advancements means you'll be able to stay ahead of the competition.
How to digitally transform your business?
Now that we've talked about the benefits of digital transformation, you might wonder how to actually get there. First, you may want to consider getting some help from a professional.
At Lizard Global, we are experts in the field of digital innovation and transformation. We've guided clients in all industries in their journey towards a digitized business, and we can do the same for you. How? Get in touch with one of our specialists for more info! xxx
Before partnering up with an expert in the field, it's good to already have an idea of what the process of digital transformation looks like:
1. Redefine your vision
Consider where you want to go with your business before diving into the process of digital transformation. You might want to ask yourself the following questions to get started:

Are there any strategic gaps in your organization?
How can you implement technologies to support your team in their tasks?
What challenges do your employees face while engaging with daily business processes?
Once it's clear what problems you want to address and what your main objectives are, you're already on your way to a successful digital transformation strategy. But apart from your internal organization, also think of how adopting new technologies will affect your customers. This involves asking the same questions listed above but focusing on your customers instead of your employees.
2. Get help from high up
Next up, it's essential to include the appropriate stakeholders/leaders in the digital transformation process. It's crucial to get your leaders on board with transformation planning and implementation. They usually have a broad overview of the company and can help guide on priorities.
3. Steer your company culture
As mentioned before, a crucial aspect of achieving a successful transformation is getting everyone on the same page. After all, it is likely that everyone in your organization will at some point face the technological implementations of the digital transformation. If you want to build a successful digital transformation strategy, you must create a culture that encourages digital innovation. A good place to start is by bringing in the right forward-thinking leaders, who have the leverage in encouraging employees to adapt and hire employees who fit well into that culture. The next step is to ensure that everyone in your company is aware of the same vision and understand why your efforts are worth it.
4. Partner up
To keep your company on track, digital transformation requires expertise and, in many cases, a team of specialists that can guide you through the process. There are a few different paths you can take to assemble this team. You can hire people from your own company, outsource to different parties, or collaborate with one all-in-one digital partner. Choosing one single party for the entire project instead of different organizations or individuals generally ensures a more smooth and aligned process, and opens chances for long-term service and maintenance for the newly implemented technologies.
5. Pick the right technologies
In order to establish a successful transformation, you'll need to pick the right technologies for your business, its objectives, and its customers. There are quite some businesses that don't take the time to consider what they really need before picking technologies to implement. This is a waste of time and money, and pretty much guarantees a failed digital transformation.
Ask yourself this question before you invest in any new technology: does the technology you're investing in align with your digital transformation strategy? Does it add value to your company and your employees? If you're not sure about the answers to these questions, or you aren't familiar with the possibilities regarding technological implementations, make sure to get help from an expert.
6. Set up a strategy
Together with your digital partner, you can start creating a step-by-step planning towards the digital transformation of your company. However, this transformation doesn't happen overnight. Not all technologies will be implemented at the same time, as that will likely cause chaos and disruptions. That's why it's called a "transformation", referring to a process rather than an immediate change. As such, a strategy for the rollout of the process and technology changes will need to be created.
7. Measure and adjust
During the transformation process, you'll have to dive into your business' data to make sure that the technological implementations actually make sense and have a positive impact on your internal and external processes, as well as the customer experience. If you're new to this, your digital partner can help you set up a data dashboard and formulate the right objectives and metrics to track.
Need a hand?
At Lizard Global, we're experts in guiding our clients through the digital transformation of their business, from idea conceptualization to the successful delivery of cutting-edge solutions that are tailored to the needs of your business and customers. With almost 10 years of experience in a wide range of industries, we know how important it is for a business to stay up-to-date with the latest technological advancements. By doing this, your organization has the ability to majorly increase productivity and work more cost-effectively, while staying ahead of the competition.
Do you want to learn more about digital transformation, and how we guide our clients to digitizing their business? Get in touch! Are you interested in a digital transformation of your business? In our digital transformation workshop, you and your team will go on a journey together with our transformation experts. In 3 to 4 digital or physical sessions spread across 8 weeks, you learn everything about your current business processes, and together we conceptualize and plan a strategy to transform these processes from offline to online.
We offer both physical and digital workshops, so no matter where you are, we are here to help you take your business to the next level and disrupt your market.
Want to learn more about our digital transformation workshops? Have a look at this blog, and get in touch with one of our experts for a consultation session!