10 Years of Lizard Global: History in Numbers
19 Oct, 2023
Asrul Ash, Content Writer
Get the
latest updates

about our blog posts.
Subscribe so you don't miss out!
Follow Lizard Global on Facebook, Instagram, and LinkedIn.
Upon founding Lizard Global in 2013, our goal remained the same: to establish a programming agency that would bring ideas to life and develop innovative software solutions for global companies. However, Lizard Global has evolved over the last ten years beyond just being a programming agency or an app developer. These days, we map the globe, develop one of the most in-demand custom applications globally, and assist individuals in developing their digital job skills, among other things.
In honor of our 10th anniversary, which we are referring to as 10 Years of Lizard Global, we are looking back at Lizard Global's beginnings and charting our growth through numbers. So, let's get counting!
11 Digital Solutions as a Full Stack Digital Partner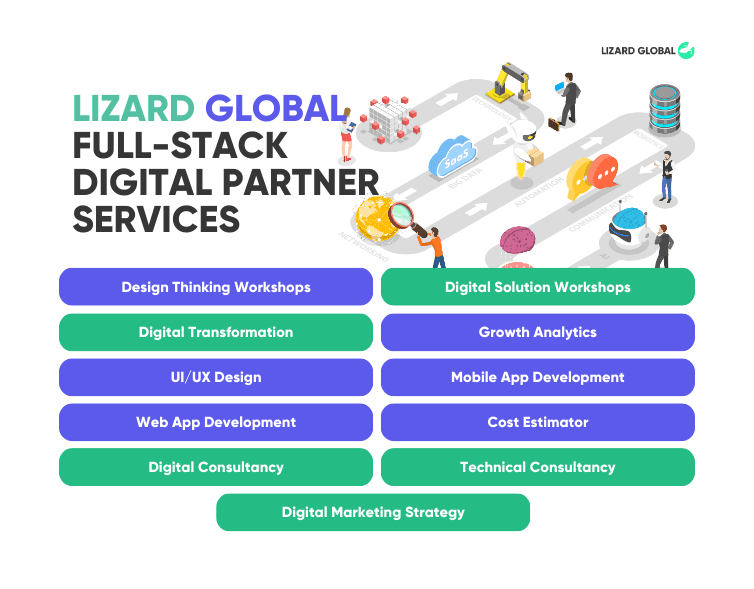 What does Lizard Global do? We are a full-stack digital partner with over 55 productive team members who specialize in developing mobile and web applications. We challenge the current quo by turning any concept or issue statement into a digital experience in partnership with you.
From CRM integration to UI/UX design, data analytics, web and mobile app development, custom software development, and more! Our motivation is rooted in the conviction that those who can imagine, design, create, and grow are also the ones who open the door to a better future. Think of Lizard Global as your go-to-market CTO, idea accelerator, and full-stack plug-and-play digital partner with an emphasis on web and mobile application development for iOS and Android as well as cross-platform apps.
As a full-stack development company that prioritizes forming long-term relationships, Lizard Global makes a concerted effort to offer entrepreneurs and business owners complete automation, from conception to upkeep and updates, in an effectively managed environment. Our Agile processes mirror our emphasis on providing quick feedback on the functionality, speed, and issues of the application.
Lizard Global's services bridge the gap that leaders need to realize their creative digital business concepts. Our services enable companies to develop, incorporate, and expand their products—regardless of whether their products or services are dispersed among hundreds or thousands of devices worldwide.
The company's skilled team of specialists generates creative and market-leading products by holding workshops to conceptualize client ideas, conducting UI/UX analysis to design conversions, and providing web and mobile app development services to businesses of all sizes.
92 Successful Custom Software Projects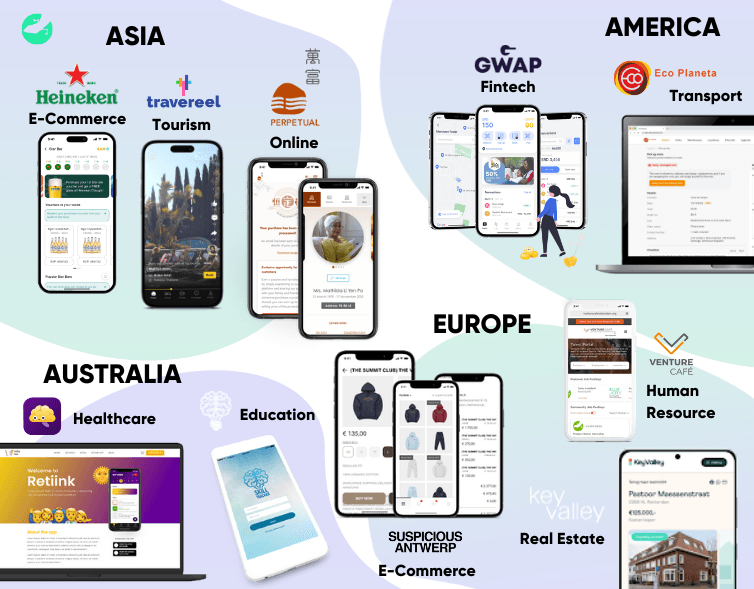 Who does Lizard Global work with? We collaborate with a diverse range of clients, including entrepreneurs and corporate innovators. We support businesses that want to grow online. For the success of our clients, we concentrate on the most important application. As an extended IT team for clients, we make sure every application is agile, scalable, and equipped with the right features.
How can we consistently produce a successful app? Well, it has a lot to do with the competent group of Scrum Team members, Product Owners, and Software Engineers, who are well-equipped with:
A solid grasp of data.
Proficiency in creating and enhancing software programs.
Proven aptitude for creating applications and user interfaces.
Superb web authoring and programming abilities.
Excellent work habits and a strong sense of personal and professional fulfillment with the design and implementation of the application.
Flexible, responsive, and able to work under pressure and adjust to changing requirements.

24 Industries Served Across the Globe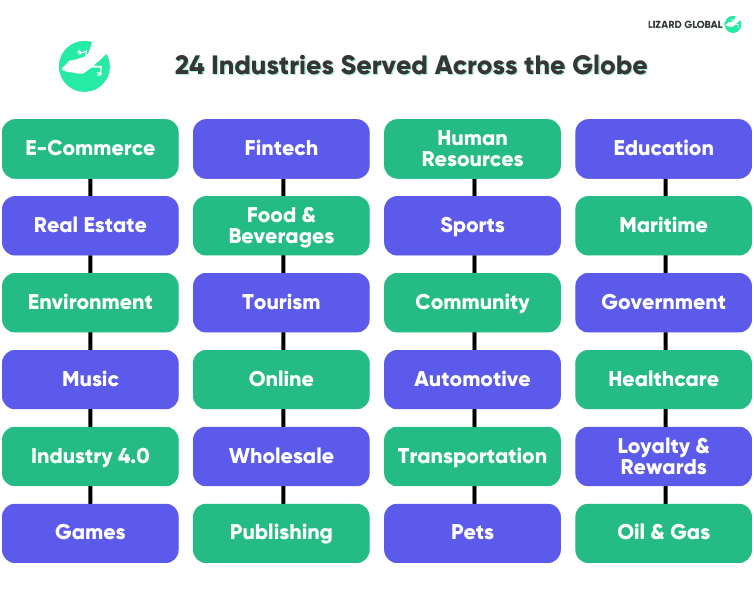 What industries does Lizard Global cater to? At Lizard Global, we take great satisfaction in being our clients' enduring partners. We have an interest in our client's success rather than merely providing a service and moving on to another project. With 85% of our clients sticking with us over the long term, our retention rate is evidence of that dedication.
The fact that our project portfolio is swiftly expanding despite only being 10 years within the business is a sign that we are a force to be reckoned with in the software development market. With industries ranging from E-Commerce to Real estate, we take pride in everything we do.
Sticking true to our unique DNA as artisans of arts, one of the best evidence of this distinctive quality of Lizard Global is the fact that our initial customer is still with us today. You may be sure that you are collaborating with a team that is dedicated when you deal with us. Lizard Global takes seriously the responsibility that comes with knowing that our performance is closely correlated with our client's success.
16 Countries Footprints Since 2013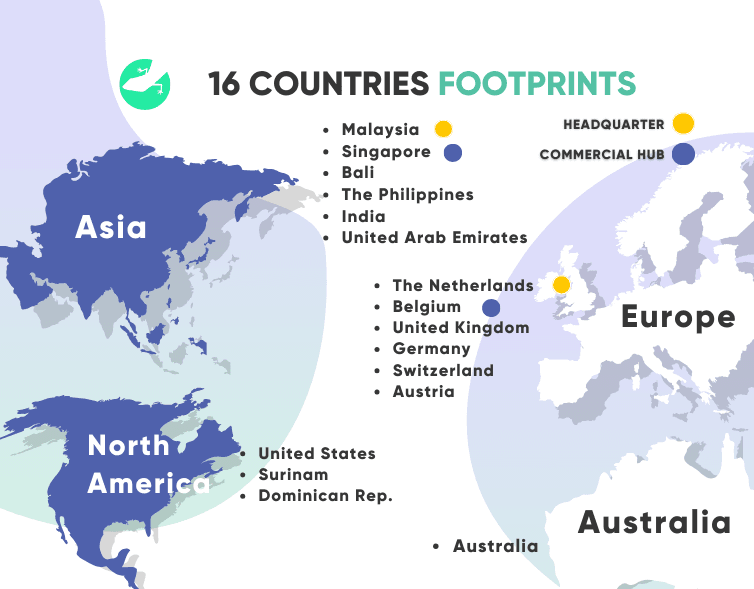 When we talk about growth, we always envision our operational market as the entire globe. The vision was to make our branding transcends national boundaries, enabling us to connect with potential customers from a wide range of backgrounds—commercial, cultural, and national. Over the past ten years, Lizard Global has come to understand that it is not always easy to enter a new country and establish our brand as relevant. However, after the success of putting our footprints in 11 countries in just 10 years, we have always done so by offering values and adjusting to the unique needs and economic climate of each region. This is why Lizard is an inspiration for our name—it is nimble and can adapt to fit its surroundings.
"This is something we try to do as a company: to constantly adapt to the latest changes in technology and user behavior." — Guido van Beek, CTO of Lizard Global.
Lizard Global, as the leading full-stack digital partner in the Netherlands, Malaysia, Belgium, Singapore, Australia, and other markets, positions ourselves in each area to improve our strength and recognition by:
Recognizing the culture, habits, preferences, and behavior of our partners.
Establishing a strong brand position to fully comprehend the competitive edge.
Ensuring that the brands we and our partners translate accurately into other languages.
Being agile to think widely and adapt to the most recent developments.
Seeking compatible partners that share the same vision of opening the door to a better future through Imagine, Design, Create, and Grow.

24 Awards as Best App Developer
Who is the best app developer? Lizard Global has been recognized as the Best Web- and Mobile App Development Company for the last 10 years by prominent third-party review platforms in several countries, including Malaysia, the Netherlands, Belgium, Singapore, Australia, and others. From winning the Customer Veluwe Innovatieprijs in the Netherlands in 2014 to being named one of the Top E-commerce Developers in Kuala Lumpur in 2023, Lizard Global has demonstrated outstanding performance.
We distinct ourselves not only for our skills in developing novel software development products that have never been seen before but also for successfully delivering the highest level of customer satisfaction, as evidenced by the numerous 5-star ratings we have received from partners and clients with whom we have collaborated.
Lizard Global as a whole places a strong emphasis on client satisfaction since we recognize its significance while remaining true to our DNA and cultivating long-term partnerships. It shows whether our consumer base approves of what we're doing, and high satisfaction could lead to higher lifetime value, improved customer retention, and a stronger brand reputation. When things are bad, though, the cycle must eventually turn, and the good comes back. When customers show indicators of being dissatisfied, we always take positive proactive action to identify their problems and offer data-supported recommendations on how to enhance the product, service, and overall customer experience.
See our extensive list of awards and recognitions to understand how effective are our services in creating innovative custom software and excellent customer experiences.

3,200+ Followers on All Social Media Combined
The popularity and reach of social media are growing in tandem with the worldwide digital population, and these online platforms provide users with access to a wide range of information. Lizard Global is aware of how critical it is to engage with the community outside of our headquarters because these platforms are essentially becoming a significant part of daily life and are constantly changing how people interact with one another globally.
From creating a LinkedIn profile in 2023 to amassing a sizable following on Instagram and Facebook, we use social media for topics like attracting new businesses, socializing, maintaining relationships with past partners, as well as daily communication.
App development is a thriving center of innovation and opportunity in the ever-changing world of technology. With more than 774 million professionals globally, we discovered that LinkedIn provides a rich environment for cultivating B2B relationships, showcasing talent, and growing our custom development business. We constantly adapt to changing social trends and look at ways to use LinkedIn to produce business, particularly in the web and mobile app development sector. This includes methods for interacting with the appropriate audience and stumbling upon under-researched regions within this dynamic field.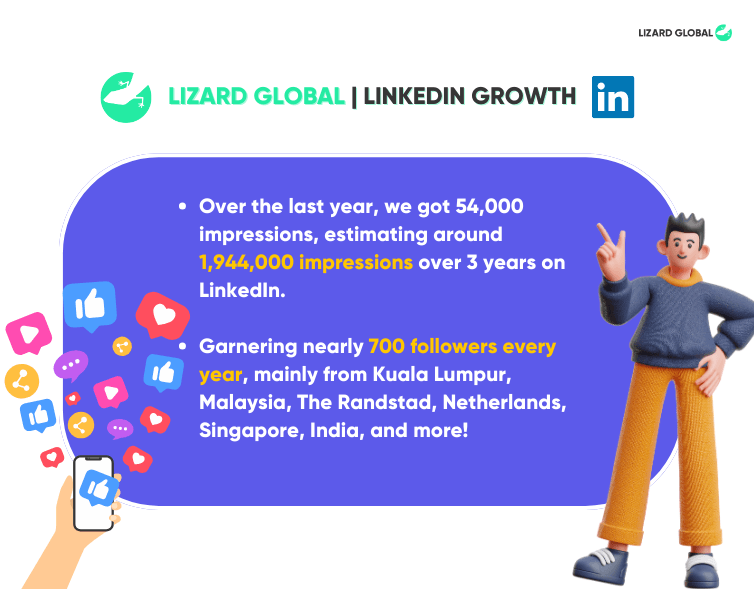 As of date, Lizard Global has been listed as one of the top 3 LinkedIn company profiles that gain new followers, from similarly-sized competitors in the same industry and the number 2 top LinkedIn company profile that has the best total engagement, from similarly-sized competitors in the same industry.
Lizard Global, the Next Global Brand
We were successful in establishing ourselves as a major force in the world of app development in just ten years. On our vision board, the next goal was to become more than just a company that offers web and mobile app development services; it was to become the top global brand. Think of the best apps, think of Lizard Global. With such a fantastic track record and the help of our excellent Lizard Family team members, it is potentially that we are now preparing to compete with the rest of the world.
Lizard Global has made significant progress in a short period, and we are optimistic that we can nevertheless accomplish more. We are confident that we can continue to inspire you to reach your business needs while also promoting our own business and brand as a whole. We are artists who make art, and that art is the basis of your unique business ideas. Take that idea a step further and make it accessible to everyone digitally. Together, we all benefit! Contact us today, and we'll start by walking you through a free digital roadmap consultation.

10 Years of Lizard Global
Want to know more about Lizard Global's journey to becoming the next global leader in the Custom Software Development market? Head to our 10 Years of Lizard Global tag to dive deeper into the company's behind-the-scenes.