Helpful Technologies in a Post-Pandemic Workplace
23 Sep, 2021
Lotte, Digital Content Specialist
Get the
latest updates

about our blog posts.
Subscribe so you don't miss out!
The COVID-19 pandemic has drastically impacted our daily life and left a major mark on our traditional ways of working and habits. Global lockdowns required us to work from home, and we had to adapt to entirely new structures and rhythms. One can only imagine the difficulties that will appear when the pandemic finally subsides and we're allowed to go back into our offices and continue our lives where we left it almost two years ago. Just like the shift from the workplace to our homes, the shift back to the office will likely look different than it did before and involve some hiccups and challenges. Luckily, thanks to the power of technology, we have the right tools to pick up our pre-pandemic lives without too much struggle.
Technologies during the corona crisis
Right at the beginning of the corona crisis, technology instantly proved itself to be an indispensable asset for getting through this pandemic unscathed. In our survival guide for working from home, we created a list of tips, tricks and tools to ensure a smoother transition from the work floor to working from home. While national lockdowns were being implemented in all corners of the world, our usual day-to-day operations had to make a shift towards the digital spheres. This caused already existing digital services, such as video calling and cloud computing to skyrocket in popularity. Video conferencing technologies such as Zoom and Microsoft Teams saw a major increase in their number of daily users. While Zoom had approximately 10 million users in December 2019, by the time COVID-19 made its spread around the world around March 2020, their numbers increased to a mind-blowing 300 million daily users.
On a global scale, students went from real-life lectures and face-to-face seminars to fully online education. Luckily,
educational technologies
, also known as EdTech, have been experiencing a major transformation over the past few years. The surge in digital education solutions has proven itself indispensable during the pandemic, offering a wide variety of mobile and web-based applications for students to keep up with their homework and continue to develop their skills, even from home. These solutions include, for example, online portals where teachers can provide their students with the right learning materials and
gamified
applications that stimulate students to improve their skills in an engaging and challenging way.
Post-COVID technologies
In our guide for going back to the office, we already gave you some tools to make the switch from remote working back to the office a bit easier. With this article, we're diving a bit deeper into the different technologies we can use to make our post-pandemic lives a bit easier. Let's have a look at some of the technological advancements that'll play a significant role in getting back on track after COVID-19.
Smart & hybrid offices
With an increased focus on health and safety in the workplace, so-called smart buildings can contribute to a more hygienic and safer workplace. While we're slowly gaining control over the aggressive virus, we're still miles away from a COVID-free society, and may never get there. Smart offices use intelligent and automated technologies such as air conditioning, heating, lighting and security devices to improve the building's operations and help prevent the virus from spreading throughout the office.
Smart offices can also make use of big data to obtain full control over the workspace. This full control allows for continuous insight into the different spaces and people inside the building, providing employees with a real-time view of empty office spaces in order to avoid full rooms or to plan their time in the office to coincide with certain other coworkers or quieter times. Tracking devices and sensors combined with big data and analytics result in smart solutions such as seating assignments based on configurable social-distancing guidelines that are in line with governmental policies.

By using technology to optimize the way we use our office spaces, it'll get easier to work in a new and hybrid way, which includes a flexibility in working from home and working from the office. This hybrid way of working is likely to grow in popularity over the coming years. A research done by Global Workplace Analytics showed that approximately 25 to 30 percent of the global workforce will be working remotely multiple days a week by the end of 2021.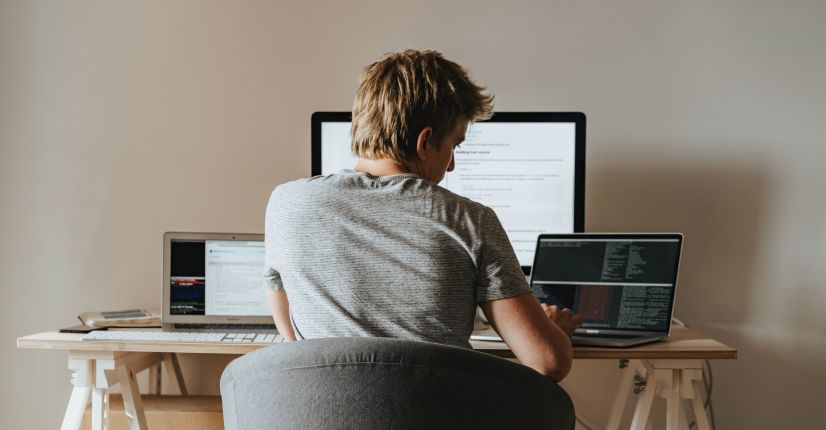 Stimulating the company culture
The current COVID-19 restrictions have spurred demands for new digital solutions that allow businesses to offer a safe working environment for employees so they can return to work. As individuals return to work, workplace apps can help them with the practical aspects of their jobs while also ensuring that their personal needs are satisfied. For example, despite the cumbersome process of online onboarding, it is critical for new employees to feel welcomed into their new roles. Because of these unique circumstances, communication, professional growth, and productivity apps have become critical to a workforce's operations.
GrowTribe Solutions
is an example of an innovative solution for stimulating an optimized working environment. GrowTribe Solutions (Lizard Global's first in-house project) conceptualized, designed and developed a web- and mobile platform that connects individual growth with general performance targets set by an organization. The solution consists of two modules: Growth Tracker and Performance Tracker. Both are integrated into one application to enable performance-based learning and growth.

Apps aren't just for the practical parts of office life; they can also help to foster a sense of community among employees, which can help to reinforce company culture and values while also increasing productivity and engagement. During the global pandemic, people were increasingly dispersed across many locations. Working in isolation became the norm, and was something they weren't accustomed to. As employees return to the office and some continue to work remotely, the need for HR solutions is imminent. Communication, engagement, and employee wellbeing are the three key goals for these tools. Employee-focused apps like Beekeeper provide an online environment for helping frontline employees to be more productive and engaged, while building a safer workplace by centralizing all communication and resources. This way, employees are continuously updated on their current task list and progress, no matter if they work from home or from the office.
Need a hand?
Like any other business, we've experienced the impact of COVID-19 on our daily lives. Our offices in Rotterdam and Kuala Lumpur were quiet while our teams were working from home. With the power of technology and a dedicated team of SCRUM masters, product owners, developers, and design specialists, we've been able to keep our engine up and running and grow during this crisis. As an international business, we are used to communicating both in person and remotely as well as working with centralized project management tools to stay on the same page with each department.
Not only did we manage to make it work for our own team, we've also helped our clients in their search for fitting solutions for their businesses. By turning our usual in-person meetings into frequent digital sessions, we can make sure the team and our clients are on the same page at all times. Not only does this allow us to work towards a product that ticks all the boxes and is tried and tested before it enters the market, it also allows you to partner up with us, no matter where in the world you live.

Are you interested in developing your very own digital solution, but still searching for the right digital partner to work with? At Lizard Global, we're always ready for a challenging and exciting new project, no matter the industry. Together with you as the expert in your field, we work towards the development of a digital solution that can disrupt the market and make a major change in your industry. Get in touch with us via our social media channels, telephone, our contact form or WhatsApp, and let's get to work!