How Much Does it Cost to Maintain an App in 2023
02 May, 2023
Lotte, Digital Content Specialist & Asrul Ash
Get the
latest updates

about our blog posts.
Subscribe so you don't miss out!
Follow Lizard Global on Facebook, Instagram, and LinkedIn.
When we talk about the app development process, we refer to much more than simply the process of programming and delivering a product. The long-term maintenance of your digital solution is equally important as the initial idea conceptualization and production. Considering how incredibly fast technology is advancing nowadays, your application would be outdated in a matter of months if you wouldn't continuously update it with improved functionalities and design features.
Like the initial development of your application, maintenance after its delivery comes with a price. Unfortunately, lots of starting app owners tend to underestimate the importance of aftercare and leave long-term maintenance out of their budget estimations. This causes them to either end up with much higher investments than initially calculated or an outdated and malfunctioning application after its launch. To give you a better idea of what to expect when investing in the long-term maintenance of your app, this blog tells you all you need to know about the price of application aftercare.

Maintenance matters
With the ever-growing prevalence of smartphones, tablets, and improved mobile connections, practically every business is considering the development of some form of digital solution to optimize their business processes and customer services. While people usually make sure to set aside the proper investment for an app's development and launch, many forget to account for the app's long-term expenditures. Application maintenance after the product's launch is a crucial part of its eventual success. Because no matter how experienced and skilled the developer is, it's close to impossible to develop an application that has zero bugs and issues with updates. Even though your app seems flawless at the time of its launch, there's a high chance of problems popping up when used by a larger audience.
That's why developers have to always prepare for a plethora of updates, upgrades, bug fixes, and general repairs. Predictive development partners generally help their clients in making long-term plans for the maintenance of their digital solution, as their partnership contracts typically include a maintenance fee.
Not sure yet why it's so important to keep your app updated at all times? Check out why app maintenance matters in this blog. Can't find what you're looking for? Our experts gladly help you further! Contact us on our social media channels and WhatsApp, or give us a call.
The price of maintenance
You probably wonder by now how much you can expect to pay for the maintenance of your application after its entrance to the market. So, let's cut to the chase. When calculating app maintenance expenses, you have to take a lot into account, including taking care of servers, push notifications, payment gateways, and much more. The maintenance stage follows up the development and go-to-market stages in the app development life cycle.
More than often, the costs of having your application maintained and closely monitored by your development partner can be much higher during the first year compared to the years after. This year, you can expect a maintenance price that goes up to 50% of the total development costs. The industry standard for software maintenance after the first year lies around 15 to 20% of the total development expenses. This means that, if your mobile app costs $100,000 to develop, you could expect to pay around $20,000 each year to maintain it. During the first year, you have to prepare an approximate budget of $250 and $500 per month to keep bugs at bay and iteratively improve original functionalities.
Yes, that does sound quite expensive, and it is for businesses that don't take maintenance into account before and during the technical development process. A very common error starting app owners make is the attempt to develop a flawless and bulletproof application from the beginning. This causes them to spend their entire budget on the development process, not considering the fact that it is practically impossible to create a perfect and bug-proof application that automatically keeps up with changing trends and technologies.
What can influence your app's maintenance costs?
No application is the same, so maintenance costs will vary depending on your product. A rule of thumb is that a more complex application with a lot of functionalities, features, and third-party integrations requires a much more thorough maintenance process than an app with fewer functions. The costs can also be determined by the number of operating systems your app is developed for. As a result, if you have a native Android and iOS app, your app maintenance charges will probably be higher than if your app is solely developed for iOS or Android. Let's have a look at some factors that play a big role in determining the price of your app's long-term maintenance.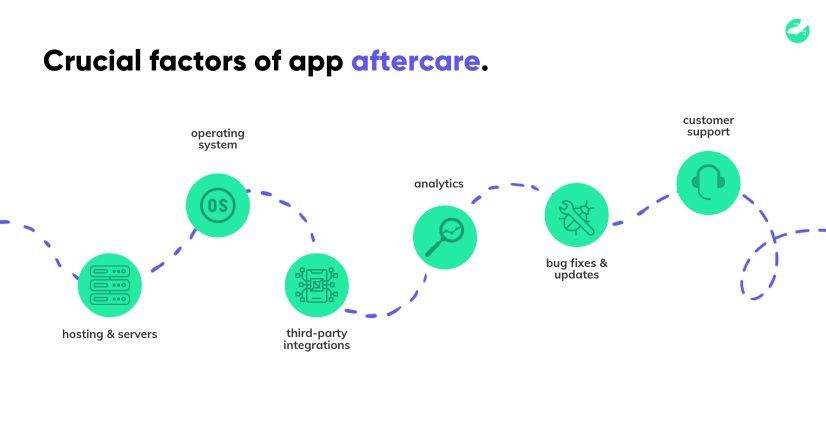 1. Hosting
One of the most important expenses for mobile apps is the cost of servers and app hosting. For your app, you will have to figure out what sort of server you need, as well as how much it will cost to host your app. The type of server your app needs is usually dependent on the type of data that is being used by your app. For example, large music or video files will need a more extensive server than written files or small-scale images. For larger amounts of data, you'll need more server CPU (Central Processing Unit), memory, and disk/cloud space, which will have a significant impact on your expenses. The cost of an app hosting server usually ranges from $70 per month to $320 per month, depending on the data it uses, the predicted number of users, and overall scalability. Cloud services like Amazon Web Services (AWS) are often less expensive since you only pay for what you use.
2. Platform
As mentioned before, your app's maintenance expenses are influenced by the platform you choose to create your app for. Prepare for higher maintenance costs if you opt to create native apps for both iOS and Android. Why? Because you'll have to conduct separate work on each device's developing platforms when you decide to update/fix/enhance your native application. In other words, if you have an app for both these mobile platforms, your developers are basically doing two times as much effort, which requires two times the price. As soon as you release a new version, they'll have to deal with the app store for the platform in question.
A solution for this issue regarding the choice of platforms you create your app for is opting out for a (progressive) web application (PWA). This is an application that's made with programming languages based on web technologies, such as HTML, CSS, and Javascript. Different from native mobile apps, PWAs possess only one codebase, while being available and accessible on many different types of devices and platforms.
3. Third-party integrations
Using licensed technology for the development of your app is a handy option, but it will cost you money. This means that you will be charged a monthly fee for any third-party content you add to your app. Over a longer period of time, this can have a major impact on the maintenance price of your application.
4. Analytics
An essential part of your app's aftercare is the monitoring and analyzing of the way your users experience your application. By having a constant insight into the interaction between your users and your product, you can anticipate improving, adding, or removing certain features to optimize the overall user experience. Monitoring and data-driven decision-making take time and effort. Luckily, there are many free or low-cost tools available to track your app's performance on the market. Analyzing user behavior is a skill that's generally quite easy to pick up, and doesn't necessarily require outsourcing by a professional. By taking some time and effort to learn it yourself, you can quite easily cut some of your maintenance costs.
5. Bug fixes and updates
Regular updates can greatly reduce errors and improve the user experience. The costs of keeping your app updated can vary a lot, depending on the work that needs to be done. An issue that requires changing a single line of code can cost you no more than $50, while a major design or feature update can take weeks, and lead up to costs reaching $1000 to $2000 dollars. The more features and functionalities your app has, the more there is to be monitored and updated by professionals.
6. Customer support
Customer support is essential for keeping your users close to your product. After all, if it takes weeks for your users to receive a solution to a problem they faced when interacting with your app, it's easier for them to delete your app and look for an alternative that doesn't have that problem in the first place. Some businesses already have some sort of customer support in place, while others need to start from scratch. You can choose to hire a professional to integrate and keep track of a customer support system, but this will add up to your maintenance costs.

Need a hand?
At Lizard Global, we help our clients go through the entire development process, from start to finish and beyond. This includes the process of maintenance and updating after the delivery of the product. Our experts provide you with the knowledge and tools you need to track your app's performance and make data-driven decisions to ensure an optimal user experience at all times.
Want to know more about the development process at Lizard Global and the long-term maintenance of your delivered solution? Get in touch with our team and fill out the contact form on our website for more info and a free digital consultancy session with the best players in the field.