10YLG: Lizard Global Ranked as Top App Developer (5th Year!)
25 Jul, 2023
Asrul Ash, Content Writer
Get the
latest updates

about our blog posts.
Subscribe so you don't miss out!
Follow Lizard Global on Facebook, Instagram, and LinkedIn.
In 2023, Lizard Global achieved a dazzling 40+ (and counting) 5-star reviews milestone on Clutch for our web and mobile app development works. Since we have been in business for ten years as the leading app development company across many countries, these reviews have helped us grow our user base, improve customer satisfaction, and increase ROI. As a result, Clutch has awarded us four recognitions in the following categories:
Top Web Developers Kuala Lumpur 2019 - 2023
Top App Development Company Netherlands 2019 - 2023
Top App Development Company Sydney 2019 - 2023
Top Web Developers Sydney 2019 - 2023

There is plenty of mobile app developer in today's technological age. However, what makes Lizard Global distinctive within the market is that we create products by taking into account the needs of your target audience as well as realizing your unique business goals. More than just a software development business, Lizard Global acts as your full digital partner willing to create innovative and distinctive solutions.
Our clients, before collaborating with us, always raise the question of which web and mobile app developer will be able to complete their business's requirements within the time and money allotted. So, to kickstart the first entry to our 10 Years of Lizard Global blog series in celebration of our 10th anniversary in 2023, we've listed some of the frequently asked questions from clients and potential clients, countered with our own unique business strategies.

Q: How do I find the best mobile app developer company?

A: Lizard Global has an extensive 10 years of proven capacity and experience on a global scale.
We take great satisfaction in our outstanding ability to create apps for a certain platform or employ a specific technology that can offer higher quality and greater insights into the services. We are a top specialist in the area. We only give the best products from the best software developers worldwide since we believe that working experience is the greatest way to judge the quality of mobile app development.
Our top-ranked developers are skilled at coding and application development and have expertise working on several projects in a variety of industries, including e-commerce, education, fintech, and more. Since we are more than just app developers, the Lizard Global team is qualified to offer guidance on the crucial components of your application to ensure that it remains relevant to the needs of the present and future markets.
Q: Is Lizard Global an expert in mobile app development technology?

A: Yes, we have an impressive portfolio of 85+ works across 25+ industries experience
We invite you to browse through our current app development services before taking a look at the cutting-edge mobile apps that we create for our clients. Every mobile application development firm is required to have a portfolio that contains projects that they have implemented on their own. Our portfolio serves as evidence that selecting a mobile application development company with experience and a strong portfolio of applications is a good strategy. In addition to user-friendly applications, product roadmaps, wireframes, and strong UI/UX talents, we also have cutting-edge features.
You can evaluate the apps we've created and their reception in the app store. If you come across a successful app of a comparable caliber that we produced, we are convinced that we can also effectively launch your app idea.

Q: How do I find a trustworthy app developer?

A: We think referrals are as important as a portfolio, and it shows.
We can claim with confidence that over our ten years in the business, customer recommendations and testimonials have consistently been our strongest suits. A quote from an interview with our CEO, Jeremy Raes, our initial client is still our client today. This demonstrates that maintaining long-term relationships with customers and ensuring their pleasure is not only important but something we actively pursue as a global web development company.
With our clientele, we are always open and honest. We encourage all of our clients to provide testimonials and evaluations about their interactions with us on independent review sites, such as Clutch. As a result, anytime new clients are interested in working with us, they can always gain comprehensive insights into how we operate, how we plan, and how we dedicate ourselves to success.
Q: How do I know if Lizard Global is a good web developer?

A: We have been named #1 Best Global App Developer in multiple countries (MY, SG, NL, BE, AUS, and More!)
The last ten years have been full of fresh prospects and collaborations. From attending our regular networking events, in-person meetings to online meetings, we were able to forge innovative new connections in more than 8 different countries, from the UK to Brunei and the Philippines, thanks to the strength of our online presence and digital communication. Here are a small collection of mobile app development projects that we have completed for clients from all over the world.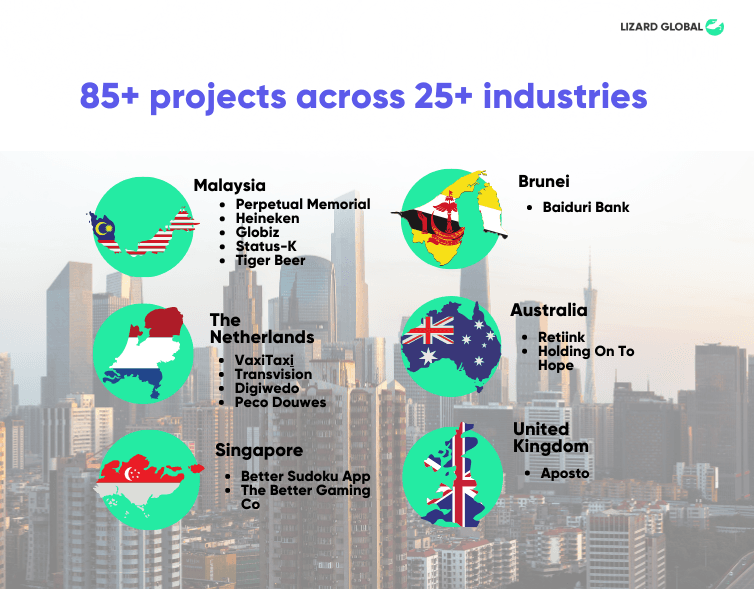 Q: What is Lizard Global's #1 best positive quality to look for as an award-winning mobile developer?

A: For every project, we select a dedicated Product Owner to take charge!
In a full-stack digital agency, the Product Owner serves as a liaison between the client and the business. With offices in Rotterdam, the Netherlands, and Kuala Lumpur, Malaysia, Lizard Global has an experienced group of Product Owners. Their primary responsibility is to translate abstract ideas into tangible concepts and assist the entire team in moving toward the manifestation of those concepts into useful applications. Our Product Owners embrace a Lean Startup mentality to work on every project because we strongly believe that ideas and concepts are constantly changing based on consumer input.
To ensure that your app remains relevant to the market, POs must continually be ready to communicate any necessary revisions to the team and other important stakeholders. This ensures that each stage from ideation, production, delivery, testing, and feedback implementation runs as smoothly as possible.
🚀 Think it, dream it, we'll build it.
With 10 years of experience as the top-rated developer in Malaysia, the Netherlands, Australia, and more, you can trust Lizard Global to be more than just a software development business because our passion is seeing your digital solution succeed in the market. Lizard Global is pleased to collaborate with you at any stage of the process, as long as we get you to the desired outcome, whether you are just getting started or are already well along with the development of your dream app. Send us a message! We would be delighted to take you even further and let's make history with us for the next 10 years!