Lizard Global`s Verticals: Industry 4.0
04 Mar, 2021
Lotte, Digital Content Specialist
Get the
latest updates

about our blog posts.
Subscribe so you don't miss out!
At Lizard Global, we believe that every industry can benefit from a digital transformation. That's why we focus on designing and developing digital solutions for over 18 different verticals and counting! This blog dives deeper into the world of Industry 4.0, which is an industry with its main focus on digitalization and automation. Whereas some of our other verticals have their roots in older and sometimes conservative industries, such as the maritime industry or FinTech, Industry 4.0 is an industry born out of technology itself. In this blog, we tell you all you need to know about Industry 4.0, and the projects within this vertical we've worked on so far.
What is Industry 4.0?
Industry 4.0 is defined as the fourth 'revolution' of the manufacturing industry. The First Industrial Revolution took place in the second half of the 18th century, and introduced us to the first mechanizations through the use of water and steam power. The second Industrial Revolution, which started off mid- 19th century to the early 20th century, took this mechanization to the next level by introducing mass production and assembly lines by the means of electricity. The third Industrial Revolution brought this mass production with use of electricity to a next level by the first adoption of computers and automation. This formed an essential building block of the current Industrial Revolution of Industry 4.0, which uses autonomous systems running on artificial intelligence and machine learning technologies to optimize mechanical production processes.
The introduction of computer systems in the second half of the 20th century proved to be an efficient solution for streamlining and automating production processes, but still relied on the supervision and manual attendance of humans. However, with the emergence of smart technologies like machine learning, artificial intelligence and the use of algorithms, this human interference is becoming less and less of a necessity. Now computer systems are able to communicate with one another without requiring manual guidance, an increasing number of processes go through a transformation of becoming fully digital and automated.
The Internet of Things
The IoT, or Internet of Things, forms a core aspect of the fourth Industrial Revolution, and revolves around the ubiquitous interconnectedness of digital systems by the means of internet connections. An increasing number of devices are being designed and developed to communicate with each other, which helps them to become smarter by gathering information, analysing data, and performing certain actions based on what they've learned from the information they process. Think of, for example, an application on your smartphone that has the ability to control digital devices in your home, even when you're not there yourself. The IoT is designed to make our lives easier by taking manual tasks out of our hands, no matter if it concerns the lights in your bedroom, or the order management system within a smart factory.
Business 4.0
The emergence of Industry 4.0 has already made our lives easier by allowing us to remotely control certain devices around the house. However, it has also become an inherent part of the digital transformation of businesses in various industries. Manufacturers can greatly optimize their factory operations with the use of digital applications that track and analyze data in order to identify patterns and show insights into performances, maintenance statuses and much more. Next to real-time data insights, Industry 4.0 also allows manufacturers to optimize logistics and supply chains, turning their factory into a so-called 'smart factory', where processes are managed and executed by intelligent robots.
Besides manufacturing, Industry 4.0 also plays a significant role in other industries, specifically with the use of the Internet of Things, which allows employees to work and collaborate remotely with the use of Cloud technologies. Cloud computing doesn't only optimize collaboration within organizations, it also provides a place for storing large amounts of data, which can save a lot of investment in hardware and software and allows smaller enterprises access to uses of technologies they previously couldn't afford. While we're in the middle of this most recent Industrial Revolution, Industry 4.0 is continuously evolving. An increasing number of businesses are discovering the benefits of automating their business processes with the use of smart technologies, and this is just the beginning of a promising journey towards the digital transformation of our businesses.
Project: Clear Vision Cooling
Clear Vision Cooling
is a company fabricating commercial refrigerator doors, LEDs, and profiles using their own smart factory. These products are similar to the ones you would find in your local grocery store's cooling section. The factory is almost completely autonomous and controlled by a dozen self-driving robots. Together with the CVC team, Lizard Global helped design a Dashboard application, designed to communicate with machines with built-in Machine Learning technologies. Because most of Clear Vision's machines are automated and connected with each other, it is essential for Production Managers to have a platform on which they can interact with the machines and supervise and steer all automation processes in an efficient way.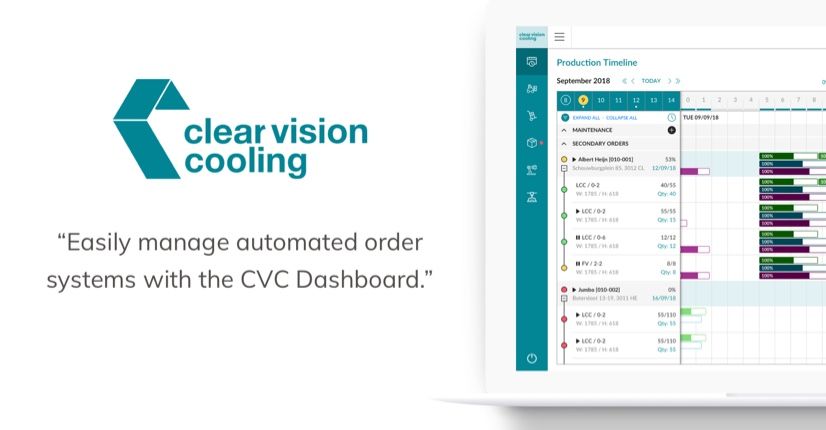 The goal of the CVC Dashboard is to provide a planning dashboard which gives the Production Manager insight into the current and upcoming factory orders, which they can schedule and adjust in order to make the factory optimally efficient, meet CVC's customer order needs, and provide an excellent customer experience. The Smart Factory of Clear Vision Cooling is a perfect example of the successful digital transformation of a business. And with our partnership and the innovative development of the CVC Dashboard application, all automated processes can be managed at any time. This way, the machines do the work, but production managers can still supervise and influence the production processes if needed.
Project: Globiz
When doing business, exchanging contact information is one of the most critical steps in the networking process to connect with people. However, physical business cards are slowly becoming outdated. Not only because they're easy to lose and difficult to follow up while piling up in your wallet or on your desk, but also because the business world is strongly influenced by the trend of digital transformation and the switch from offline to online. Globiz can therefore be seen as an Industry 4.0 business, turning a physical manufacturing process into a digital solution.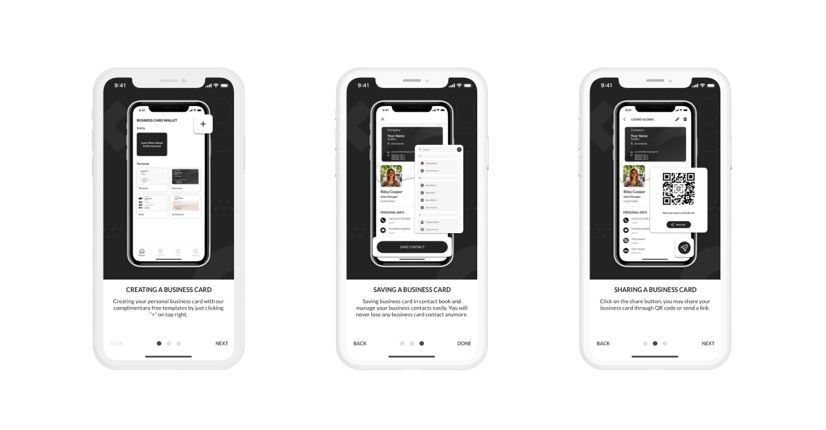 Together with Globiz, Lizard Global created a mobile application that allows you to create your own virtual business card and share your card via a personal QR code or link. The app also offers a business card wallet, which you can use to collect other business cards, without them getting lost on your desk. You can customise your own business card with a unique design and invite your team members connected to your account to share your unique business card design. Users of Globiz can follow an in-app tutorial to get started, and can choose their own preferred privacy settings. As usual, applications developed by Lizard Global follow the "Privacy by Design" and "Secure by Default" standards, to make sure that your data is safe at all times.
Need a hand?
At Lizard Global, we create digital solutions for our clients, active in more than 20 different industries. Our verticals vary from the medical and governmental field to the maritime industry and real estate businesses. No matter what industry you're in, we can help you imagine, design, create and grow a digital solution that's perfectly aligned with the needs of your customers and the unique character of your business. Interested in a digital partnership with Lizard Global? Get in touch with us, and let's meet up to find out how we can help your business towards its digital transformation.