Meet The Lizards: Lieke | Product Owner
12 Apr, 2021
Lotte, Digital Content Specialist
Get the
latest updates

about our blog posts.
Subscribe so you don't miss out!
In our recurring Meet The Lizards blog series, we have a look behind the scenes of the Lizard Global team and meet up with one of them to find out more about their function within the organization and their passions in life. In our last interview, we sat down with Roelant, Head of Product Delivery and master in multitasking. This time, we have a chat with Lieke, Product Owner in Rotterdam.
Tell us a bit about yourself and the role in the company
"I'm Lieke Brammer and I'm a Product Owner at Lizard Global. As a Product Owner, I work closely with both clients and our internal team. While making sure everybody is aligned, my main function is to turn ideas into concepts, and concepts into functional applications and features. What I really like about my function is having the ability to think along with clients, being creative, and using my own and others' creativity to eventually come up with a solution for the end-user."
How did you end up at Lizard Global?
"In the summer of 2019, I joined BNI (Business Network International), a networking event/breakfast. For my Minor, I was looking for an internship, and when I got the opportunity to join this networking event, I immediately knew I wanted to go. First, I was a bit hesitant, as the internship period would only last for 10 weeks. However, at the event, as I let the members know that I was looking for an internship, Lizard Global immediately showed interest. We started talking and before I knew it, it was September 2019 and I started my internship at Lizard Global. After those 10 weeks, I was excited to continue working as a Product Owner. The whole team made me feel welcome and I felt like I was part of the Lizard family right away."
What does a typical day at the office look like for you?
"Since the Kuala Lumpur office is not in the same timezone as we are in The Netherlands, I like to start my day early. This is no problem for me at all, as I am most productive in the morning. The day before, I normally prepare a planning and to-do list so that I can spend the overlapping time with KL as efficiently as possible. In the morning, I make sure to do all the important communication with the team in KL. The rest of the day is filled with testing products, managing backlogs, communicating with clients, and researching the market, and identifying business and revenue models. As a Product Owner, I adjust my workday to the team and the clients. Flexibility and time management are key. My work is never boring, as every day is different!"
What do you like most about working at Lizard Global?
"First of all, I really like this team and family feeling we have within Lizard Global. Although I haven't met most of my colleagues in real life (since they work in KL), I feel like we know each other pretty well. Furthermore, we are currently growing fast, which brings a lot of opportunities for Lizard as a company, but also for us as employees. I am currently in the last stage of my Master in Innovation Management and at Lizard Global, I really get the opportunity to bring my knowledge into practice. As my Master perfectly ties in with my function as Product Owner, my knowledge brings value to the company and our clients. Lizard, therefore, gives me the ability to come up with ideas and improvements, which I really like."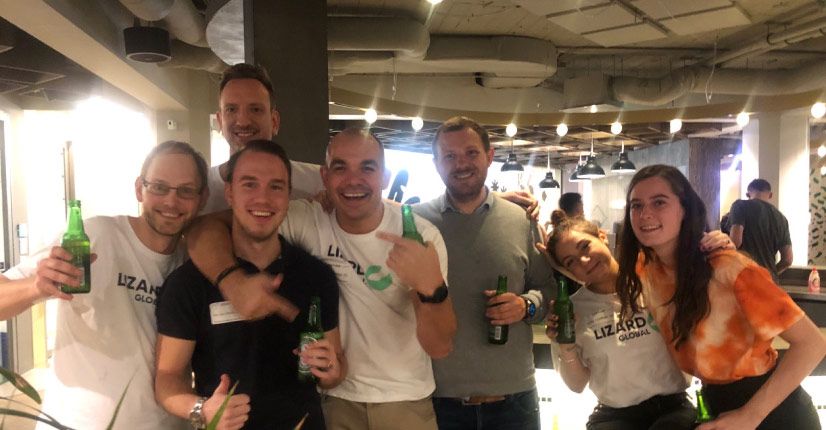 "The most fun moments were on Thursdays, during Venture Cafe Gatherings, where we would network and have a cold beer together. We could end up sitting in the office, talking about work, or helping behind the bar, tapping beer. Hopefully, we can get together at these events again soon. One more exciting thing would be my trip to KL, which, unfortunately, due to the COVID-19 pandemic, has not happened yet. When we are allowed to travel safely again, I hope to go to KL right away."
"We never knew how the Thursday Gatherings at Venture Café would end, but there would always be a fun story being told in the office the next day."
How did/do you experience the working life during the global pandemic of COVID-19?
"As we work globally within Lizard already, remote working due to the COVID regulations did not really have a big impact on our meetings and collaboration with KL. The only adjustment for myself was to work from home, instead of at the office, which actually went quite smoothly. I do miss working with my colleagues at the office, but I think that is something we all experience."
Are you looking forward to meeting our team in KL?
"Yes! I would love to meet all my colleagues for the first time in real life! I am curious to see the office and I would like to experience one of the team activities in KL as I've heard some great stories about those. I've heard a lot about the trips to KL so I am very excited to go there and come back to NL with great stories myself."
Where do you see yourself in 10 years?
"I do not have my life planned out already as I like to be open to every opportunity I get. In 10 years, I hope to still be growing and learning, using my knowledge and having the ability to make a positive change in the world. I hope to be happy with all my friends and family being healthy."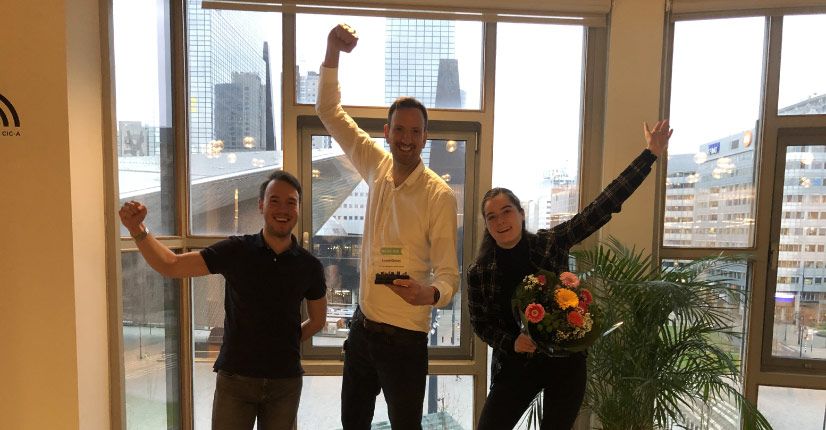 Meet more Lizards!
Want to know more about our different departments, offices, our Lizard Family and their daily occupations? Check out our previous interviews with Head of Product Delivery Roelant, Content creator & content manager Lotte, Commercial Director Markus, our software development team and Chathuri, our CEO and CO-founder Jeremy, our CTO and Co-founder Guido, our CEO Asia Terence, and our Senior Software Engineer Kenny. Keep an eye out for more interviews and find out more about our unique and skilled Lizards!