Beste Web- en Mobiele App-Ontwikkelaar Van Nederland
09 Aug, 2021
Lotte, Digital Content Specialist
Get the
latest updates

about our blog posts.
Subscribe so you don't miss out!
Bijna tien jaar geleden besloot een team van twee jonge innovatieve en ambitieuze geesten een sprong naar succes te maken. Met een studie aan de Technische Universiteit Delft ontwikkelden Jeremy Raes en Guido van Beek een diepgewortelde passie voor technologie en waren ze overtuigd van de potentie van digitalisering om de wereld een betere plek te maken. De unieke combinatie van Jeremy's streven naar succes en overtuigingskracht en Guido's onberispelijke talent voor software ontwikkeling en code bleek in 2012 de gouden formule voor het opzetten van de app-ontwikkelingsstartup "Lizard Apps". Deze ambitieuze startup groeide uit tot een internationaal succes, inmiddels bekend als Lizard Global.
Lizard Global heeft een onfeilbare liefde voor Zuidoost-Azië en staat in nauw contact met de technische universiteit van Maleisië, waar we mede-techliefhebbers educatieve software-ontwikkelingsstages aanbieden, van junior tot senior niveau.
Wie zijn wij?
Wij zijn jouw award-winning digitale partner, die meer doet dan alleen ontwikkelen. Als plug-and-play CTO van onze klanten denken we stap voor stap met hen mee naar de realisatie van hun digitale oplossingen. Een partnership met Lizard Global is een allesomvattende reis, zonder ook maar iets uit te besteden aan een derde partij. Ons full-stack in-house team zorgt voor alle aspecten van de ontwikkeling van jouw app, van conceptualisatie tot groeistrategieën.
Als bureau van meer dan 35 resultaatgerichte teamspelers streven we er voortdurend naar om de markt te ontwrichten met onze digitale oplossingen. Onze bekroonde formule bestaat uit een intrinsieke passie voor digitale innovatie en nauwe samenwerkingen met onze partners. Door effectieve samenwerkingen met innovatieve partijen lossen we problemen op en bouwen we revolutionaire en schaalbare producten. We winnen geen prijzen door simpelweg te weten hoe we software moeten bouwen, maar omdat we begrijpen hoe de juiste digitale transformatiestrategie onze klanten en hun doelgroep kan voorzien van succesvolle en duurzame oplossingen.
Wil je ons beter leren kennen? Neem een kijkje op onze "about" pagina en maak kennis met al onze experts!
We begrijpen dat elke branche, elk bedrijf en elke klant uniek is en daarom een ​​digitale oplossing nodig heeft die perfect is afgestemd op de behoeften van hun organisatie en doelgroep. Samen met onze klanten duiken we diep in de ins en outs van hun branche, de organisatiestructuren, eindgebruikers en concurrenten om een ​​succesvolle digitale transformatie te realiseren.
Het ontstaan van Lizard
De naam "Lizard Global" (voorheen Lizard Apps) is afgeleid van het buitengewone vermogen van hagedissen om zich op elk moment aan te passen aan hun omgeving en situatie. Daarnaast worden hagedissen in de West-Europese cultuur gezien als robuuste en exotische dieren met een bijna magische status. Bijna een decennium later zijn we sterk gehecht geraakt aan de naam en voelen we ons nauw verbonden met het beestje. We zijn er trots op onszelf onderdeel van de Lizard Family te noemen, waarmee we onze teamgeest aan de wereld laten zien.
In 2019 is de naam "Lizard Apps" veranderd in Lizard Global. Als bedrijf dat voortdurend groeit, hebben we een punt bereikt waarop onze diensten en klanten steeds internationaler werden. Omdat we door de jaren heen zo zijn gegroeid, zijn onze diensten meegegroeid. Dit betekent dat we niet meer exclusief applicaties ontwikkelen, maar ook aanvullende diensten leveren, zoals technisch advies, groeistrategieën, CRM-integraties en digitale workshops.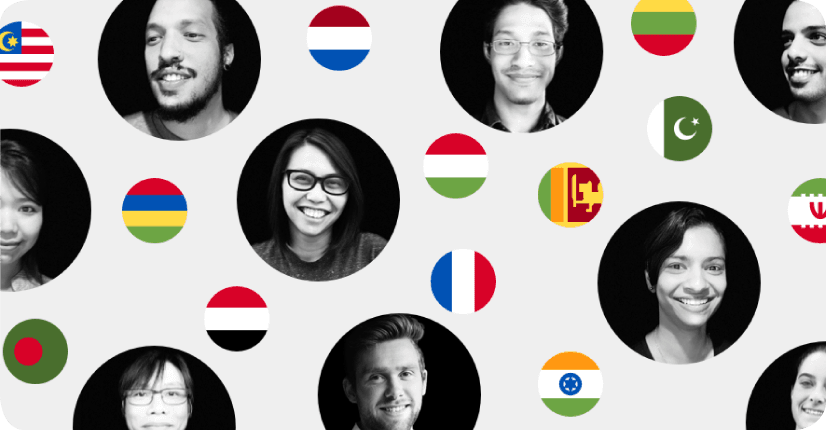 Met meer dan 13 verschillende nationaliteiten in onze kantoren in Rotterdam en Kuala Lumpur mogen we onszelf ongetwijfeld een wereldwijd team noemen. We zijn een trotse smeltkroes van culturen, achtergronden en religies, samengebracht door onze passie voor technologie, het tevreden stellen van onze klanten en het laten groeien van een succesvol bedrijf. We zijn nu al op zoek naar extra inspirerende locaties in België, Singapore, Australië, de VS en Indonesië (Bali) om ons Lizard-territorium verder te verbreden over de hele wereld.
Onze klanten
Iedereen die hulp nodig heeft bij de ontwikkeling van zijn applicatie kan contact met ons opnemen en zijn reis als Lizard Global-partner beginnen. In het verleden hebben we samengewerkt met een groot aantal verschillende klanten, waaronder:

Individuele ondernemers die hun markt willen ontwrichten, vernieuwen en revolutioneren met de kracht van technologie
Startups die een kickstart op de markt willen om op gelijke hoogte te komen met hun concurrenten
Scaleups die hun huidige succesformule willen verbeteren tot een nog betere oplossing om hun concurrenten te overtreffen
Corporate innovators en intrapreneurs die klaar zijn voor digitale innovatie, maar niet over de juiste interne ontwikkelingsexpertise beschikken om schaalbare oplossingen te creëren
Of je nu een enthousiaste starter of ervaren innovator bent: Lizard Global staat aan je zijde om je ideeën om te zetten in realiteit. Onze manier van werken is zo ingericht dat we klanten van over de hele wereld kunnen helpen. Zelfs in uitdagende tijden zoals de dieptepunten van de COVID-19-pandemie, zijn we erin geslaagd om onze diensten voort te zetten en succesvolle projecten te realiseren met klanten van over de hele wereld, in verschillende industrieën. Momenteel hebben we aan meer dan 70 projecten in 21 verschillende industrieën gewerkt, variërend van FinTech, Human Resources en EdTech tot Maritime, Real Estate, MaaS (Mobility as a Service) en nog veel meer. Ongeacht de complexiteit van de branche of oplossing, we zijn altijd in voor een uitdaging!
Wist je dat we samen met onze digitale partners maar liefst 13 awards binnen hebben gesleept? Bekijk al onze successen en de mijlpalen van onze klanten op onze awards pagina!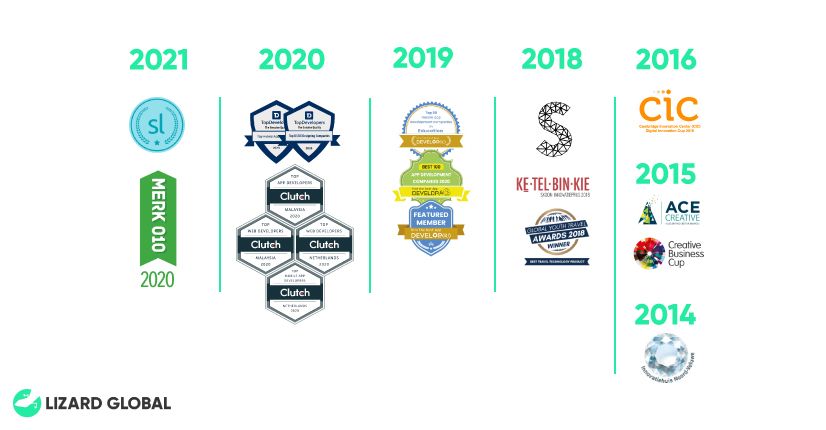 Beste full-stack app-ontwikkelingsbedrijf
Sinds 2012 hebben we hard gewerkt om de top te bereiken, onze diensten voortdurend te verbeteren en ons klantenbestand wereldwijd uit te breiden. Inmiddels vormen we een kernonderdeel van de beste ontwikkelaars van web- en mobiele applicaties in zowel Maleisië als Nederland, en bieden we een full-stack dienstenpakket aan enthousiaste ondernemers over de hele wereld.
Onze services
Om de best mogelijke service te bieden zonder ook maar iets uit te besteden, hebben we ervoor gezorgd dat we een multifunctioneel team hebben samengesteld dat gespecialiseerd is in hun eigen vak, terwijl we ook experts zijn in het assisteren van andere afdelingen waar nodig. Onze volledige verzameling van services bestaat uit het volgende:

Digital Consultancy

Digital Conceptualization
Business Research & Consultancy
Go-to-market Strategy



UI/UX Design

UI/UX Research & Consultancy
Visual Research
Wireframing, Prototyping, Mockups & Clickable Demo's
Responsive Web Design
Brand Identity & Digital Brand Book
A/B Testing



Technical Consultancy

Code Reviews
App Store Submissions
Licenced Modules



Software Development

Mobile Solutions
Web Solutions
Server Hosting & Maintenance
Pilot-phase Testing



Growth Consultancy

Growth Hacking
Usage Analytics
Data Intelligence



Digital Marketing Strategy

Marketing & Sales Advice
Roadmap Integration



Salesforce CRM Integration

CRM Architecture
Sales & Marketing Analytics
Workflow Creations



Digital Workshops

Business & Market Analysis
Target Audience Analysis
Digital Solution Strategy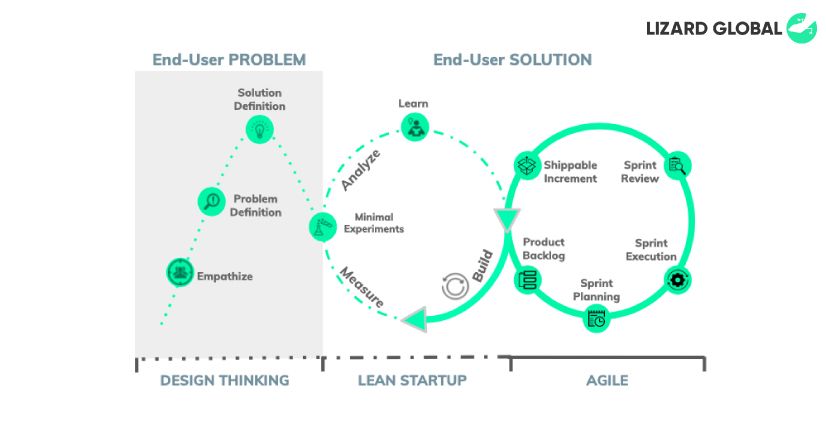 Al onze diensten zijn ontworpen om de best mogelijke klantervaring te bieden. We hebben de human-centred benadering van Design Thinking geïmplementeerd om ons in te leven in de gebruikers en er zo achter te komen welke oplossing het best aansluit bij hun gebruikspatronen en behoeften. We volgen het pad van empathie naar eindproduct door diep in het probleem van de gebruiker en de mogelijke oplossingen te duiken. Met iteratieve experimenten van functies en ontwerpelementen komen we erachter wat werkt voor jouw oplossing en wat niet. We doen dit op een agile manier, door middel van tweewekelijkse scrum sprints op weg naar de levering van incrementen.
Hulp nodig?
Ben je op zoek naar een digitale partner die jou en je team door het hele proces van app-ontwikkeling begeleidt? Wij zijn jouw gids op weg naar de digitale transformatie van jouw bedrijf. En als een van de beste web- en app-ontwikkelaars in Maleisië en Nederland ben je zeker van een topervaring met hoogwaardige oplossingen die perfect zijn afgestemd op jouw branche, doelgroep en groeipotentieel.
Klaar om samen te werken met Lizard Global als je digitale partner en vriend voor het leven? Neem contact op met onze experts via WhatsApp, onze social media kanalen, het contactformulier op onze website of bel ons. Laten we aan de slag gaan!