From Brick & Mortar To Digital: How E-Commerce Is Evolving
Get the
latest updates

about our blog posts.
Subscribe so you don't miss out!
Follow Lizard Global on Facebook, Instagram and LinkedIn for the latest updates.
What is the importance of digital transformation?

Technology is now at the heart of company strategy thanks to digital transformation. As a modern business, it is crucial to stay ahead of the competition by implementing technologies that optimize your business processes and disrupt the market. This process toward a digitized organization is what we call a digital transformation.
Digital transformation
is defined by the precise selection and appliance of technologies that are perfectly aligned with the needs of your business and target market. This strategy can cut running costs and inefficiency. Even the direction of your company might shift as a result. It is more easily attained to reach future goals with a unified business and technology paradigm.

As a full-stack digital partner, Lizard Global help clients from many different industries to find the right technology for their business and implement it in such a way that a smooth transition from manual to digital can be established.
In our blog series about digital transformations in different industries, we highlight the most important technological changes within a specific sector. This week, we take a look at the
retail industry
, which nowadays, is heavily dependent on e-commerce practices, but there is much more to digitization in retail than online shopping. Curious about what that looks like? Continue reading!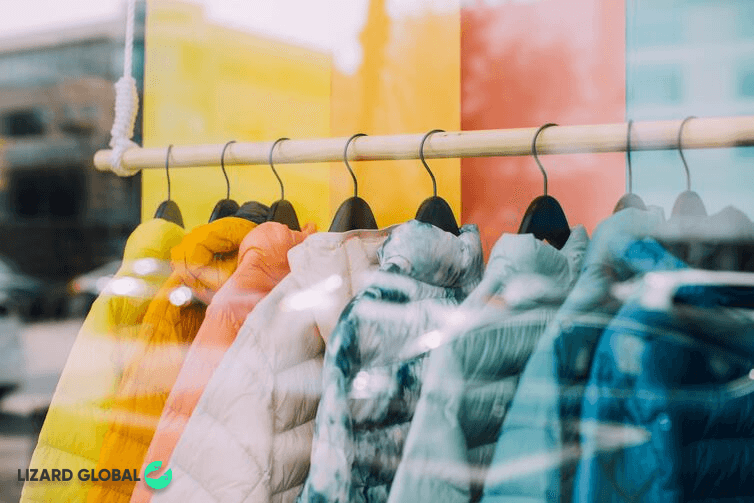 Retail sector: what is it?
All businesses that offer goods and services to customers are considered part of the retail industry. Grocery and convenience stores, discounts, department shops, DIY, electrical, and specialty stores are among the many types of retail services available worldwide. The retail industry continues to develop year after year and employs a large number of people around the world. This is a fiercely competitive, fast-paced industry that is critical to the economy's survival.
Retailers must compete in a variety of ways in an increasingly competitive environment. Consumers nowadays expect excellent customer service and a seamless buying experience. This is proven by the rise of so-called "omnichannel retailing".
Omni-channel retail
, or omnichannel commerce, is a multi-channel sales strategy that focuses on offering a consistent
customer experience
whether the customer is purchasing online, on a laptop, or in a physical store. Consumers seek to mix the ease of current technology with the benefits of traditional purchasing.
The rise of online stores
A big part of the digitization of the retail sector involves so-called "e-commerce", or electronic commerce, which involves the process of buying and selling products and services through the Internet. Ordering items, purchasing a service, signing up for a subscription to an information source, or even setting up an online bill-paying schedule are all examples of e-commerce. It's difficult for most of us to picture our lives without e-commerce. Most of us regularly order things online, as it saves us both a lot of time and effort.
As pervasive as e-commerce has grown in our lives, there was a time when it didn't exist. The origins of e-commerce can be traced back roughly 40 years when "teleshopping" first arose as a forerunner to its current version. By connecting television and the telephone lines in the late 70s, English inventor Michael Aldrich invented and pioneered what would soon become known as e-commerce. Shortly after, he created a system that allowed viewers to call into a processing center to place orders for goods and services advertised on television. Aldrich coined the term "teleshopping", and e-commerce was established.

Boston Computer Exchange is known as the first e-commerce company, launched in 1982. It mainly functioned as a web-based marketplace for people looking to sell their old computers. With the introduction of the internet, a new, more familiar type of store emerged. Book Stacks Unlimited, which launched in 1992, was an online bookshop that started two years ahead of the firm we're all familiar with: Amazon.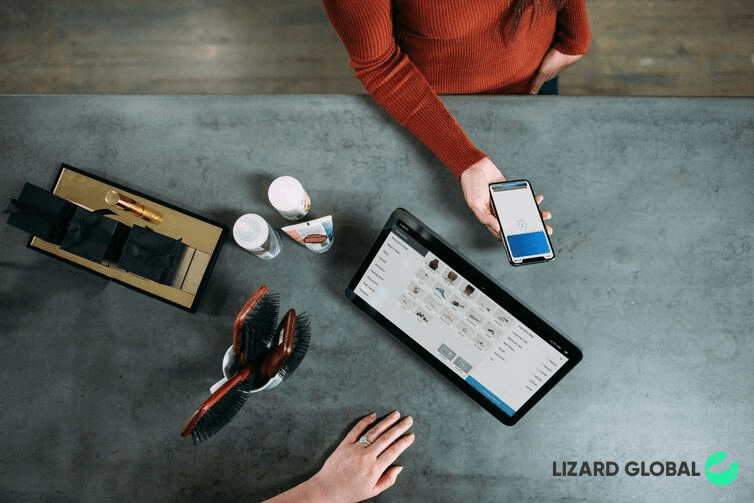 Digital Transformations in E-Commerce
Digital transformation encompasses the act of infusing new technologies into all aspects of an organization, bringing old procedures into the digital age. For the retail industry, this includes online ordering, contactless ordering and payments, curbside pickups, self-checkout systems, cost optimization, AI-powered product recommendations, and much more.
To offer the best possible user experience, more and more retailers are reshaping their offers on the market, looking for ways to stand out from competitors. One of the ways they do this is by so-called omnichannel retailing. For example, additional in-store experiences might be shifted to an online environment, allowing online shoppers to have a video conversation with sales employees. With augmented reality technologies, retailers can assist customers to view things using cameras on mobile devices, removing doubt and confusion during purchasing selections. Let's have a look at some examples of digital solutions in retail and commerce.
Algorithmic sales
A retailer's biggest expense usually goes to his inventory. As a result of rising operating costs, logistical challenges, and changing customer expectations, a greater focus on goods assortment and pricing accuracy emerged. Retailers can no longer afford to distribute merchandise evenly across all of their locations. To boost precision and accuracy when planning assortments, pricing, and promotions, as well as the resulting inventory investments across all touchpoints, retailers can now make use of algorithmic methodologies.
Algorithmic merchandising or
sales optimization
identifies which things need to be ordered and supplied for which location, and how they should be priced and promoted. This can greatly optimize sales, margin, inventory, and customer satisfaction across all touchpoints of the selling process. The
use of advanced data and analytics technologies
is a critical component of increased sales effectiveness and efficient data-driven decision-making.
Touchless shopping
"Touchless" interactions in the shopping process provide a safe and contact-free experience throughout the entire buying process. Especially in times of a global pandemic, where hygiene is crucial to stop the spread of the virus, sanitization methods and touchless interactions such as scan-and-go or contactless payments form a lifesaving solution. Touchless experiences must provide a level of personalization that makes customers feel like companies are truly committed to them by taking the time to learn about their needs and desires to provide a rewarding customer experience.
AR for virtual product try-outs
Augmented reality technologies (AR)
are becoming more and more ubiquitous in the world of online retail. IKEA, for example, allows people to try out a
virtual version
of their products in their homes. When the COVID-19 pandemic caused IKEA in-store visits to stall or stop entirely, the need for online shopping skyrocketed. Consumers can now use IKEA's app to select a piece of furniture and use augmented reality to see how it would look in their homes. They can then immediately purchase the item without having to leave the app and switch platforms or devices.
Product recommendations
Computers are getting smarter by the day, which may sound scary, but it does help us out quite a lot. Computer algorithms track our behavior on the internet and use that information to recommend products we're likely to be interested in. That's why you see advertisements for sneakers popping up on your timeline after you've spent some time on Nike's webshop. There is a lot of fuss about recommendation algorithms, as they need your data to be able to recommend to you the right products. By accessing a website, users now get the choice to allow their data to be collected by the site to be sent to third parties.

High-level data analytics & interconnectivity
Data is critical for forecasting demand and responding promptly to new opportunities. There's never been a better moment to keep track of it all, as new ways of connecting software arise and data flow accelerates. Retail firms benefit from seamless interfaces because they can better understand all parts of the retail process, from inventory management to employee productivity.
Connected systems
assist brands in gaining a better understanding of how their customers use their products. For example, e-commerce data could be used to identify best-selling products and provide customers with relevant and personalized recommendations. CRM data is required to comprehend your top clients and design customized marketing campaigns to stimulate them to buy more.
What are the key barriers to an effective digital transformation?
Whatever your digital transformation looks like, a solid foundation is crucial for it to work in the long run. Evaluate the ROI and hazards connected with each implementation, whether your focus is customer data management, product order management, or order visibility. Like any other industry, digital transformation in the retail sector involves challenges that need to be taken into account:
Cultural changes
Digital transformation, regardless of the industry, requires a coordinated approach across businesses and divisions. Internal stakeholders and IT departments must be on board, agree on a plan of action, and collaborate on the endeavor.
Lacking expertise
Leaders must be aware and transparent about their technological capabilities and experience for their retail business transformation to succeed. Determine what can be done in-house and what will require outside assistance to get you where you want to go.
Investment issues
Many retailers are cash-strapped and operate on razor-thin profit margins. This might result in resistance and a long period of back-and-forth bargaining with stakeholders, partners, and customers.
Even if you think you've got your digitization under control, there are always additional improvements that can be made to help your business. Lizard Global is specialized in helping clients in any industry undergo their digital transformation. Together, we go on a discovery journey to find the right technologies for your business and implement them without negatively impacting your currently running processes.
Project: Drinkies by Heineken
Heineken is a world-famous and long-established Dutch beer brewer with a diverse range of beers and ciders available in over 190 countries. Everything they do is aimed at attaining two different goals: brewing the world's best beers and establishing the world's best brands. They're dedicated to pushing innovation, increasing revenue, cutting costs without sacrificing quality, and making long-term investments in their brand.
We partnered with Heineken Malaysia to create Drinkies, a platform where you can order a variety of beer, wine, liquor, and snacks. Your order is delivered to your doorstep with just a few clicks on your device, and the party can continue. The Drinkies app has it all, including a mobile bar, music, a bartender on location, and loyalty and reward features.
Project: Suspicious Antwerp
Suspicious Antwerp is an Antwerp-based lifestyle streetwear company that offers unisex clothes internationally via its website. Philipe Libert and Frederik Janssens started the company in 2017 as part of a project during their studies at the University of Antwerp. Until now, they only used to have a webshop, but not a mobile app. E-commerce platforms that do not offer a mobile app might not provide the full experience to their customers. After all, the world is moving towards mobile, mobile apps are faster than web apps, and they offer greater functionality as they have access to system resources.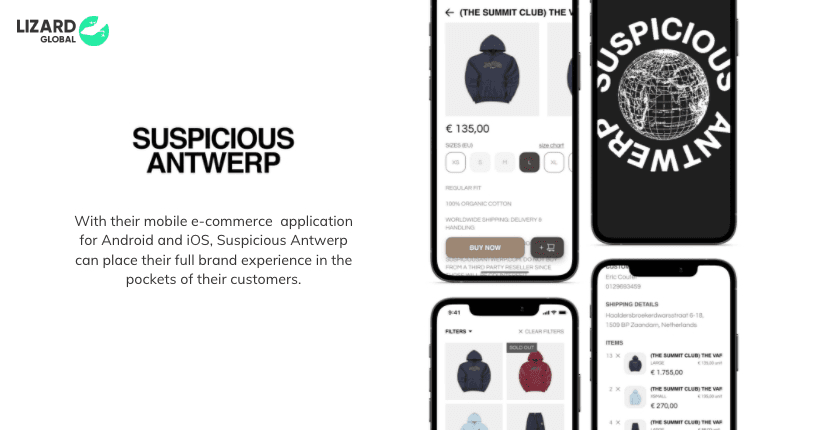 The solution of Suspicious Antwerp consists of a mobile e-commerce application for iOS and Android. With this application, Suspicious Antwerp can place its full brand experience in the pockets of its customers.
Project: Heineken Star Bars
After developing the Drinkies application together with Heineken, the client wanted bars that use Heineken as a preferred supplier to be promoted more. By having a highlighted spot in the app, consumers are stimulated to go to these specific bars and drink Heineken's products.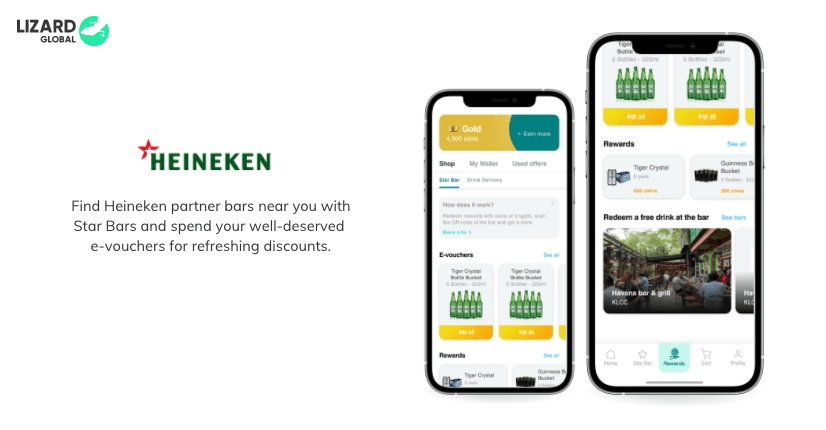 Lizard Global added loyalty & rewards functionalities to the Drinkies application with the feature "Star Bars", which refers to the bars where Heineken is the preferred supplier. This way, consumers are more likely to visit the listed bars.
Project: Brunott
Brunott is a Dutch retailer that deals in luxurious, high-end jewelry and watches. Besides a physical store in the heart of Rotterdam, Brunott also owns and operates an online shop for e-commerce.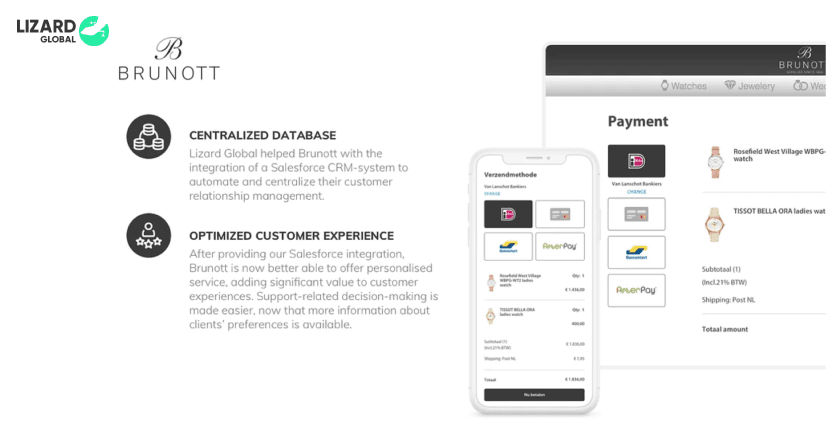 By using Salesforce as a CRM system, we were able to automate and optimize Brunott's existing digital customer relations. This provided the ability to offer an optimized personalized service, adding significant value to customer experiences. By centralizing and automating the most essential business processes, Brunott's support-related decision-making is greatly improved.
Project: Perpetual Memorial
Perpetual Memorial Park is a memorial park in Malaysia that provides well-equipped and hygienic crematoriums and other facilities including Tua Pek Gong Temple, washrooms, restrooms, conference halls, playgrounds, and 24-hour security.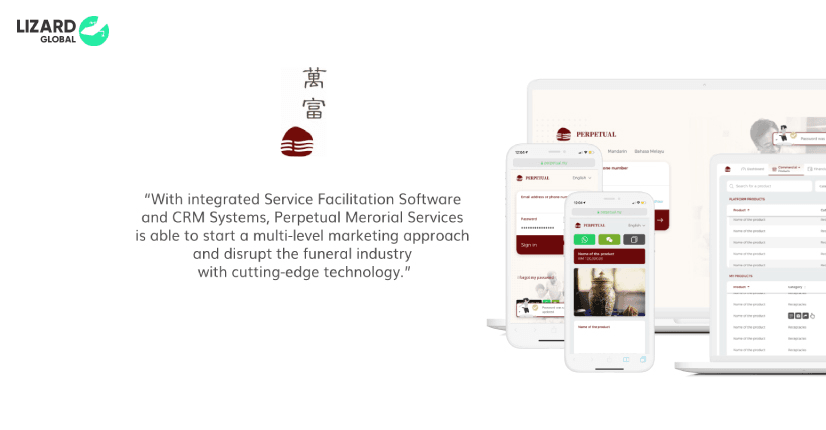 Lizard Global and Perpetual Memorial Services partnered up to integrate an e-commerce CRM to provide a new digital channel for future sales and launch a multilevel marketing strategy. Lizard Global also worked with Perpetual Memorial Services to develop Service Facilitation Software, to revolutionize the market with cutting-edge technology that improves the country's funeral service event administration and service selling process.

Need a hand to attain digital transformation for your E-Commerce?
We think that technology can assist every business in establishing a larger and more loyal consumer base, regardless of the industry. We gladly advise you through the process of digital transformation, as it is a difficult step to take. Not only do our professionals know which technologies are best for your business's digital transformation and its unique characteristics, but they can also design and build your solution in such a way that it is scalable and ready for future growth and success.
Are you looking for a digital partner for the development of your web app or mobile application, and are you ready to take the step towards the digital transformation of your own business and industry? We can help! Get in touch with our experts by filling out the contact form on our website.

Curious about our other verticals? Check out our
portfolio
for an insight into all the industries we're supporting with digital solutions. Or take a look at our previous blogs on digital transformation:
Maritime
FinTech
Human Resources
Education
Community
Transport & logistics
Industry 4.0
Real Estate
Sports
Government
Tourism & travel